Show Girlz Exclusive
>>
FEATURED GIRLS
>> Jenna Shea Interview, Photos and Hot Video Tape Content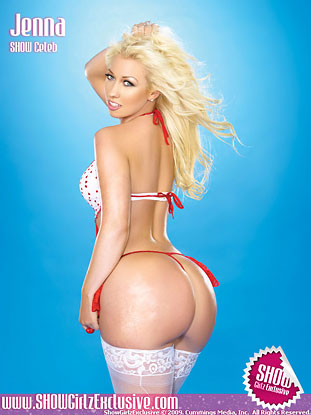 More Images of
Jenna Shea
:







<<
BACK TO HOME PAGE
Interview with Jenna Shea:
---
SGE - Whats this about a Jenna Shea and Yung Berg sex tape?

JS - No comment about the sex tape with Yung Berg... lots of rumours on twitter and the net however, all titled "Jenna Shea & Yung Berg sex tape coming soon!"
---
SGE - What can we expect from Jenna Shea in 2009?

JS - I'm trying my hardest to get out there and be seen. I'm focusing on me and hitting the gym everyday. I have a lot of support from my fans and they will be helping me get to where I need to go this year. 2009 is a new year, and we'll see what the future holds. As far as I'm concerned, it's going to be great!
---
SGE - How was your 2008, your first year of modeling?

JS - It was great just. I spent it getting my game plan going . My debut in SHOW was extremely successful, right down to my beautiful cover. I've been contacted by fans almost daily, and that's been the best part!
---
SGE - Your fans love you. Is the feeling mutual?

JS - I love them even more! Their support and feedback means the world to me.
---
SGE - Any strange requests from any of them?

JS - I wouldn't say strange, just creative. Many of them want to talk to me directly via telephone. I think that's a great idea. I'm looking to set up a phone line where they can pay to reach me directly and ask whatever they want. Can you imagine what those conversations would be like? I can't wait!
---
SGE - Your new boobs look delicious, are you loving them?

JS - I think its the best thing I've ever done. They look soooo good and they feel great!
---
SGE - The ass is still crazy! What's up with these people who think it's not all 100% you?

JS - Its because I'm full white and they think white girls can't have the booty; So not true! I've had it for years. Even back in the middle school days.
---
SGE - You are in a very sexy business. Are you a sexual person?

JS - Yes I am. I'm very romantic though. Its hard to find someone who's as passionate and a true romantic like me. I need my fans to show me that they are romantic and send me stuff. I love lingerie and shoes. They can reach me at:

Jenna Shea
C/O Cummings Media
5419 Hollywood BL
Suite C738
LA, CA 90027
---
SGE - Talk about your upcoming site and what we can expect?

JS - Well a lot of great content and I'm thinking of ways to make it as personal as possible. I want you to feel as if you know me, and we talk everyday.
---
SGE - Any final thoughts for your fans?

JS - I want to say from the bottom of my heart without you there would not be No Jenna Shea the model. I will continue to reply to your messages and answer all your questions. I take pride in this and I look forward to every message from You, my fans! XOXO Jenna Shea