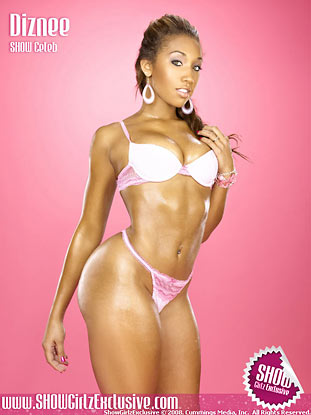 More Images of
Diznee
:











<<
BACK TO HOME PAGE
Interview with Diznee:
---
SGE - How did you come up with the name Diznee?

D - Actually, Sean Cummings came up with the name Diznee shortly after I did my first photo shoot with him and Nick for Show Magazine. I reminded him of a Disney/ cartoon character, hence the name Diznee. Sean said, "We call her Diznee because she has a comic book body and her eyes and facial features remind you of a beautifully animated character." Almost a year has passed since my first debut in Show and people tell me over and over how much they love the name. I guess you can say it fits me perfectly. Sometimes I don't think people take me seriously because of the name. They fall in love with me because "I'm so cute." However you want to look at it I sure have a lot of fans, approximately 204,000 on Myspace alone. I like to call myself America's Sweetheart who decided to take a walk on the wild side.
---
SGE - Where do you see yourself in the next five years?

D - First, I want to be a successful college graduate and have a stable job. I need to be making some big bucks in 5 years to pay off all my college loans. Also, I know I may be young but I hope I am settled down with a man by then. I like being stable, therefore a stable job and relationship would leave me happy.
---
SGE - What are your goals as a model?

D - My goal as a model is to expand my career into different fields other than print work. I want to do commercials and possibly even movies. There is no limit in my eyes and the more versatile I can be the better. I want to take more risks and challenges. I am determined for everyone to know who Diznee is.
---
SGE - What is your favorite body part and why?

D - My personal favorite is my eyes and my smile. Before anyone stares at my ass or my legs they usually notice my facial features. I can charm almost anyone with these features. I eat very healthy and work out regularly to keep a good figure. Overall I am satisfied with my entire body because I feel that I take care of it. I am very critical on myself and usually notice a lot of flaws but I have learned to accept the way I look. I have kept my body completely natural and I intend to keep it that way.
---
SGE - If you could sleep with any woman who would you chose?

D - I would sleep with Stacey Dash. Ever since I was a little girl and the movie "Clueless" came out I have been a fan of hers. My friend and I would walk around calling ourselves Cher and Di from the movie and I always was Di. Now she is 41 years old and smoking hot. I would be lucky if I looked half as good as her in 20 years! I think me and Stacey Dash would look sexy together.
---
SGE - What was your experience like in the Day 26 video? Will you appear in any other music videos?

D - The Day 26 video was so much fun. Although it was a long day I enjoyed being around the other girls in the video and the members of Day 26. Eric White put the video together very well and all the girls look amazing. It was a good learning experience for me since I have never been in a music video before. Since that video I have done two more music videos: David Banner ft. Lil Wayne "Shawty Say" and Colby Odonis "Don't Turn Back." I have enjoyed all my experiences and I look forward for more videos to come.
---
SGE - What are the biggest misconceptions people have of you?

D - People assume that I am going to be stuck up or a bitch, but in reality I am not. I am very down to earth and don't put myself above anyone in anyway. I feel that there are many beautiful sexy women in the world and I am just one of the many. If people want to judge me, they need to judge me after they meet me and spend time with me rather than judging me on my looks or demeanor.
---
SGE - If you could appear on any reality show, what would it be and why?

D - I am the biggest fan of reality TV ! When it comes to picking a reality show I would want to be on I would have to say "Big Brother." Shows where there are men and woman competing for love are interesting to watch, but I would never want to participate in them because of the drama that builds up. A show like "Big Brother" is about people competing against each other and living under one roof locked up with no connection to the outside world. I think it would be extremely fun and since I am very competitive it would be my playing field.
---
SGE - Is it true you have a website coming out, and what can you tell us about it?

D - Yes I have a website coming out and it is going to be off the hook! The website will include plenty of photo and video galleries, forums, a journal page, and an online store. People need to join this site because it is not your average site. We will offer you a variety of content that will be frequently updated. I will also be very active in the site talking to members and writing in my online journal.
---
SGE - We have heard that you are also doing a contest to win a date with you, can you tell us more?

D - Yes I am having a contest! One lucky winner will have the chance to go on a date with me. I think this contest is very important because it is necessary to interact with fans. I am very excited to meet the lucky guy. Hopefully we will have tons of fun together.
---
SGE - Have you ever told someone you loved them but didn't mean it?

D - I can't say that I told someone I loved them and didn't mean it, but I have told someone I loved them more than I actually did. It's important to have balance in a relationship, but if feelings aren't mutual then it usually won't work. I have forced myself to love someone more then I really did and it did not last very long. Love needs to be natural, not forced.