Show Girlz Exclusive
>>
FEATURED GIRLS
>> Laura Doré - AKA Sweetie Cyanide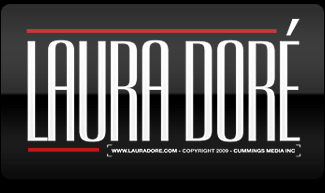 More Images of
Laura Doré - AKA Sweetie Cyanide
:
SEE MEMBERS CONTENT
>>
<<
BACK TO HOME PAGE
Interview with Laura Doré - AKA Sweetie Cyanide:
The following interview and images appear in Marquis issue 46, on newsstands now. You can purchase Marquis at Barnes and Noble or online: www.marquisamerica.com
---
SGE - How did you get your start modeling?

LD - I started modeling after I met Sean Cummings of Show Magazine at All Star Weekend in Houston, TX. I was in a fashion show that never materialized, and the SHOW casting call was in the same building. I wandered in out of curiosity, and ended up landing a 12-page spread.
---
SGE - What does it feel like to look a camera in the eye?
LD - When I first started modeling, it made me feel very vulnerable. But as I began to mature as a model, I realized that it could be very empowering to completely give yourself to the camera.
---
SGE -Is modeling where you see yourself in five years? If so, what kind of modeling do you want to focus on?

LD - I definitely plan on modeling five years from now [Laughs]… I feel like I'm a pretty multidimensional person, so it's hard for me to put myself into a box. I really don't like labels, because I feel like labels can be limiting, and don't leave room for evolution.
Thus said, I would probably lean more towards the fetish end of the spectrum, because I feel like there's more artistic value, but I still want to explore various other outlets of entertainment. My biggest fear is becoming the type of person you can describe with a label.
---
SGE -You seem to be a very creative person- I read in an interview that you chose your last name, Doré, because you're a fan of Gustave Doré. Do you make any kind of visual art, like painting or photography, yourself?

LD - I don't make any visual art, but I can play the violin and I write. In the first grade, I started taking lessons in Suzuki violin, and continued throughout high school. I was an extremely introverted kid, and I still abhor getting in front of crowds, but somehow I made it through countless recitals.
I go into autopilot for any sort of public performance, be it a recital or even a photo shoot [Laughs]… I'm also a fan of dark and twisted literature… Edgar Allen Poe, Stephen King, and Haruki Murakami are some of the authors crammed into my bookshelves.

This is one of my favorite poems, 'In The Desert.'

"I saw a creature, naked, bestial,
Who, squatting upon the ground,
Held his heart in his hands,
And ate of it.
I said, "Is it good, friend?"
"It is bitter--bitter, "he answered;
"But I like it
Because it is bitter,
And because it is my heart."
--Stephen Crane

---
SGE -From what I've read, it seems like you have a taste for the macabre and the darker side of things- does fetish style photography interest you more than the urban/lingerie type of modeling, because it's darker?

LD - Indeed! I was first introduced to fetish style photography when I picked up a copy of Marquis with Kittie Klaw on the cover. I loved how the images were shocking, yet still sexy and artistic. I feel like fetish photography allows more room for personal expression, which to me is more moving than traditional modeling.

Kittie's spread also started my love of rubber. I started on my latex hunt in Austin, TX where I live, only to be disappointed that apparently no one retails it there. Months later, while I was in LA shooting for my website, Diana [the greatest stylist ever] got me my first latex piece from Syren. If it were up to me, I would be in latex everyday of my life [Laughs]… I love how it feels on my skin and clings to every curve. I'm not into heavy rubber though.
---
SGE -It seems fetish work would give you more opportunities to be creative- are there shoots you've imagined but haven't done yet, ideas that are percolating in your head for really unusual types of props or settings? Like, for examples, weapons or vintage lingerie?

LD - I have a never-ending list of ideas [Laughs]… My biggest problem is deciding which ones to execute. I love anything vintage from lingerie to jewelry. A vampire themed shoot in vintage lingerie is an idea I've been toying around with.

I've already shot with various knives and I plan on using more in the future. Medieval weapons intrigue me, and I hope one day to own an iron maiden. I was glued to my TV during weapons week on the History channel [Laughs]…
---
SGE -Since I read that your favorite movie is Sweeney Todd, I'm guessing you like Victorian costumes and fake blood- ever thought about shooting with either of those?

LD - I actually did a shoot in a claw-foot bathtub full of fake blood. The girl that makes the blood for the HBO series Dexter was on set preparing my bloodbath! [Laughs]… I'm a huge fan of the show; Dexter Morgan is my soul mate… I was running around with a huge grin on my face, while everyone else was completely grossed out [Laughing]…

The blood is made with chocolate syrup so it has a glorious smell, but it's extremely slimy and hard to remove. I had a shoot for Lowrider Magazine the next day, which made removal quite interesting. Apparently, shaving cream is the best way to get it off without staining your skin. When I posted one of the pictures from that day on MySpace, I got censored! I received an email from Tom saying they had removed it due to inappropriate content.
---
SGE -I have also heard that you're doing burlesque and pin-up style modeling as well. How would you describe that as compared to the more urban/glamour style modeling you started in, and how does it compare to fetish work?

LD - I like how classic and feminine burlesque is, and I feel more ladylike shooting pin-up rather than urban/glamour. Fetish style photography is avant-garde and the images are usually a lot stronger than urban/glamour.
---
SGE -You have a diverse ethnic background- would you say that makes you stand out as a model, and has it helped you cultivate a unique style?
LD - I would say it has made me stand out because I'm slightly odd looking [Laughs]… I think people are intrigued when they can't immediately pinpoint your ethnicity.
---
SGE -You've been blessed with an extraordinary natural hourglass figure (though I'm sure all the working out you do helps!). Do you ever wear tight lacing corsets, and have you tried to see how small you can lace at the waist?

LD - I frequently wear corsets… My measurements are 34c-23-40. I've been able to lace my waist to 19 inches…

SGE -Your personal website, www.LauraDore.com, is very edgy, with the "Love Hurts- enjoy the pain!" motto, and the images of you in a coffin. Do you want your fans to get to know your darker side?

LD - Definitely… I'm excited to be able to show my fans more of my personality in my upcoming shoots, and the site showcases more of my interests. I hope they will leave the site feeling a like they've had more of an intimate encounter with me…
---
SGE -What would you like to tell our readers about yourself?

LD - As cliché as it might sound, I'm really not like the girl next door… I know that a lot of females in the modeling industry pride themselves on versatility, but I would consider myself to be more of a risk-taker… Like I mentioned earlier, my worst nightmare is being labeled…

I have an array of personal interests that stretch from fetish, to burlesque, and to be able to display all those different sides of my personality through my work has been a blessing. Even though I started off in the urban/glamour field of modeling, my diversity runs a lot deeper, and I've never been scared to test the waters of the unknown…

Not too many people are willing submerge themselves into a vat of fake blood for the love of their art form, and those are the types of things that continually draw me in, to further push the envelope… So when it's all said and done, I just want people to know that I am an individual who's very open to exploring the uninhibited, and when I do, I'm always going to add my own little piece of "Laura Doré" to it…