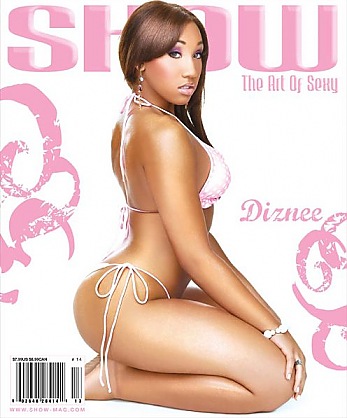 ISSUE #10 - June 2008 - Cover: Diznee

1411 Photos / 45 Galleries
/ now online.
Models come and go. SHOW Girlz leave an indelible image in your mind. You remember the SHOW issue where they first appeared, the pose that you loved the most and even the page numbers of her spread. More important, you are certain that the sexy look she had on her face was specifically meant for you. And you know what, youre correct.
SHOW Girlz are in tune with the wants and desires of their fans, and when they look at that camera with their eyes smiling, its because they know thats what you like. SHOW Girlz definitely aim to please.
Of all our SHOW Girlz, I cant think of one that pleases our readers anymore than Diznee. Her body is phenomenal and combined with her radiant eyes, she is reminiscent of a Disney princess, hence the name. Along with first time SHOW Girlz Brandi, Emily and Naisha, they form our hottest collection of covers yet. We hope you like the concept of giving you multiple covers. Certainly one of the four will catch your eye and suit your particular taste more so than the others. Either way, please let us know your thoughts as just like the SHOW Girlz, it is our intention to please, and please we will!
To that effect, we are happy to finally introduce our much anticipated website www.showgirlzexclusive.com. Produced and marketed by Dreamshock Designs and Cummings Media, ShowGirlzExlusive.com is your backstage pass to the intimate world of SHOW and the SHOW Gilrz, twenty four hours a day. You get exclusive outtakes and videos, uncensored casting footage, original content, never before seen SHOW images, access to our library of issues and much, much more. The site utilizes the latest technology and is full of surprises and hidden gems. Currently, showgirlzexclusive has nearly 45,000 images over 650 galleries and of course, all of the SHOW Girlz. If you love SHOW or just love beautiful women, then you must become a member. Youre guaranteed to be pleased!
Let the SHOW begin,
Photos:
45
Galleries Online
Photos:
1411
Photos Online
Photos:
987.7
MB of Photos Online
Issue: ISSUE #10
Release Date
: June 2008
Cover Girl
: DIZNEE