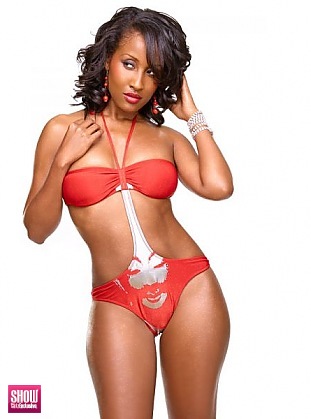 SGE Content for
NuNu in
ISSUE #10
Photos:
3
Galleries and growing
Photos:
23
Photos and growing
Photos:
16.1
MB of Photos
Videos:
1
Videos
Videos:
4
mins of footage
Videos:
42
MB of video
View
ISSUE #10
issue information and galleries >>
AGE:
N/A |
FROM:
N/A |
FEATURED IN:
ISSUE #10
Where should I start? I am the one and only Ethiopian born American raised pure-bred "NuNu: the Ethiopian princess." ATL WHAT? No, I have been NuNu way before that lol. They represented me well in that movie except I am not ghetto lol and I am all Ethiopian (Not mixed) as some may think I am. I love being Ethiopian. I wouldnt be paid enough to be nothing else. I speak two Ethiopian languages fluently which makes men stop and just stare at my mouth when I am on the phone or speaking to someone...lol. And I get free parking wherever I go on that Ethiopian connects. Hey it helps to speak your native language no doubt and I proud myself of that and absolutely commend my parents for speaking nothing but our native language to us. I am on it like white on rice lol! Plus, if you know anything about us Ethiopians, they dont play when it comes to instilling our heritage, morals and mannerism. There is no "I" when it comes to guest and anyone older than us. We must always respect our elders no matter the situation and elders doesnt mean people over fifty either lol. The one thing that completely irritates me is that people ask me where I am from or better yet they guess some random country and when I tell them I am Ethiopian, they say, "No, you dont look nothing like them people that I see on TV." How ignorant is that. I am a vegetarian and I look nothing like the so called vegetarians shown on TV either. Nothing on TV is what it is in reality. I just wish people expand their horizon, open their eyes and mind to different cultures and way of living. Knowledge and knowing is powerful and I want my young fans to know that. In Africa, the happiest people walking are the poorest people or people considered poor by American society which in this case make Ethiopia poor. My parent raised us humbly despite the opportunity we are given. We take nothing for granted and I do live like a poor person too. Material things shown or worn are not the true possession of that person.
PHOTOS BY:
Nick Saglimbeni, www.slickforce.com
STYLINY BY Tiffany Rae
KEY HAIR STYLIST:
Tony Jones
KEY MAKEUP ARTIST:
Gaby Ramos
BOOKING INFO:
BOOKING INFO:
SHOW Model Management, www.showgirlzexclusive.com
PRODUCTION FACILITIES PROVIDED BY:
Slickforce Studio


3
Total Galleries with
23
total photos of
NuNu
from
ISSUE #10
and other Issues