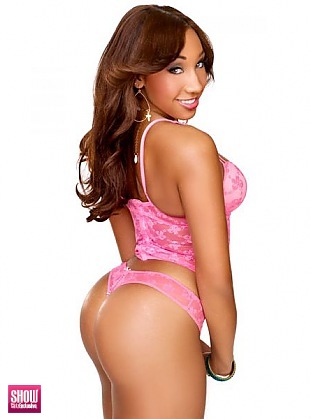 SGE Content for
Diznee in
ISSUE #10
Photos:
1
Galleries and growing
Photos:
17
Photos and growing
Photos:
11.9
MB of Photos
Videos:
1
Videos
Videos:
4
mins of footage
Videos:
42
MB of video
View
ISSUE #10
issue information and galleries >>
Hey some of you may remember me from the Black Lingerie Issue last year. Well I am back in action and a lot has changed since then. I recently left my college in New York because of the cold weather and long distance away from home. I am currently attending California State University Northridge. I am 19 years old and I will be 20 years old at the end of the summer. I am still majoring in broadcast journalism and hopefully I will be doing red carpet interviews soon. Besides that I am still the same sweet, innocent girl next door with green eyes and a big booty. Ever since my debut in the magazine a lot of people recognize me which is pretty cool. My myspace fan base has grown because of the magazine and I have a lot of people who tell me my picture is hanging on their wall in their bedroom. One guy even stopped me in the mall and told me I looked like the girl he had as his screen saver on his phone- sure enough it was me! I am still trying to get into the modeling industry but I am unsure which direction I want to go into next whether its more print or commercials and television. Either way, I am driven to succeed even if it isnt in the modeling industry...even though I hope it is!!! I am very driven and extremely determined and I owe it all to my mother. My motto is "PLAY HARD, GET DIRTY!" If your are going to do something you might as well as go at it full force and not be afraid of what may happen along the way. No matter what obstacles I may face trying to achieve my goals nothing will stop me from getting what I want. In five years I hope to be working for a successful television network and I would love for everyone to know who Chelsea AKA Diznee is, because I believe I am the future.
PHOTOS BY:
Nick Saglimbeni, www.slickforce.com
STYLINY BY Tiffany Rae
KEY HAIR STYLIST:
Tony Jones
KEY MAKEUP ARTIST:
Gaby Ramos
BOOKING INFO:
SHOW Model Management, www.showgirlzexclusive.com
PRODUCTION FACILITIES PROVIDED BY:
Slickforce Studio


14
Total Galleries with
216
total photos of
Diznee
from
ISSUE #10
and other Issues