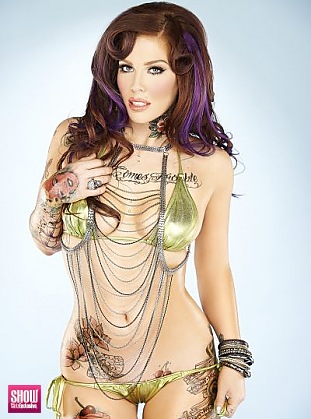 SGE Content for
Krista Monroe in
SHOW #28
Photos:
0
Galleries and growing
Photos:
10
Photos and growing
Photos:
7
MB of Photos
Videos:
1
Videos
Videos:
4
mins of footage
Videos:
42
MB of video
View
SHOW #28
issue information and galleries >>
AGE:
N/A |
FROM:
Hollywood, CA |
FEATURED IN:
SHOW #28
KRISTA MONROE
PHOTOS BY:
Sean Cummings, @SHOWMagazine_
GRAPHIC DESIGN: @cmkdesigns
HAIR STYLIST: Al Ingram, @AlSexyHair
MAKEUP ARTIST: Angela January, @Angela_January
BOOKING INFO:
: @The1KristaMonroe
Visit: www.SHOWGirlzExclusive.com for exclusive images and video from this issue.
"Los Angeles born and raised Entertainer / Model, The Tall & Tattooed - Krista Monroe. Growing up participating in Beauty Pageants and winning various Crowns & Titles allover California & the Nation; Later advancing from the Pageant Stage - to the GoGo Box. Krista Monroe can be found rocking various Star-Studded Nightclubs, parties & events throughout the Hollywood / Los Angeles area."
WHAT ARE YOUR HOBBIES/PAST TIMES?
Im SUCH a Cali girl, so of course I adore beach time. Im in love with music, gotta have it 24/7 around me. Definitely. I get high on music ! I love dancing, entertaining, making people smile. I enjoy girly-girl things, like being pampered. Shopping. Things like that. I adore a Great Laugh. Im pretty Complicated, but I can be pretty Simple at the same time...
WHAT WERE YOU LIKE GROWING UP?
Ive always been ultra Girly, but I think I was a little bit of a Late Blossomer. Because my parents threw braces on me, and I went through a "Tall & Awkward" phase, I definitely had a rough year or two growing up. But I always had a blast. Always active! Cheerleading, dance classes, Summer Camp, etc.... Anything FUN, I wanted to be a part of!
DESCRIBE YOUR PERFECT DATE:
I love having a Great time. Nothing worse than a "Debbie Downer" type of personality. So I can have a Great time no matter what Im doing, as long as Im comfortable. Of course I enjoy a nice evening Dinner & drinks, typical things - like late night Shopping, maybe dancing at a Club or Bar....
However, I can be perfectly happy staying at home, watching Horror movies, listening to The Weeknd, eating Pizza and smoking herb!
WHAT ARE YOUR TURN ONS? TURN OFFS?
I always get asked about "what exactly am I attracted too?" But I think thats so difficult to explain/answer. I think everything can have its own type of Beauty. I hate Standards / Limitations / Expectations. I love Positive Vibes, if it "Feels Right" - I go for it.
As far as PHYSICAL TURN OFFS are concerned, Cigarette smoking is an ABSOLUTE DEAL BREAKER. Absolutely nothing in the world more Unattractive that a Tobacco smoker!
WHERE DO YOU SEE YOURSELF IN 10 YEARS?
I look up to some AMAZINGLY inspirational women, like Betsey Johnson or Anastasia Beverly Hills... I definitely want to follow in the footsteps of the amazingly talented and creative shoes of the top Women of the Beauty and Fashion Industries!
I am currently in the very beginner phases of a new High End, quality Cosmetics line. Im hoping to start the next Amazing makeup launch.
However, Im also hoping to dabble in a Jewelry and Accessories line;
Im hoping to see myself in charge of a very gorgeous, High quality Beauty corporation!
BRIEFLY DESCRIBE YOUR TATTOO COLLECTION:
I adore artwork. All types..! Body Art, Street Art, Canvas, Music, Culinary Art, etc....
My tattoo collection is just an extension of my Personality.
I allow portions of who I am privately, to be showcased on the outside of my body. In essence, I think its a very brave thing to do. I love beautiful, high- quality tattoos, I don think Ill ever stop collecting them. Im looking forward to getting in the prestigious chair of Roman Abrego, in the near future! Currently, Im going to Pablo of Deadman Studio; Or some of the artists out of Electric Soul Tattoo in Lancaster, CA (Junior Garcia, T Massari, Evan Campbell) I am in love with my Colorful, Eccentric, Memory-Laden collection of Gorgeous artwork!
INSTAGRAM: @The1KristaMonroe
TWITTER: @MonroexMyLove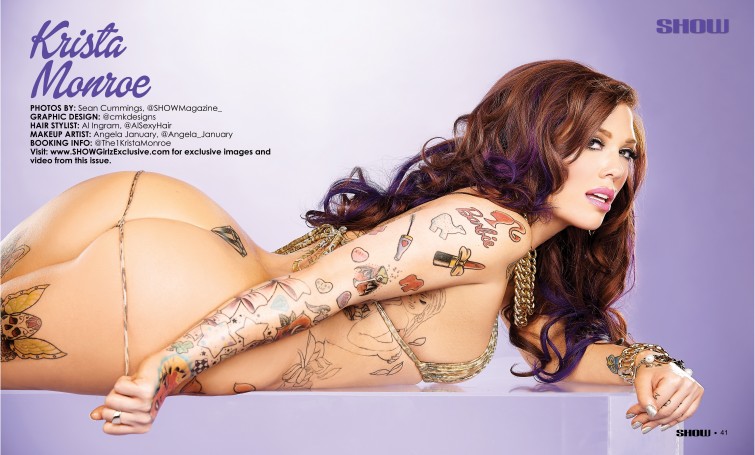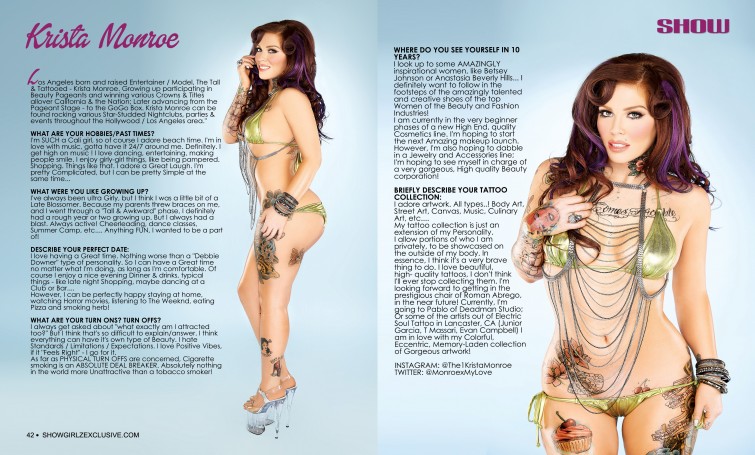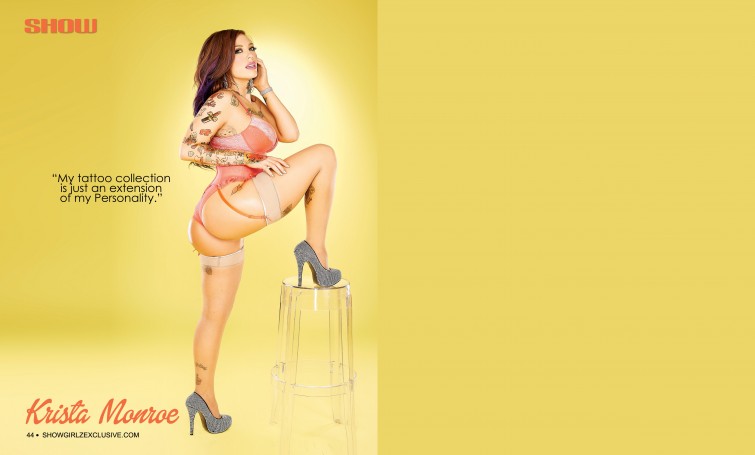 1
Total Galleries with
10
total photos of
Krista Monroe
from
SHOW #28
and other Issues