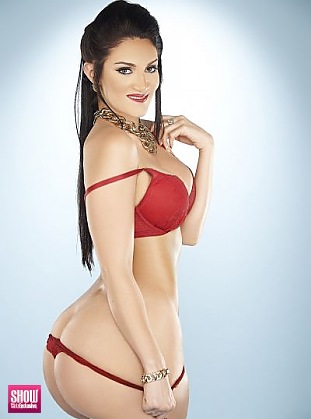 SGE Content for
Rosee in
SHOW #28
Photos:
1
Galleries and growing
Photos:
9
Photos and growing
Photos:
6.3
MB of Photos
Videos:
1
Videos
Videos:
4
mins of footage
Videos:
42
MB of video
View
SHOW #28
issue information and galleries >>
AGE:
N/A |
FROM:
London, UK |
FEATURED IN:
SHOW #28
ROSEE
PHOTOS BY:
Sean Cummings, @SHOWMagazine_
GRAPHIC DESIGN: @cmkdesigns
HAIR STYLIST: Al Ingram, @AlSexyHair
MAKEUP ARTIST: Angela January, @Angela_January
BOOKING INFO:
: @FrenchRosebud and @ArtSophie
Visit: www.SHOWGirlzExclusive.com for exclusive images and video from this issue.
My name is Rosee, I am a French model and artist. I got my Masters in International business and Finance but I found it a bit boring, Ive always been a free spirit lol. I started modeling about 2 years ago, did a few magazines and videos (including a cover of Black Lingerie earlier this year). Nowadays, I spend most of my time on my art and upcoming jeans line for curvy women (because ladies lets face it, its not easy to find some you can fit when youre not built like a runway model!).
NAME THE VIDEOS YOUVE BEEN IN:
Busta Rhymes – TwerkIt; Fat Joe Ft. Wiz Khalifa & Teyana Taylor – Ballin; Gucci mane – Me; Busta Rhymes ft. Q-Tip, Kanye West and Lil Wayne – Thank you; and World star hip hop
WHAT ARE YOUR FAVORITE THINGS IN THE WORLD?
Chocolate, wifi, art, and adrenaline-inducing activities!
AND WHAT DO YOU HATE THE MOST?
Losing my time. There is nothing I can do to get it back.
ARE YOU SINGLE?
Yes I am single, and I like people I vibe with in general.
WHAT DO YOU LOOK FOR IN A MAN?
Race, education, and looks matter little compared to chemistry, charisma, and ambition. I work hard, and I like people who work hard for what they want as well.
WHAT DO YOU HAVE PLANNED FOR THE FUTURE?
In addition to painting, me and my friend Mirna are working on developing a line of jeans for curvy women. Everytime one of us finds a pair of jeans we can miraculously fit in, we have it to group-text our fellow big-booty girls so they can finally get into a pair that fits them too! Its heavy maintenance, and we decided to make them ourselves. Everything will be posted on my website and social media of course (and yes the models will have very nice bodies lol so everybody will be happy) I know some of you noted the lack of booty pics on my social media -more or less loudly, I might add. I just turned 25, my twerking days are over… well not really of course, once a twerker always a twerker right? But I will focus my time and energy especially on developing my line and my art as I mentioned before. Youll just have to come find me in SHOW Mag from now on lol.
IS THERE ANYTHING YOUD LIKE TO ADD FOR OUR READERS?
First of all, Id like to thank SHOW Magazine for working with me again, especially
Sean. A real blessing. Then Id like to thank all those of you whove been supporting me from day 1, 100, or even yesterday, a lot of amazing things happened to me thanks to the opportunities you helped create for me! Thank you again, much love from your fav
French girl.
WEBSITE: www.ArtsophieB.com
INSTAGRAM: @FrenchRosebud and @ArtSophie
TWITTER: @FrenchRosebud and @ArtSophieB
BOOKING INFO:
: info@artsophieb.com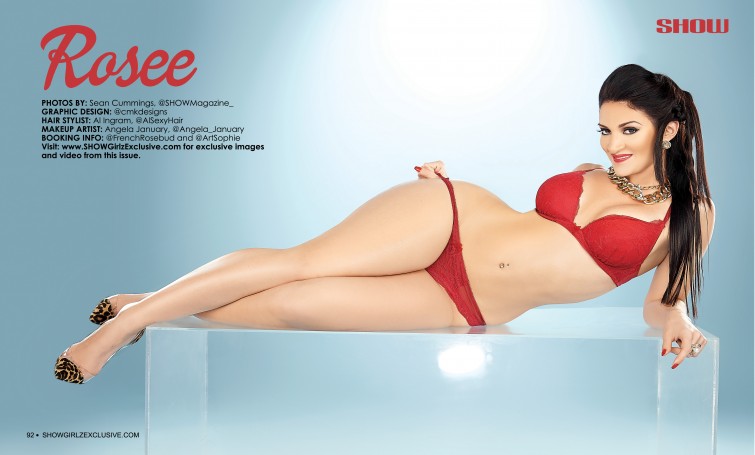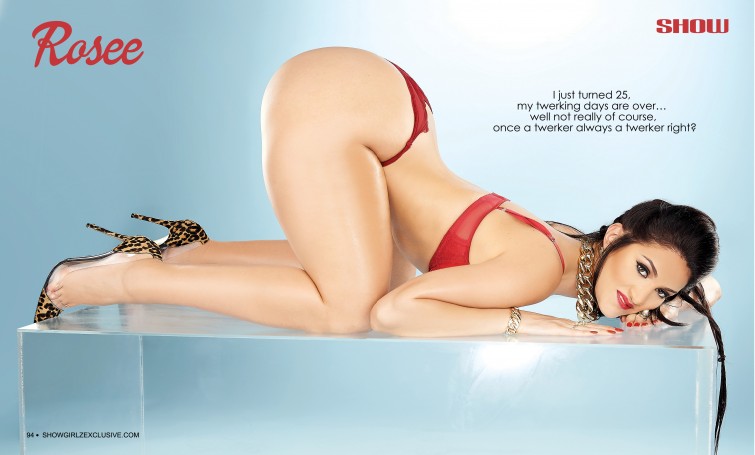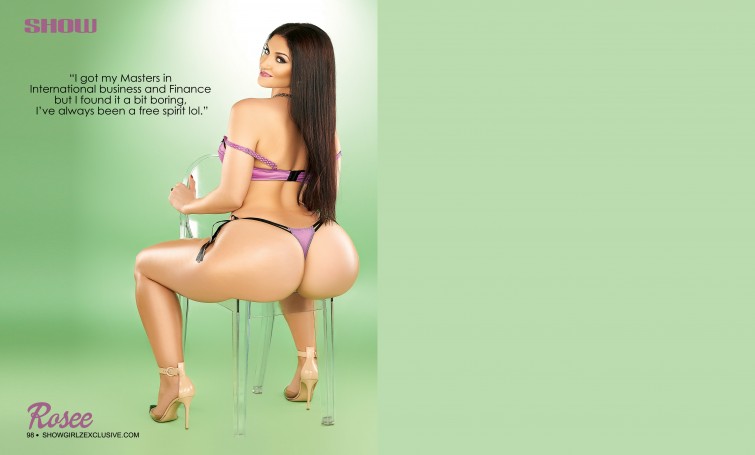 2
Total Galleries with
16
total photos of
Rosee
from
SHOW #28
and other Issues