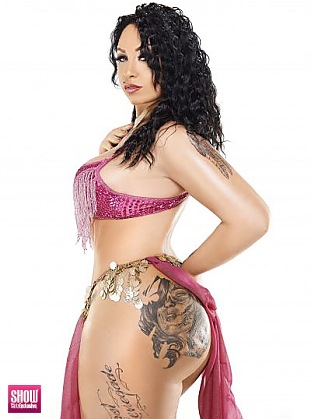 SGE Content for
Phoenix Simone in
SHOW #28
Photos:
0
Galleries and growing
Photos:
7
Photos and growing
Photos:
4.9
MB of Photos
Videos:
1
Videos
Videos:
4
mins of footage
Videos:
42
MB of video
View
SHOW #28
issue information and galleries >>
AGE:
N/A |
FROM:
N/A |
FEATURED IN:
SHOW #28
PHOENIX
PHOTOS BY:
Sean Cummings, @SHOWMagazine_
GRAPHIC DESIGN: @cmkdesigns
HAIR STYLIST: Shaunte Dolphy, @royaltysmith
MAKEUP ARTIST: Melanie X Tran, @melaniediamonds
BOOKING INFO:
: @poetic_kinetix
Visit: www.SHOWGirlzExclusive.com for exclusive images and video from this issue.
I began this journey through a lifelong desire to become self-made through my body, my art and my dance. I was raised in west coast Canada, up and left everything to start a new life in the east coast TDOT, following my dreams of visual and performing arts. Im a lover and a fighter, a combination of being a street-smart Israeli girl with ride or die instincts.
I am an artist and WAS a professional dancer for several years, but never conformed to that thin prima-donna body or attitude. I was always hat girl with the big ass, no filter that made everyone laugh yet everyone feared. I believe every lesson is a blessing! I know what it is to have everything... yet I also know how it is to have nothing, so I value every opportunity to the fullest. I use my mind and artistic blood to empower others; I use my body to emulate the natural Seduction of a womans curves. I believe in being self-made and that anyone can build an empire from nothing, many have slipped through the cracks and grown from the dirt that was once kicked upon them. Im a cancer which is a water sign, a tough shell to break but easily adaptable once open. How did I end up here in this shoot? Id say taboo instincts and a rebirth of sexiness and sultriness provoked me. I love the display of raw voluptuous curves, a shape that was once praised as goddesses before the days of twiggy and fashion runways. I want to bring back the sensuality of women who are most frowned upon, most feared...but most desired ;)
My background is Israeli and Polish, but I was born and raised in the "little Detroit of Canada," west coast inner city of Edmonton, Alberta. In 2005 I migrated to East coast TORONTO, with a hunger to become self made and successful. I saw a world of opportunity in my new move that a lot of people I grew up with never had the chance to experience. Ever since then Ive vowed to become self made through my dance, modeling, art and poetry which I am currently developing a website for, called #lifeofashowgirl ... Stay tuned ;)
DO YOU HAVE A LOT OF SEX?
Ironically NO lol, my lifestyle is so crazy and busy I usually leave the sex for palmela but I do watch a ridiculous amount of lesbian porn.
SINCE YOURE ISEAELI, DOESNT THAT MAKE YOU JEWISH? ARENT ALL JEWISH PEOPLE RICH?
Yes I am of Jewish bloodlines, but I don follow the religion. Not all Jews are rich lol but we do know how to make money ;)
WHAT GOT YOU INTO THE ENTERTAINMENT BUSINESS?
For me, I started off a young bad ass just trying to survive in the inner city of my hometown, my dance, poetry and drawing was my artistic salvation...so finding another form of artistic expression (although on the erotic side) felt natural to me. This business paid for 5 years of university, Im not just a pretty face;)
OUT OF ALL YOUR TATTOOS, WHICH WAS THE MOST PAINFUL?
MY ASS!!! Had no clue how many nerves are contained in your butt cheeks! My ass was literally twerking on its own through the whole tattoo session -_-
WHAT ARE YOUR GOALS OUT OF THIS INDUSTRY?
My goal is to come out as my own brand, and have a yoga/holistic nutrition and pole-dancing studio, where I can showcase my art as well. I am self-made; everything has been built off of hard work through my blood, sweat and tears. A successful empire is not built without struggle ;)
INSTAGRAM: @poetic_kinetix
BOOKING: phoenixxxsimone@gmail.com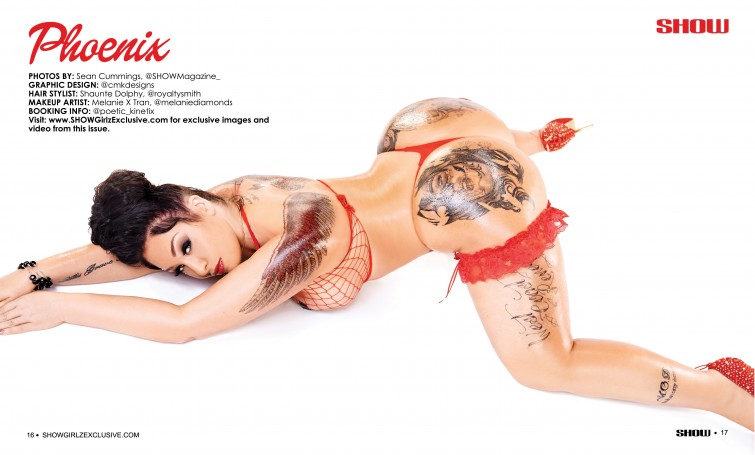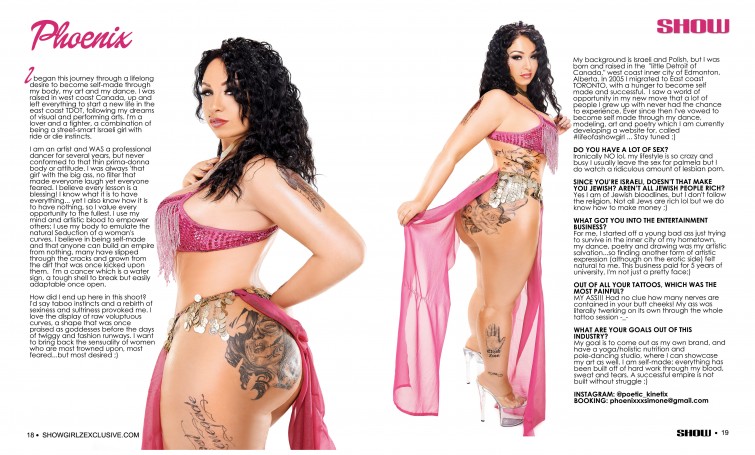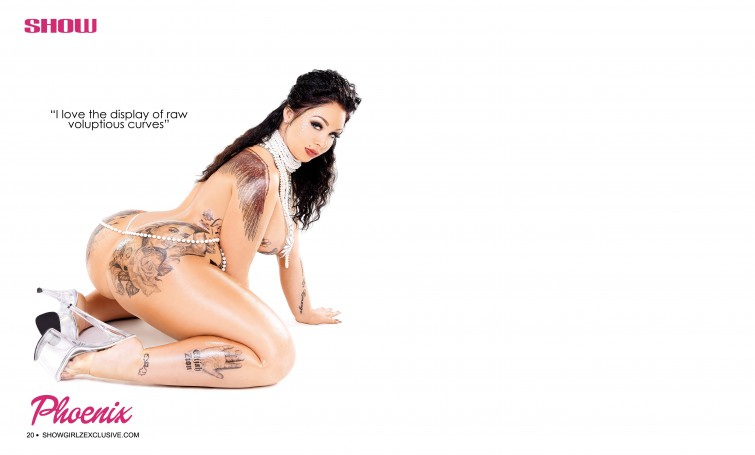 2
Total Galleries with
13
total photos of
Phoenix Simone
from
SHOW #28
and other Issues