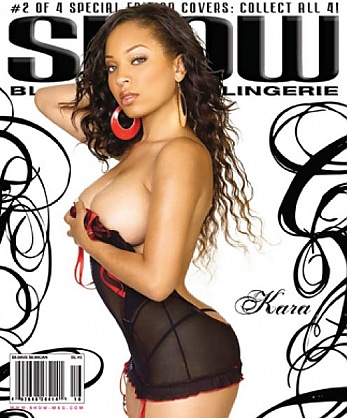 BLACK LINGERIE #5 - October 2008 - Cover: Tiara

1821 Photos / 61 Galleries
/ now online.
Im in love again. I havent felt this way since Amerie stole my heart in 2002. God has truly blessed us once again and this time her name is Kara.
Look deep into her natural green eyes and you are sure to fall in love with her as well. How sweet is it to meet twelve new beautiful women every month; women who smile at you, and who share some of their more intimate moments with you.
All they ask is that you appreciate them for who they are. With each issue of SHOW you will at least find one beauty that appeals to you the most for your own reasons. For me, this time, its cover model Kara. I wont get into details as her images simply speak for themselves. Allow me to encourage you, however, to seek out your special love from amongst this outstanding selection. Tell us who she is and why.
SHOW magazine cherishes its many fans and readers. The SHOW Girlz are especially thankful for all of the people they are able to please and keep happy month after month.
We exist because of you and we thank you. Every day we think of more and more ways in which we can be of service to the legions of SHOW Fanz. Our new members only website www.showgirlzexclusive.com has proven to be a phenomenal success and a must visit site for all fans of beautiful women. SGE has become a 24-hour online community where models and readers interact and share thoughts and images. The launch of
www.idreamofdiznee.com, our first single model site, has taken off as well. Next up we have www.iluvjennashea.com. In addition our 2009 Exotic SHOW Girlz calendar is now on sale, as well as SHOW DVD Vol.5 and our second spin-off SHOW Latina is still serving our readers well. So continue to ask and ye shall continue to receive.
This fifth installment of Black Lingerie comes on the heels of our "hottest" edition BL#4, so we had to go to extra lengths to make it better. For this task called on some true heavy hitters. Cover models Tiara, Dynasty and Jenna Shea are a bonified murderers row, so I think we have accomplished our goal. You tell us what you think. It our desire to please
Photos:
61
Galleries Online
Photos:
1821
Photos Online
Photos:
1274.7
MB of Photos Online
Issue: BLACK LINGERIE #5
Release Date
: October 2008
Cover Girl
: TIARA