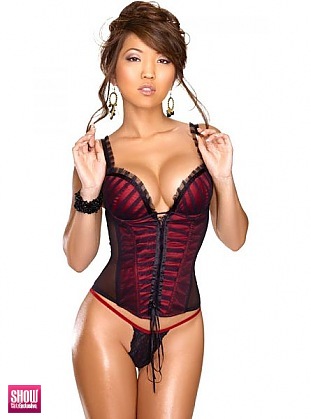 SGE Content for
Tia Kai in
BLACK LINGERIE #5
Photos:
5
Galleries and growing
Photos:
194
Photos and growing
Photos:
135.8
MB of Photos
Videos:
1
Videos
Videos:
4
mins of footage
Videos:
42
MB of video
View
BLACK LINGERIE #5
issue information and galleries >>
"My home is definitely my domain"
My life began on Groundhogs Day some time ago and I was fortunate enough to experience my life in the beautiful southern California. I am a true Californian with a passion for the beaches in the summer and snow in the winter. California is great for almost everything being at least an hour away. The mountains are close for the winter and the beaches are even closer for the summer.
As much as I love the outdoors, I appreciate my home life. There is nothing better than relaxing at home. With work and all the activities in my life, its hard just to savor the moments at home. If I dont have to work, I completely relish in the weekends. My home is definitely my domain.
Now onto the exciting part...
I am currently modeling part-time. I say part-time because this isnt a career move for me. I started years ago through another model friend. I graduated with a business degree and currently work in the pharmaceutical field.
My modeling has been a highlight of my life thus far. It has giving me the opportunity to expand my horizon. Ive always had a passion for traveling and this has opened the traveling doors. Modeling is both hard work and a lot of fun. I have been fortunate enough to have this experience and share it with fellow model girlfriends. It definitely makes the trip that much more exciting.
PHOTOS BY:
Nick Saglimbeni, www.slickforce.com
STYLING BY:
Megan Halpin, www.meganhalpin.com
KEY HAIR STYLIST:
Tony Jones
KEY MAKEUP ARTIST:
Gaby Ramos using MAC Cosmetics
MAKE UP ARTIST:
David Rodriguez using MAC Cosmetics
BOOKING INFO:
bookings@tiakai.com
PRODUCTION FACILITIES PROVIDED BY:
Slickforce Studio


7
Total Galleries with
205
total photos of
Tia Kai
from
BLACK LINGERIE #5
and other Issues