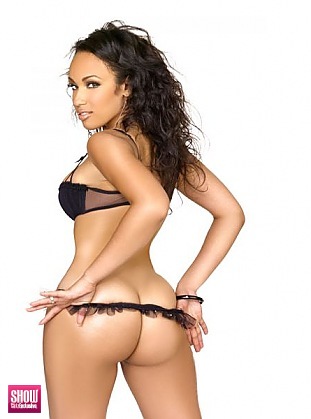 SGE Content for
Ashalee in
BLACK LINGERIE #5
Photos:
6
Galleries and growing
Photos:
234
Photos and growing
Photos:
163.8
MB of Photos
Videos:
1
Videos
Videos:
4
mins of footage
Videos:
42
MB of video
View
BLACK LINGERIE #5
issue information and galleries >>
"I love the camera almost as much as I love food"
My name is Ashalee Deanna Albar. Im 21 years old. Straight out of the eastside of long beach California. Im a very hard working student and when Im not in class you can more than likely find me on set. Ive sported my good girl smile and my bad girl sass on videos such as Lil Waynes Lollipop, Swizz Beats Money in the Bank, Chris Hurricanes Aye Bay Bay (remix) and much more. I love the camera almost as much as I love food. Yes honey my passion for food can be breath taking. I make sure I keep this 36-24-38 frame nourished. Im pretty well rounded, strong minded, I like to be in control in almost everything with the exception of the bedroom... Im very loving, sweet and sensitive (its the cancer in me) but if you try to cross me I will make you reconsider. Im a good, strong, god fearing woman and to me no one else comes before him. I look up to hardworking women like Oprah, Gabrielle Union, Tamala Jones, Taraji Henson, and Maya Angelou who once said "I love to see a young girl go out and grab the world by the lapels. Lifes a bitch. Youve got to go out and kick ass." and thats exactly what I intend to do... Free time well spent to me is time spent dancing, eating and laughing just enjoying the simple pleasures life has to offer. My Hollywood crushes would include Idris Elba, Meagan Fox, Jessica Alba, Eva Mendes, Paul Walker, Common, and Dame Dash. Im very thankful for all the love and support I receive and stay tune for more of me in the future with website launching soon!!!
PHOTOS BY:
Nick Saglimbeni, www.slickforce.com
STYLING BY:
Megan Halpin, www.meganhalpin.com
KEY HAIR STYLIST:
Tony Jones
KEY MAKEUP ARTIST:
Gaby Ramos using MAC Cosmetics
MAKE UP ARTIST:
David Rodriguez using MAC Cosmetics
BOOKING INFO:
tiara@tiara4ever.com
PRODUCTION FACILITIES PROVIDED BY:
Slickforce Studio


7
Total Galleries with
240
total photos of
Ashalee
from
BLACK LINGERIE #5
and other Issues