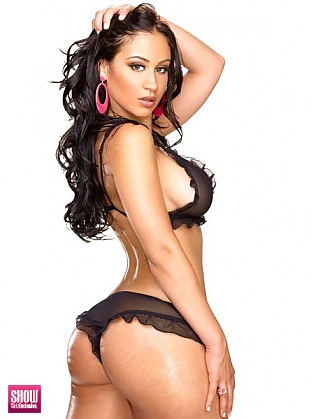 SGE Content for
Eve in
BLACK LINGERIE #5
Photos:
1
Galleries and growing
Photos:
15
Photos and growing
Photos:
10.5
MB of Photos
Videos:
1
Videos
Videos:
4
mins of footage
Videos:
42
MB of video
View
BLACK LINGERIE #5
issue information and galleries >>
"The sky is the limit."
Ivelisse Pietri, better known as Eve, was born on a March 3rd in San Juan, P.R. She was the product of Mildred Rodriguez and Orlando Pietri; she is the eldest of two girls. Eve was raised in both PR and Miami. She graduated from Miami Killian Senior with honors and went on to Florida International University to get her BA degree in Marketing along with a minor in International Business. She has planned to go back to school in 2009 and complete the MBA program.
As a natural seller, Eve currently works as a Sales Account Manager at a major corporation as well as a Real Estate sales associate. However, her true passion has always been in the Entertainment industry. In August 2007, she finally decided to give it a shot. On her first photo-shoot, she landed a job to be featured in SHOW magazine. Now, with a strong management team, Eve will enter the urban market as a new and upcoming model with a goal to make it into the mainstream market. Her work interests are: print media, catalogs, calendars, magazine print, music videos, fashion shows, hosting, commercials and other television work.
PHOTOS BY:
Nick Saglimbeni, www.slickforce.com
STYLING BY:
Megan Halpin, www.meganhalpin.com
KEY HAIR STYLIST:
Tony Jones
KEY MAKEUP ARTIST:
Gaby Ramos using MAC Cosmetics
MAKE UP ARTIST:
David Rodriguez using MAC Cosmetics
BOOKING INFO:
Troy Ciccone at World Entertainment Agency, tcicconewe@yahoo.com
PRODUCTION FACILITIES PROVIDED BY:
Slickforce Studio


2
Total Galleries with
23
total photos of
Eve
from
BLACK LINGERIE #5
and other Issues