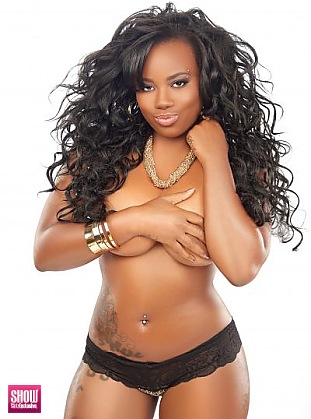 SGE Content for
Black Heart in
BLACK LINGERIE #29
Photos:
1
Galleries and growing
Photos:
Photos and growing
Photos:
0
MB of Photos
Videos:
0
Videos
Videos:
0
mins of footage
Videos:
0
MB of video
View
BLACK LINGERIE #29
issue information and galleries >>
Black Heart
PHOTOS BY:
Sean Cummings, @SHOWMagazine__
GRAPHIC DESIGN: @cmkdesigns
HAIR STYLIST: Al Ingram, @AlSexyHair
MAKEUP ARTIST: Nina Acre, @NinasMakeup
BOOKING INFO:
: @shortyblackheart
Visit: www.SHOWGirlzExclusive.com for exclusive images and video from this issue.
Que onda?
Im Ebony, but the streets call me Blackheart. Thats the name I like to go by. California bred and Virginia raised. Im 100 % chocolate and proud! Im an Aquarius and the sign fits me. Im extremely loyal and free flowing, always into something. My age, well lets say Im legal enough to be everything you desire and young enough to make it happen. I am a winter baby and love the snow and the mountains. This birthday Ill be snowboarding, so if you see me in Big Bear dont be shy to say whats up. I am very active and love the gym. I love football, baseball, hockey. I play sports as well. Im currently training for WBFF and NCP competition. I am a nurse full time and model for pleasure. So if youre ever sick in southern California and in the hospital, this sexy nurse can get you right. Im definitely the life of the party. Always have been and always will be. I say the things people are afraid to and I am very funny. I love to meet people and try new things. I am a big lover, despite what you may here about me. I like to turn up, but the country girl in me like to stay in most nights. I love to cook and drink wine and entertain at my house. I throw the best parties in southern California. Ask about me, lol!
Soy un amante de la luchadora! Im aggressive and bold, so you need to be strong if you want to be my man. I dont discriminate my heart sees no color. Pero si quieres que te llame papa, than you need to be a beast, determined, dedicated, and making money! I have my own money, but I like a man with power and authority. In a sea full of fishes Im a shark. Necesito el tipo de persona que no tiene miedo a ahogarse puta, de levantarse y rezar en la iglesia a la mana siguinte. Which means "I need the kind of guy thats not afraid to choke a B!*@# , than get up and pray in church the next morning."
SHOW is my first publication and my proudest modeling accomplishment. I have wanted to be in SHOW since I seen Draya Mitchell and met Amazin Amie in 2009. I am so thankful of Sean for giving me this opportunity. I hope this is a long lasting relationship with SHOW magazine. I have been in SOBEIT entertainment, Urban Ink, and Playboy pinups on their websites. I have many other projects coming out in 2016 so stay tuned!
I am a huge luker, so follow me on social media I follow people back. If I like what you post.
INSTAGRAM: @shortyblackheart
TWITTER: @shortyblakheart
SNAPCHAT: @ms.blackheart
Hasta la proxima, besos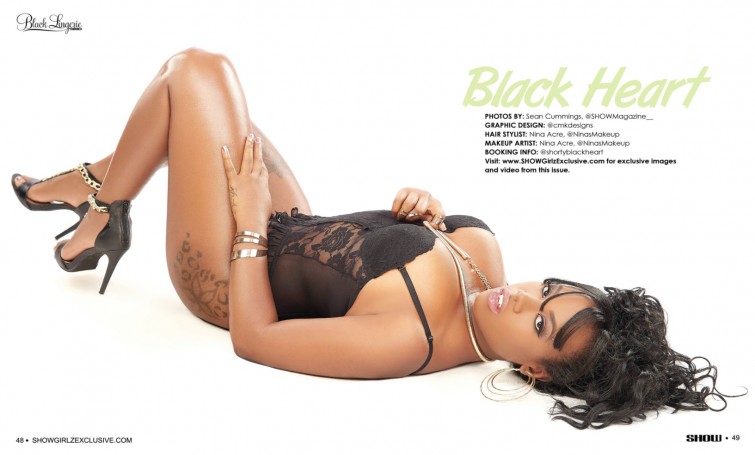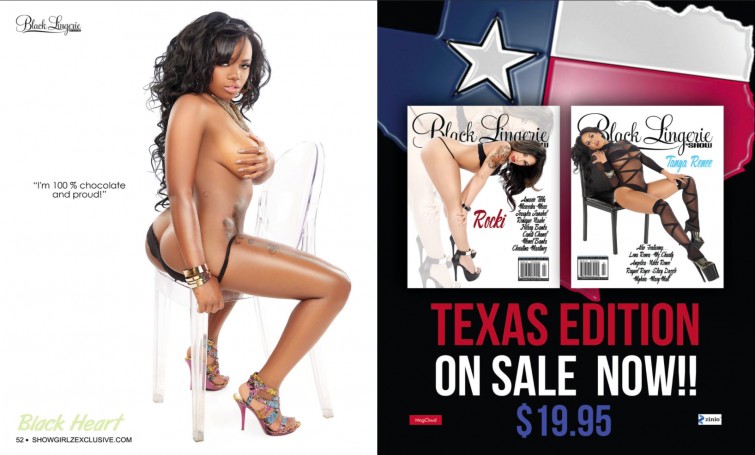 1
Total Galleries with
6
total photos of
Black Heart
from
BLACK LINGERIE #29
and other Issues