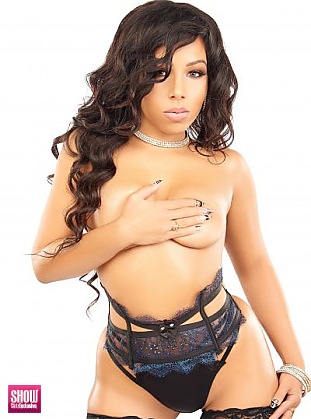 SGE Content for
Jazzy Royale in
BLACK LINGERIE #29
Photos:
1
Galleries and growing
Photos:
Photos and growing
Photos:
0
MB of Photos
Videos:
0
Videos
Videos:
0
mins of footage
Videos:
0
MB of video
View
BLACK LINGERIE #29
issue information and galleries >>
Jazzy Royale
PHOTOS BY:
Sean Cummings, @SHOWMagazine__
GRAPHIC DESIGN: @cmkdesigns
HAIR STYLIST: Al Ingram, @AlSexyHair
MAKEUP ARTIST: Nina Acre, @NinasMakeup
BOOKING INFO:
: Jazzyroyalemusic@gmail.com
Visit: www.SHOWGirlzExclusive.com for exclusive images and video from this issue.
Jazzy Royale is bread from the streets of Los Angeles. Shes an empress of her own empire: self made, tempting, bold, creative and a soulful type of woman. She is empowering to all women who believe in living their dreams. She has stepped into the industry to share her journey of life through songs, poetic lyrics, and many different sizzling visuals.
She grew up living with her father and having three mothers apart of her life. From the age of 5 she danced ballet for Lula Washington Dance Academy. She then continued in hip hop dance and cheerleading as a teen. She also played the clarinet in school. Music has always been apart of her family and soul. Jazzy spends a valuable amount of time behind scenes and in front of the camera. Whether taking sizzling sexy photos in heels, being published in magazines worldwide, oiling up her sexy models for a photo shoot or utilizing her skills in photography, graphics and a business degree. Jazzy Royale stays pretty busy these days, adding to her multitude of talents, her lyrical rap skills, sex appeal, styling and design, and successfully running a multimedia company. You can check out her sexy photos and music on iTunes, datpiff.com, YouTube and www.JazzyRoyale.com. Also available are: posters, ringtones, erotic videos, show dates and more. Log on and take a sneak peak today!
What stimulates you intellectually? Writing poetry and music stimulates my mind body and my soul. You can get lost in a fantasy world of writing and block away the reality of life. When it comes to Poetry its very orgasmic to me it brings out my passion my love my sexy. Put a nice jazz beat and candles behind it dim the lights and fall into a trance.
What about you makes you the art of sexy? Every woman exudes sex appeal no matter shape size color. The uniqueness of a womans curves describes the art of sexy. My curves, my creativity, my mind and my skills in the office to the bedroom I feel makes me the art of sexy. Its more than how you look a woman with substance is sexy.
What are your next moves Jazzy Royale? This is going to be an amazing year. I have many projects going on. I will be featured in numerous magazines throughout the year. My mixtape and single is available on datpiff.com and iTunes. Also check out my website I update it daily with new photos videos and music. Www.jazzyroyale.com find out more.
What are your biggest turn ons and turn offs in men/women? I love a woman who is gentle and soft like my mac makeup. The biggest turn on is a smart woman most of all. If she got brains and give good brains shes a winner. Same goes for a man as well but I love my man gangsta. CEO HUSTLER type dude turns me on. Good vibes only. A turn off for me is a broke man or woman, who has no ambition class or passion.
WEBSITE: www.jazzyroyale.com www.shopjazzyroyale.com
BOOKING: Jazzyroyalemusic@gmail.com
INSTAGRAM: @jazzy_royale
TWITTER: @jazzy_royale
FACEBOOK: jazzyroyale
YOUTUBE: jazzyroyale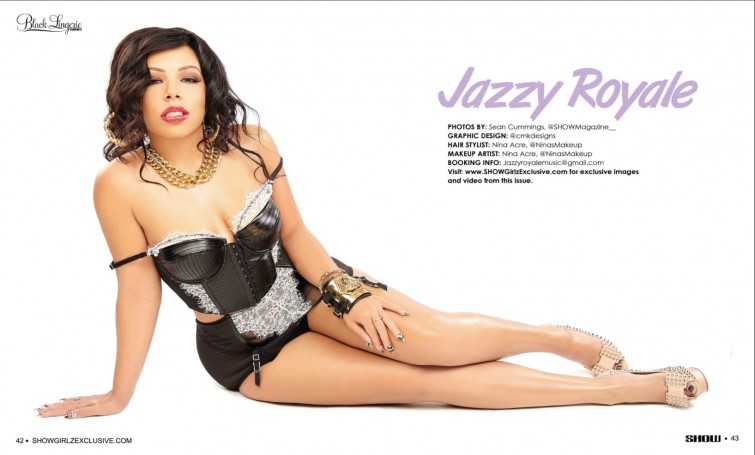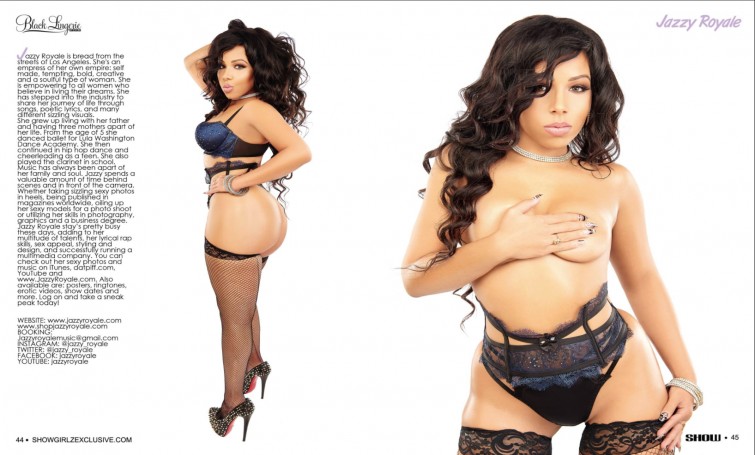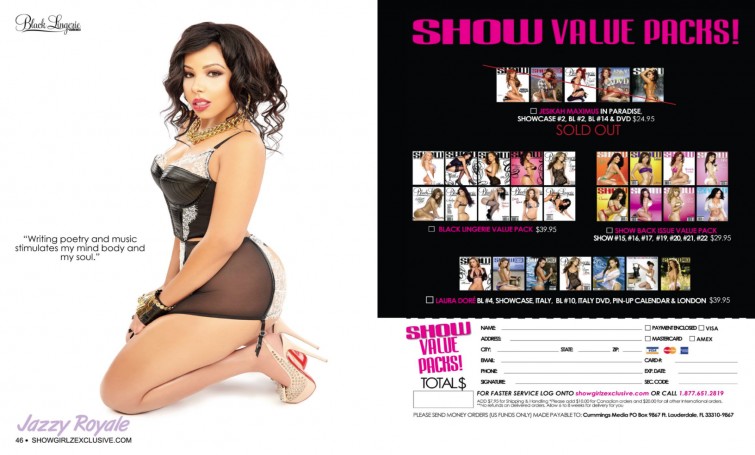 1
Total Galleries with
7
total photos of
Jazzy Royale
from
BLACK LINGERIE #29
and other Issues