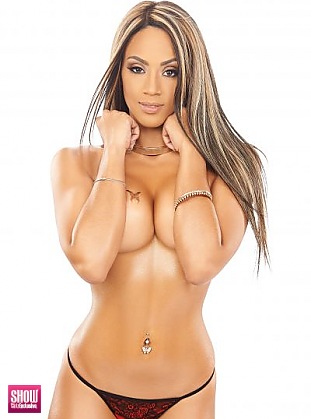 SGE Content for
Tiffany Elissa in
BLACK LINGERIE #29
Photos:
1
Galleries and growing
Photos:
Photos and growing
Photos:
0
MB of Photos
Videos:
0
Videos
Videos:
0
mins of footage
Videos:
0
MB of video
View
BLACK LINGERIE #29
issue information and galleries >>
Tiffany Elissa
PHOTOS BY:
Sean Cummings, @SHOWMagazine__
GRAPHIC DESIGN: @cmkdesigns
HAIR STYLIST: Al Ingram, @AlSexyHair
MAKEUP ARTIST: Nina Acre, @NinasMakeup
BOOKING INFO:
: TiffanyElissah@gmail.com
Visit: www.SHOWGirlzExclusive.com for exclusive images and video from this issue.
Hello my name is Tiffany Elissa. Im an experienced, published model. I was born and raised in Miami, Florida, where I discovered my passion for modeling. I am also strongly into fitness. I believe its important to be healthy, as well as beautiful. My measurements are: 34D-24-36
What stimulates you mentally?
Good conversation & laughing both stimulate me mentally.
Have you ever been nude on camera?
Of course, Im very comfortable in my skin. I also love feeling sexy and showing off my body. Im a bit of a tease ;)
How long have you been modeling and what are your goals now that you are modeling?
Ive been modeling for about 3 years now and sometime in the near future, I want to open my own clothing boutique.
What would you consider to be your biggest turn on/turn off?
My biggest turn on would be a good sense of humor and a big penis lol. My biggest turn off would be bad hygiene and a bad attitude.
What would you consider to be your best feature?
I think my smile is my best feature. My boobs are pretty nice too!
Do you have a fantasy you have been dying to do but have been granted the opportunity yet?
There are a few S/M things I would like to try! I love being dominated in the bedroom
What would be the number one place you would love to have sex at?
Anywhere new and exciting. Spontaneous sex is the best sex.
What would you say is your best or favorite sexual position?
I love every position but being bent over is my favorite.
What do you think is the best way to a mans heart?
Through his stomach! Lol. Also, Being a lover and a friend. Being a lady in the streets and a freak in the sheets.
Do you consider yourself the wifey type?
I will definitely make the perfect wife one day.
BOOKING: TiffanyElissah@gmail.com
INSTAGRAM: @tiffany_elissa
FACEBOOK: Tiffany-Elissa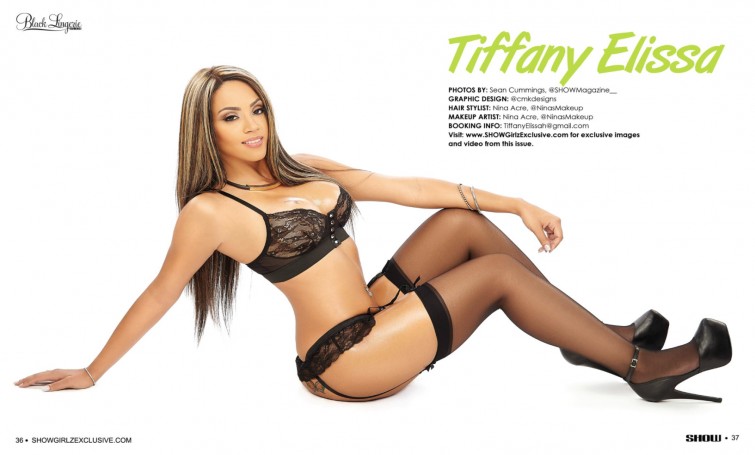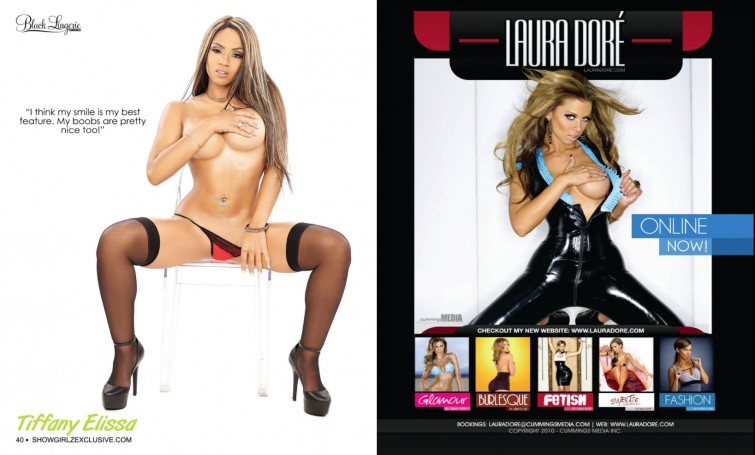 1
Total Galleries with
7
total photos of
Tiffany Elissa
from
BLACK LINGERIE #29
and other Issues