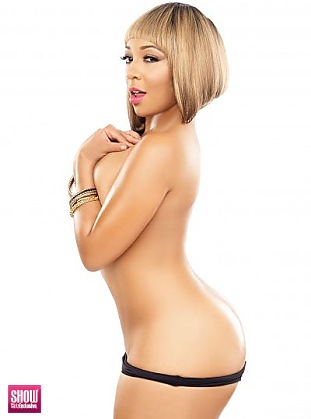 SGE Content for
Promysce in
BLACK LINGERIE #28
Photos:
1
Galleries and growing
Photos:
12
Photos and growing
Photos:
8.4
MB of Photos
Videos:
1
Videos
Videos:
4
mins of footage
Videos:
42
MB of video
View
BLACK LINGERIE #28
issue information and galleries >>
Promysce
PHOTOS BY:
Sean Cummings, @SHOWMagazine__
GRAPHIC DESIGN: @cmkdesigns
HAIR STYLIST: Nina Acre, @NinasMakeup
MAKEUP ARTIST: Nina Acre, @NinasMakeup
BOOKING INFO:
: promysce@gmail.com
Visit: www.SHOWGirlzExclusive.com for exclusive images and video from this issue.
What really comes to mind when you hear the name like Promysce? One thing is certain, once youve heard a name as unique youll never forget it. To some, this may be first time youve heard the name or have laid your eyes on the Tennessee native, but she is not new to the model scene. This beauty first started venturing into the model game in 2006 and has since been seen featured as a King-Mag.com Web Girl of the Week, A Jet Magazine Sexy Single, and Nellys own Miss Apple Bottom USA 2011 Semi-Finalist. She has also been spotted on GGurls.com, CutieCentral.com, and Hustlebunny.com just to name a few. With many features and appearances under her belt there is one thing sure about Promysce, this beauty sure doesnt disappoint.
First things first, how did you get a unique name like Promysce?
The name was given to me by someone. They use to tell me I looked innoscent when in honest, I wasnt. He felt the name "Promysce" served that definition of me and my personality. I adopted the name and created my own spelling.
Where exactly in TN are you from?
I am from Clarksville, TN.
How did you get into modeling?
I actually got contacted by the person who gave me my name online to join an agency in Nashville, TN. I took a chance, did my research, and sat down with them at an interview. From there I learned how to carry myself and educated myself on the industry by reading books, magazines, and using the internet.
What are your measurements? Zodiac sign? And are you single?
My measurements are: 36D - 26 – 42. I am a Sagittarius. And yes, I am currently single
Tell your fans something about yourself that many wouldnt know.
I am originally from Ft. Lee, VA. I am an Army brat with both parents being retired. I have also served my country for 4 years in the US Navy.
What makes you different than the average pretty girl?
My personality. I love to joke and laugh. i enjoy intellectual conversations and posses a very open mind. What most girls do or think, I dont do or think. What most girls dont do or think I do and or think.
What is the biggest misconception people have about you?
That Im stuck up when in reality Im totally down to earth and goofy.
Have you ever had a threesome?
No that was a fantasy once upon a time. I am a very intimate person and I like to concentrate and put my all into one person at a time.
What is your favorite position?
I love to ride just because I have full control while you sit back and watch me work.
What turns you on about a man?
I absolutely love a man with good intellectual conversation and a sense of humor.
BOOKING: Promysce@gmail.com
INSTAGRAM: @Promysce
TWITTER: @Promysce
FACEBOOK: /PromysceDe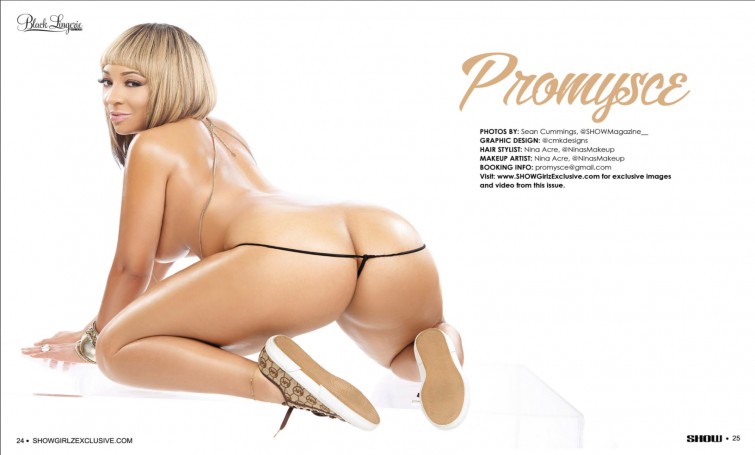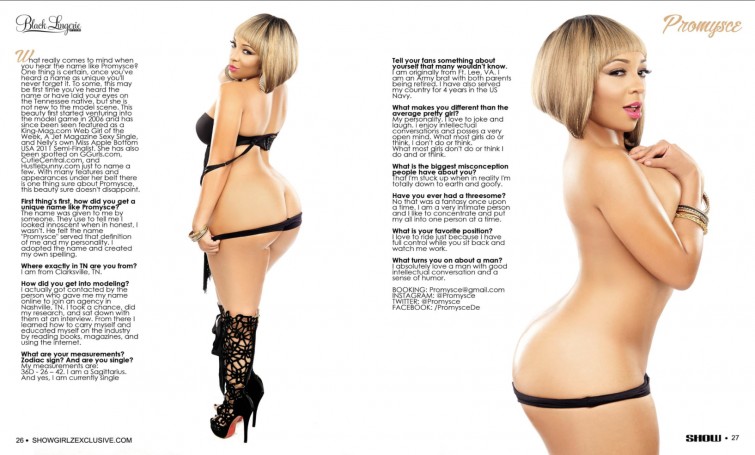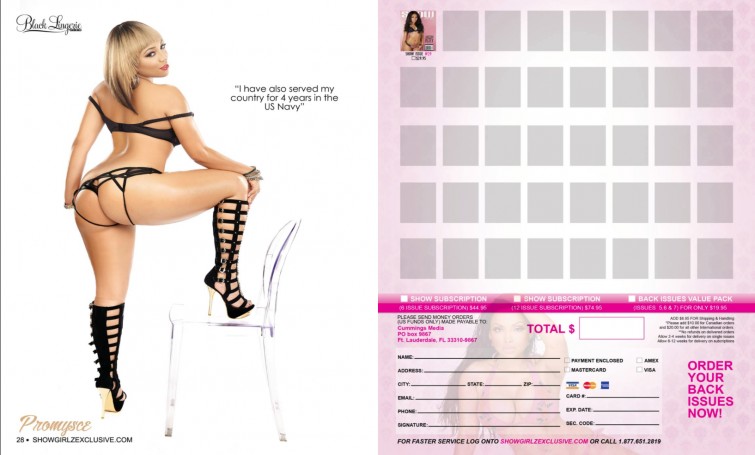 1
Total Galleries with
12
total photos of
Promysce
from
BLACK LINGERIE #28
and other Issues