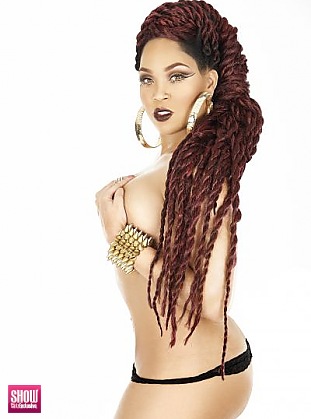 SGE Content for
Raquel Royce in
BLACK LINGERIE #24
Photos:
1
Galleries and growing
Photos:
7
Photos and growing
Photos:
4.9
MB of Photos
Videos:
1
Videos
Videos:
4
mins of footage
Videos:
42
MB of video
View
BLACK LINGERIE #24
issue information and galleries >>
Raquel Royce
PHOTOS BY:
Sean Cummings, @SHOWMagazine_
GRAPHIC DESIGN: @cmkdesigns
HAIR STYLIST: Benni Hanna @Skolar_Vangawd
MAKEUP ARTIST: Rhonda C @Rhondac_mua
BOOKING INFO:
: Racquel.Royce@yahoo.com
Visit: www.SHOWGirlzExclusive.com for exclusive images and video from this issue.
Im so excited to be featured in this issue of SHOW! As this is my very first magazine spread, I almost dont know how to act! To be completely honest, I was contemplating shooting as I thought, "I look different from other woman". In all actuality, that is just it, the fact that you showcase yourself apart is what captivates the interest of others. I never want to present "stereotypical pretty", I want you to look at me & wonder, gossip, & even question me. Mystery is sexy & I want to remain a hot topic in the back of ones mind. To give you a slight bit of background on myself, Im originally from California, currently reside in the Dallas/Fort Worth area. I love art, all formalities of art, from makeup artistry to the simplicity of nature. I have currently gained an interest & hobby in drawing & painting. "Im a woman of diversity, I never like to look the same". I love to keep people entertained & fascinated with my switch ups. Im a big do it yourself type of girl, so my makeup & hair is usually done by myself. I am more then willing to answer any questions or give feedback on my makeup tricks, style, etc. I see no reason to be ugly to the next person, Im very much so approachable, so dont be shy! I love engagement & interacting with various people, feel free to tweet me @_yella_cake & follow me on Instagram @_yella_cake. If you see me out, feel free to come up & speak ;)
Am I in a relationship?
I am very much SINGLE
Any tattoos?
NONE. I think the fact I have none is what sets me apart, I like it this way.
Comfortable being nude?
Yes. Its very daring & sexy & I love to give people something to make a huge deal out of.
Hobbies?
Gym, writing, painting & drawing. I may seem boring, but Im not!
Dislikes?
Cats, Seafood, cold weather, neutral colors, beer
Turn offs?
Bad breath, bald heads, facial tattoos, no ambition or work ethic
Turn ons?
Beautiful teeth, a gym rat, tattoos, a man that is slightly hood, but educated
BOOKING: Racquel.Royce@yahoo.com
INSTAGRAM: @_yella_cake
TWITTER: @_yella_cake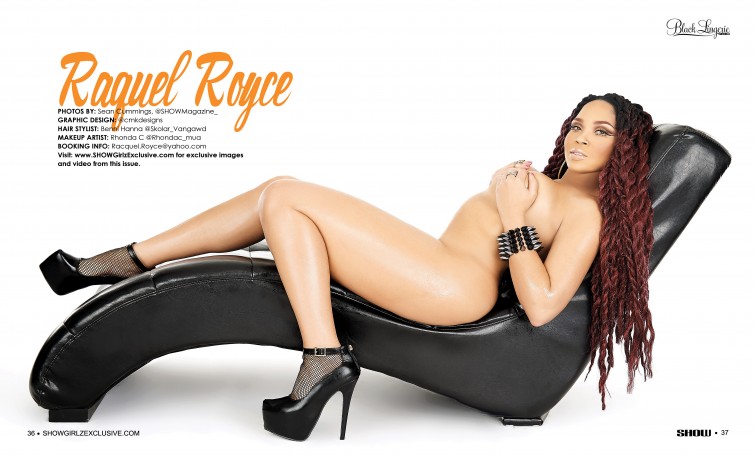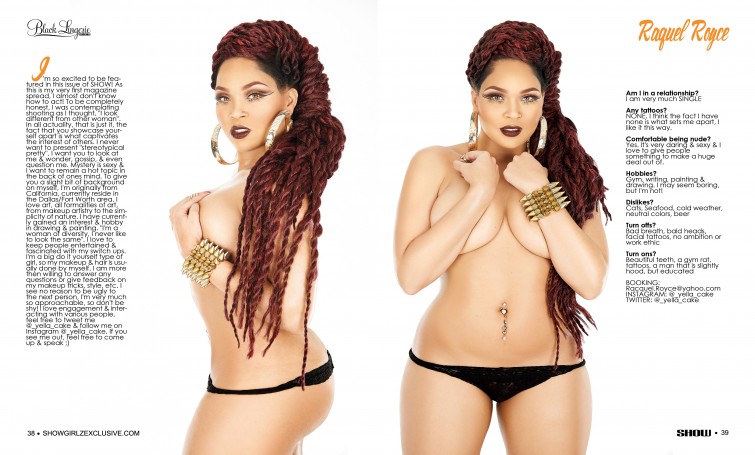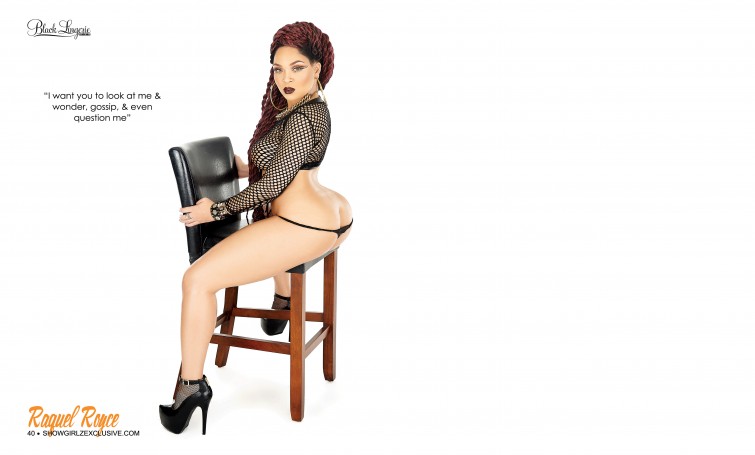 1
Total Galleries with
7
total photos of
Raquel Royce
from
BLACK LINGERIE #24
and other Issues