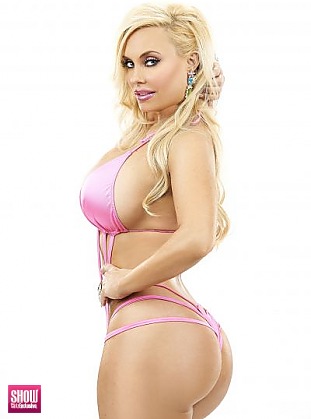 SGE Content for
Coco in
SHOW #28
Photos:
2
Galleries and growing
Photos:
30
Photos and growing
Photos:
21
MB of Photos
Videos:
1
Videos
Videos:
4
mins of footage
Videos:
42
MB of video
View
SHOW #28
issue information and galleries >>
AGE:
N/A |
FROM:
New York |
FEATURED IN:
SHOW #28
COCO
PHOTOS BY:
Sean Cummings, @SHOWMagazine_
GRAPHIC DESIGN: @cmkdesigns
HAIR STYLIST: Danielle Crawford
MAKEUP ARTIST: Deshawn Hatcher
BOOKING INFO:
: cocosmailbox@gmail.com
Visit: www.SHOWGirlzExclusive.com for exclusive images and video from this issue.
Hey Guys its Coco, and for those of you who are not familiar with me Ive been modeling for 17 years. I became popular when the internet had just became a way of life for people while doing my fitness, glamour and body modeling in the early 2000s in which I have been on the cover of over 50 magazines with the most popular one to date being the Smooth Magazine cover with me doing the famous "Coco" pose. Im also known for working with Hugh Hefner back in the day at the Playboy mansion and for being married to my loving husband of 14yrs, Ice T, a lot of you know both of us from our hit reality show that aired on E! "Ice Loves Coco."
For booking please send all emails to cocosmailbox@gmail.com.
ITS BEEN A MINUTE SINCE YOUR BLACK LINGERIE 9 COVER. HOW ARE YOU AND HOW HAVE YOU BEEN?
Yes, I did the Show Mag Black Lingerie 9 cover in 2010 and a lot has definitely taken place. But Ive been doing well and just really busy. Since then Ive done my reality show "Ice Loves Coco" as I mentioned previously which lasted for 3 successful seasons and then I went on to do a burlesque dance show in Vegas called "PeepShow" I stepped in when Holly Madison went on paternity leave and did the show for 10 whole months.
TELL US ABOUT VEGAS AND THE HOW YOU WERE DOING THERE.
I was in Vegas for 10 months doing Peepshow where I played little Bo peep a shy and timid character, the show took place at Planet Hollywood. I lived in planet Hollywood and it was awesome, the people were so nice, the restaurants were fabulous and they even had a mall where I shopped frequently it was like having my own little Cocos World. I got to work with great and talented dancers/singers whom Ive made lifetime friends with and it literally got me into the best shape of my life. I was only supposed to do peep show for 3 months but the show was so great that we kept extending the contract and I ended up in Vegas for 10 months.
WHAT WAS THE MOST REWARDING ASPECT OF THE EXPERIENCE?
As I mentioned previously, I got into the best shape of my life, my abs were ripped like never before. I was dancing 6 nights a week so my body was in tiptop shape. Ive been a dancer since I was a little girl so I got to show my talent to people who didn really know I had those skills. I mean the reviews were amazing, we won best topless show in Vegas and I won best headliner.
WE NOTICED YOU HAVE YOUR OWN APP. TELL US MORE ABOUT THAT.
Yes, I have a Fitness App its called "Cocos Workout World" which is available on iTunes and can be found on all apple products and my fitness App is about helping you build a body and a booty. My App incorporates body building, dance moves and stretching, the exact routine I personally do when at the gym, at home and I may show you how to "TWERK" LOL.
HOW HAS SOCIAL MEDIA IMPACTED YOUR MODELING CAREER?
Well social media is a really good thing because it lets me connect with my fans personally. Whenever I get a moment I try to answer my fans back directly. I mean Ive always been the internet Queen, Im addicted to taking pictures and I consider social media a way to show my fans whats taking place in my everyday life so its like my own little Cocosworld reality show. My website Cocosworld back in the day when social media wasn really that big got millions of visitors to the site daily. So Ive always been on top of my game but with social networks like twitter, Facebook and instagram it helps me connect with the new coco fans and keeps my old coco fans up to date with whats going on in Cocos world. Combined all together I have about 10 millions followers on all my social networks. Im really thankful for the support that Ive received all these years from my fans and thankful for all the new coco fans that have came along. You can find out everything about me by visiting (cocosworld.com).
WHAT NEW PROJECTS ARE YOU CURRENTLY WORKING ON?
Well as mentioned previously, I have my fitness App "Cocos Workout World," I have an eyewear line out the "Coco Licious" collection. I have teamed up with California Exotics, which is the worlds largest adult toy company to create my own line of pleasure products also called "Coco Licious" in which I release a new collection every season, currently we have small items that are made to conceal in your purse, like lip sticks, finger rings, makeup mirrors, which are actual pleasure products but they dont look like the average toy that people are used to seeing. I also debuted my very own Burlesque/Dance show in NYC called "Coco & The Vanity Vixens" being that Peepshow did so well out in Vegas I wanted to bring something like that to NYC being that theres not really an off Broadway show that focuses on Burlesque here. The Vanity Vixens was created by Kellen Stancil and with the help of Paula Castleton, a great friend who I worked with in Peepshow and myself we were able to bring this amazing show to life.
HOWS ICE? HOW IS IT LIVING IN NEW YORK CITY?
Ice is great! Were currently on tour at the moment as Ice just released his new album "Manslaughter" with his metal band Body Count that can be found on iTunes and sold in record stores everywhere. Ice is still working on Law and Order SVU and they are going into their 16th season, so we are doing great and more exciting projects are continuously developing in which we cant currently speak about. NYC life is really cool, fast paste, good food and never sleeps, love it.
ARE CHILDREN IN YOUR NEAR FUTURE?
Yes, children are in my future. I always said that I wanted to complete most of my goals in life before I started to have children and I always wanted to wait until around the age of 35 so now I can actually say Im ready. Ice is down to make it happen when ever Im ready, so you can expect a little one very soon.
YOU ARE A MODELING ICON. WHAT ARE SOME OF THE NEW MODELS YOU SEE STEPPING INTO YOUR SHOES IN THE FUTURE?
I really dont pay attention to other models, not meaning that in a bad way but I just really focus on myself. But I wish all those that are coming up much success.
HOW MUCH LONGER DO YOU PLAN ON DOING GLAMOUR MODELING, AND WILL YOU BE TRANSITIONING INTO SOMETHING ELSE LIKE FITNESS, ETC?
Im 35 years old and still have a fit body so hey if the money is right Im always down to shoot with a reputable magazine or for a cool project, I mean, if you still got it why not make it work for you. A lot of people dont believe women my age can still pull it off and Im breaking that barrier. However, I have moved on to the fashion world and I started my clothing line "Licious" which is designed for woman with curves, (liciousclothing.com) thats another reason why I got into fitness. Many may not know but I won the 1998 Miss Ujena contest in Puerto Vallarta Mexico when I was 18 so Ive kind of always been in the fitness world and now I have my fitness app.
SO MANY MODELS LOOK UP TO YOU. ANY WORDS OF ADVISE ABOUT THE BUSINESS OF MODELING?
Number #1 one is dont think youre going to make a lot of money right away it takes years to develop your resume to start making the big bucks. I also recommend you take small time modeling jobs to get experience. I have to say its really hard today to make money in glamour modeling because everybody has a website nowadays. So my advice would be to do it as a hobby until it turns into something big for you.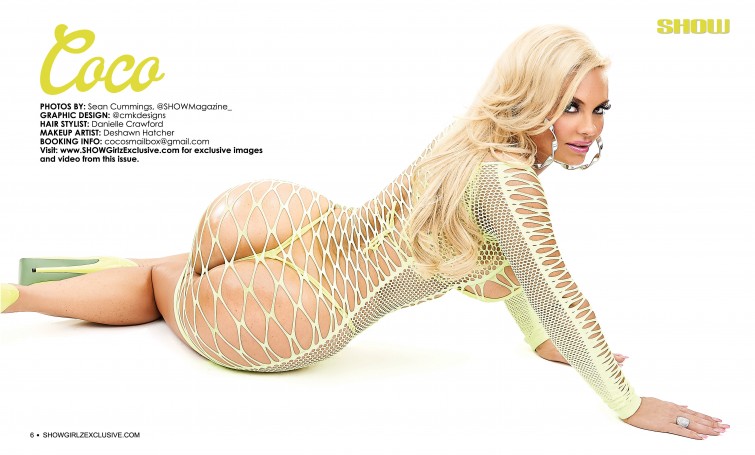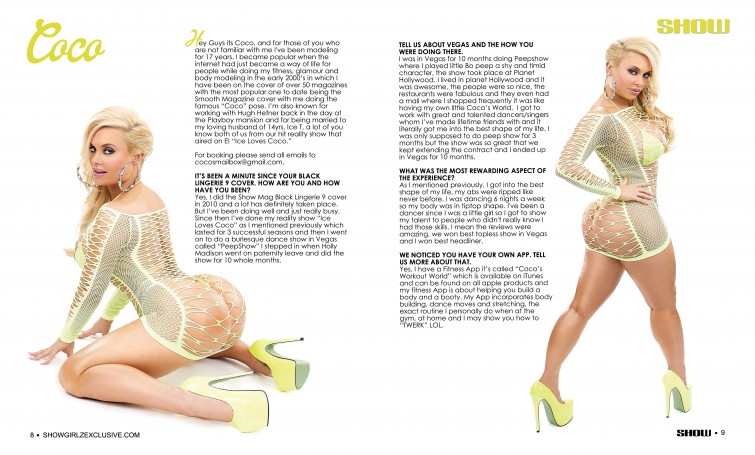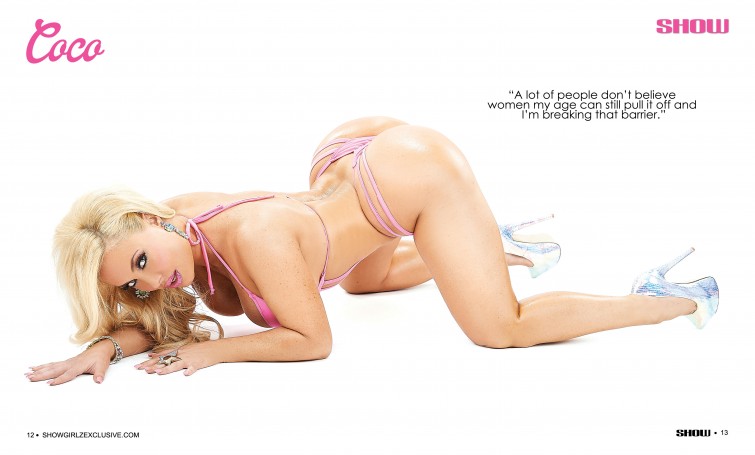 6
Total Galleries with
75
total photos of
Coco
from
SHOW #28
and other Issues