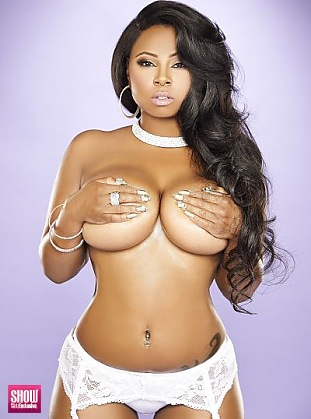 SGE Content for
Cheesy in
SHOW #28
Photos:
0
Galleries and growing
Photos:
8
Photos and growing
Photos:
5.6
MB of Photos
Videos:
1
Videos
Videos:
4
mins of footage
Videos:
42
MB of video
View
SHOW #28
issue information and galleries >>
AGE:
N/A |
FROM:
Los Angeles, CA |
FEATURED IN:
SHOW #28
CHEESY
PHOTOS BY:
Sean Cummings, @SHOWMagazine_
GRAPHIC DESIGN: @cmkdesigns
HAIR STYLIST: Al Ingram, @AlSexyHair
MAKEUP ARTIST: Angela January, @Angela_January
BOOKING INFO:
: @juscallmecheesy
Visit: www.SHOWGirlzExclusive.com for exclusive images and video from this issue.
Cheesy, Also known as Alexandria Rose & is 25 years old, with measurements 32F-28-42, is becoming one of the few Urban Models in Los Angeles making a name for herself. Not only does Cheesy model, she is perusing her Degree in English. Cheesy has also been working in the music industry as an A&R for 10 years. She has worked with numerous Music labels & Artist like Pushaz Inc (YG, Dj Mustard, TY$) and Detail (from Richgang/Young Money & wrote drunk in love) to Name a few. Growing up with a father thats a Professional Musician, shes musically inclined playing Trumpet and guitar ranging from genres anywhere from Jazz to Classical, but as you can see… Daddys little girl is all grown up.
WHATS A DAY IN THE LIFE OF CHEESY LOOK LIKE?
Wow... My day starts at 6:00am. I go running for 5 miles. I love getting hot and sweaty to motivate me for the day. I go to work for 8 hours. Squeezing in online Classes and staying on call for a studio session or any music industry work usually ending 4:00am.
URBAN MODELS AND RAPPERS ARE VERY CLOSELY RELATED, FROM GROUPIES TO VIDEO VIXENS ETC. HAVE YOU DEALT WITH ANY RAPPERS ON A PERSONAL LEVEL?
(Giggling) Yes Ive dated two rappers, which I choose not to name. One I dated throughout high school until my second semester in College. The other one I dated for 3 years. Both relationships ended on good terms.
ARE YOU SINGLE NOW?
Of course Im Single! Im still waiting for MR. RIGHT to find me. Not rushing just looking for someone that will take his time with my body and Soul.
WHATS YOUR FAVORITE PASTIME?
Going swimming at the Standard Hotel, eating Strawberries and Pineapples dipped in whipped cream while sum bathing.... Lovely.
WHATS YOUR FAVORITE SPORTS CAR?
I am in love with the 1964 mustang convertibles. I love the muscle look! And it has to be in red. Something about this car jus gets me all excited.
WHAT GETS CHEESY ALL EXCITED AND WORKED UP?
Nothings wrong with making him chase for it, building that curiosity and wrestling until we both can take it anymore. It gets aggressive where hair is pulled and we are jus going at it nonstop.
WHY DO PEOPLE CALL YOU CHEESY?
Cheesy was a nickname given to me from my family. I jus love Cheese. That shit is good on EVERYTHING!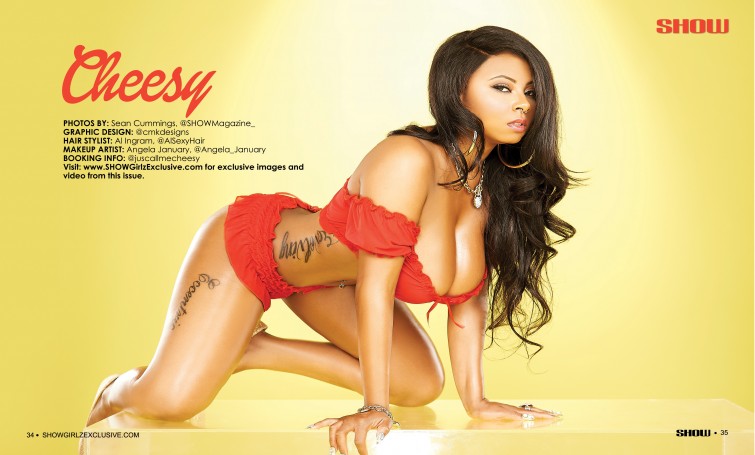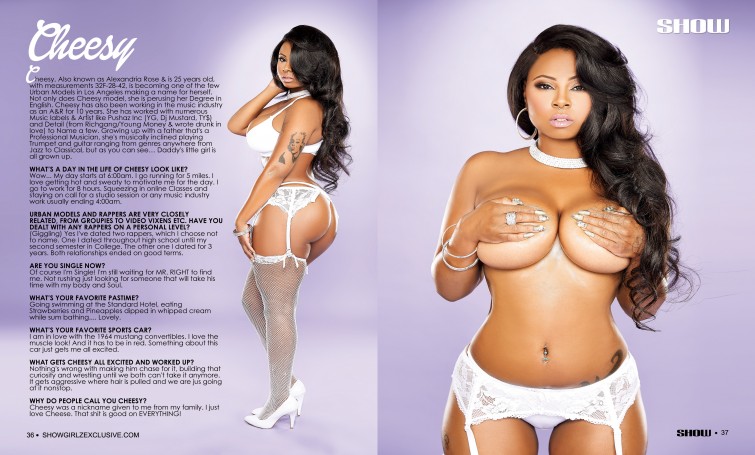 1
Total Galleries with
8
total photos of
Cheesy
from
SHOW #28
and other Issues