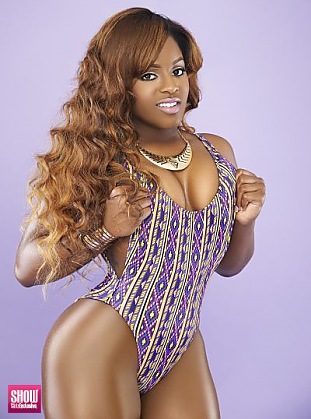 SGE Content for
Tippy London in
SHOW #28
Photos:
1
Galleries and growing
Photos:
7
Photos and growing
Photos:
4.9
MB of Photos
Videos:
1
Videos
Videos:
4
mins of footage
Videos:
42
MB of video
View
SHOW #28
issue information and galleries >>
AGE:
N/A |
FROM:
Baton Rouge, LA |
FEATURED IN:
SHOW #28
TIPPY LONDON
PHOTOS BY:
Sean Cummings, @SHOWMagazine_
GRAPHIC DESIGN: @cmkdesigns
HAIR STYLIST: Ciera Singleton, @hairfetishbeautysalon, @ceedyybee
MAKEUP ARTIST: Aria Thomas, @Arianna
BOOKING INFO:
: @Mstippylondon
Visit: www.SHOWGirlzExclusive.com for exclusive images and video from this issue.
Tippy London was born and raised in Southern Louisiana with the measurements of 36-28-40. Ms. London is becoming a rising star in the urban model industry. At just 19 years of age she is becoming a force to be noticed. She started off as an artist and decided that dancing would help her expand with her music. Ms. London dances while attending a local community college where she studies business management. Stay Tuned for everything that she has in store and be sure to check out her website www.Tippylondon.com.
WHERE ARE YOU FROM?
Baton Rouge, LA
DO YOU CONSIDER YOURSELF WIFEY MATERIAL
A lot of people get this lifestyle twisted! All models, dancers, etc. aren the same. Yes, I consider myself wifey material.
WOULD YOU RATHER A GOOD BROKE MAN OR A NO GOOD RICH MAN?
Rich man sounds good but Id rather build an empire with a good broke man.
CHOCOLATES OR CHOCOLATE COVERED STRAWBERRIES?
Chocolate covered strawberries.
ARE YOU CURRENTLY IN SCHOOL? IF YES WHAT ARE YOU STUDYING?
Yes, I attend Baton Rouge Community College where I am studying Business.
WHAT IS YOUR BIGGEST TURN ON ABOUT A WOMAN?
I love curves!
PANTIES OR NO PANTIES?
No panties! I like being free, lol.
WEBSITE: www.tippylondon.com
INSTAGRAM: @Mstippylondon
TWITTER: @Mstippylondon
BOOKING: bookingtippylondon@gmail.com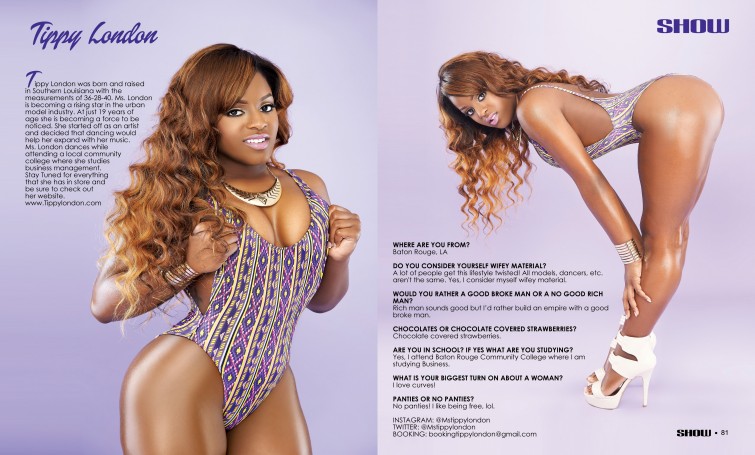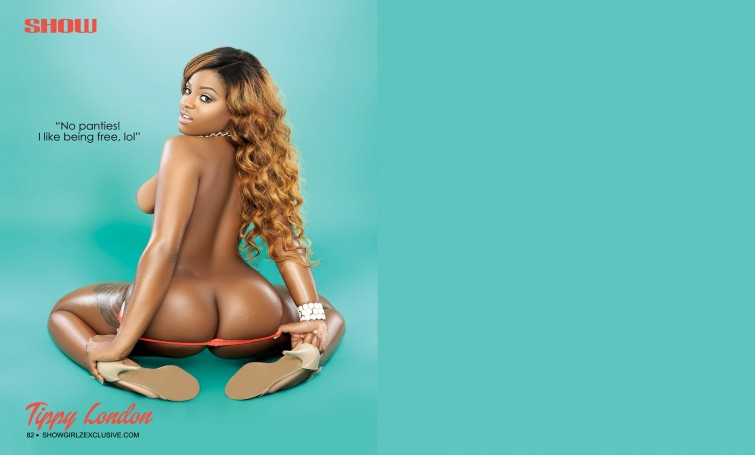 1
Total Galleries with
7
total photos of
Tippy London
from
SHOW #28
and other Issues