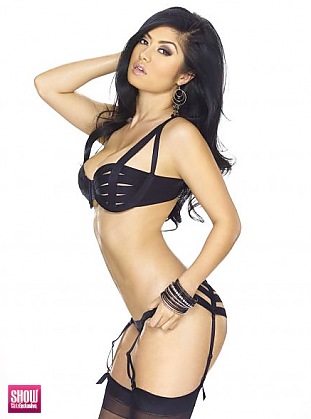 SGE Content for
Kim Lee in
BLACK LINGERIE #15
Photos:
1
Galleries and growing
Photos:
16
Photos and growing
Photos:
11.2
MB of Photos
Videos:
2
Videos
Videos:
8
mins of footage
Videos:
84
MB of video
View
BLACK LINGERIE #15
issue information and galleries >>
Kim Lee

Kim Lee was born in Orange County, and currently resides in Malibu , California. Her parents are mixed with French and Vietnamese. She is the third youngest that includes two older sisters and a younger brother. Kim Lees father is Daniel Segal author of the Harry Fox mystery novels as well as a feature film screenwriter.

Kim Lee has appeared in editorials for DSport, Hip-Hop Weekly, Vanity Fair,Maxim-Indonesia, Low Rider Magazine and Chinese, Philippines ,Singapore, Thailand, Romania, American, Spanish, and Russian versions of FHM. She is voted #1 2011 FHM Sexiest women of the World.

Kim Lee has always seen the bigger picture in wanting to do feature films and Television. The desire to be a creative artist expressing herself to make audiences smile and laugh and leave with the notion that it was great performance. She made her debut on television at the age of 19 when she was cast as the lead female in the Jamie Kennedy ft Bob Saget "Rolling with Bob Saget" video (lead). On the back of this video, she secured further project. Also appearing in several music videos, notably in Neyos "Beautiful", Kid Cudi ft Kanye Wests "Erase Me" and Flo Rida ft David Guettas "Club Cant Handle Me" and "Hot n Cold "with Katy Perry music videos. She just recently starred in a music video titled "Touchin On My" by 3oh!3 directed by Isaac Ravishankara. Kim Lee has also featured as a lead and support female in several Television commercials, such as "LRG Side Kick & I phone", "Bud Light", "Party City" and "McDonalds".
Personal life

When Kim isnt focused on her modeling and acting career she enjoys working the family salon and continuing her education for a music degree from University of California, Irvine. As a young girl, Kim always had a passion for playing the piano. She soon learned how to play by ear and took lesson at the age of 8 and would perform for family parties. When Kims not filming or gracing magazine covers, she loves to travel and learn to different countries to learn about different cultures of world and just recently started a fund-raiser for the people of Japan.


While appearing as guest star on CSI: Crime Scene Investigation, Entourage, MTV "Next", MTV Jamie Kennedy "Blown Up", Snoop Doggs "Fatherhood" on E! Channel, Kim also started segueing into film roles after receiving interest from various directors and producers from Hollywood. Kim auditioned and won the role of Yogi in Joseph A. Elmore Jr.s "Speed-Dating" and the successful role in the franchise film The Hangover: Part II. Kim is currently in production of "Chronicles of Rick Roll" which is casted by numerous YouTube sensations over the years and was recently announced on the "Ellen DeGeneres Show ".






2
Total Galleries with
25
total photos of
Kim Lee
from
BLACK LINGERIE #15
and other Issues