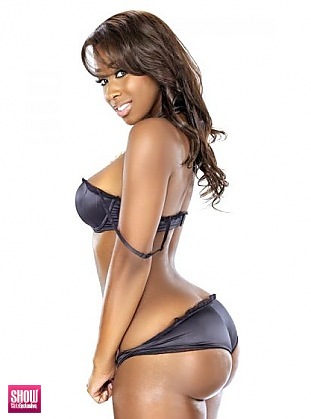 SGE Content for
Bria in
BLACK LINGERIE #9
Photos:
3
Galleries and growing
Photos:
34
Photos and growing
Photos:
23.8
MB of Photos
Videos:
1
Videos
Videos:
4
mins of footage
Videos:
42
MB of video
View
BLACK LINGERIE #9
issue information and galleries >>
Bria Myles
PHOTOS BY:
Nick Saglimbeni, Slickforce.com
STYLING BY:
Diana Chan
HAIR STYLIST Al Ingram
KEY MAKEUP ARTIST:
Gaby Ramos using MUD Cosmetics
BOOKING INFO:
briamyles.com
PRODUCTION FACILITIES PROVIDED BY:
Slickforce Studio
"I love men who are truly secure in themselves."
Hello everyone, this is your girl Bria Myles and I want to give you a little insight on me and what I believe is sexy. I am from Los Angeles, California, born and raised. People always ask me if I am from the South, maybe because of my voluptuous figure (my measurements are 34c-26-45), but Im a true Cali girl. Ive been modeling for almost four years now and I must say this is a really tough industry. This is my second appearance in SHOW! I premiered in SHOW in their second issue. I met Sean Cummings at a casting call for another project about four years ago and weve stayed in contact ever since. My latest shoot with SHOW was great. Nick is an amazing photographer so it was easy to work with him. I feel like I have grown as a model so this shoot is definitely going to go down in history as one of my best shoots.
Sexy to me is about the confidence you posses. Its a state of mind and a state of being. What I find sexy in a man is the way he carries himself, his demeanor, and the way he treats a woman. A guy is sexy when he is so confident that he is not worried about anything anyone has to say. I love men who are truly secure in themselves... and his woman… Thats sexy.
When it comes to the entertainment industry I dont really want to do anything else aside from modeling, except maybe become a radio personality or host shows (whether its on the internet or on television). As far as modeling, I take it with a grain of salt. I am not looking to be the next big phenomenon, I just want to have fun and make money in the process. My long-term goals are to finish school and become a kindergarten teacher, get married and have children.
If I had a chance I would love to work with directors Sanaa Hamri, Melina, Anthony Mandler, and Ray Kay before I stop modeling and completely focus on my long term goals. I love their visions and the way they bring it to the screen. When it comes to artists, I would love to work with T-Pain, Ne-Yo, Robin Thicke, Kanye West, and Jay-Z. I love their music.
To all my fans I want to say thank you for all the support! I really do appreciate it. Come follow me on twitter.com/realbriamyles, and check me out on my website briamyles.com,where you can also inquire about booking me.


5
Total Galleries with
40
total photos of
Bria
from
BLACK LINGERIE #9
and other Issues