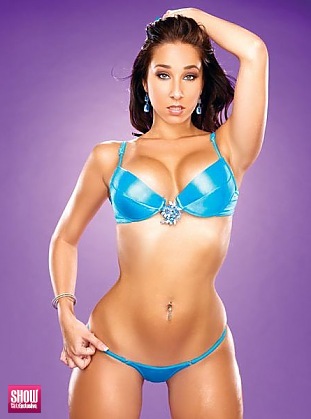 SGE Content for
Natalie R. in
ISSUE #11
Photos:
1
Galleries and growing
Photos:
14
Photos and growing
Photos:
9.8
MB of Photos
Videos:
1
Videos
Videos:
4
mins of footage
Videos:
42
MB of video
View
ISSUE #11
issue information and galleries >>
AGE:
N/A |
FROM:
Miami, FL |
FEATURED IN:
ISSUE #11
"Oriental beauty with Caribbean Curves" is the phrase that seems to be catching peoples attention. My name is Natalie Rodriguez and I am of Chinese and Cuban decent. Truly I was blessed with shapely orient eyes and a voluptuous figure that many men and women find appealing to the eye. I am 24 and have been modeling for about a year now. Since the age of two I practiced and trained in dance such as ballet, hip-hop, modern jazz, lyrical, and Pointe up to the age of 16; therefore, having this figure. I was born and raised in Miami, FL. 305 STAND UP! And I will never forget my upbringing and the incredible family that stands by my side. As far as modeling goes, I seem to be becoming a video vixen. I was on Pit bulls ft. Trina and Young Boss: Go Girl, Julio Voltio ft. Calle 13: El Mellao, and Kevin Ceballos: El Milagro de tu Amor. Thats only the beginning. You all will be seeing a lot more of me as time goes by. I started modeling because everyone would come up to me and ask if I were a model. They were stunned that I wasnt and would suggest that I become one. I have been told that I cannot let my beauty go to waste, so here I am trying to pursue my latest dream. I would have never thought that I would be featured in a magazine, such as SHOW, and in music videos. But hey life is full of surprises and you never know what it has in store for you! I just want to thank all of my friends, family, and the lord himself for giving me all the support I can get. And of course I want to thank all the fans for supporting me as well. You all are the ones that keep me going and give me hope that my dream will come true. Thank you and I hope u enjoy the pics!
PHOTOS BY:
Nick Saglimbeni, www.slickforce.com
STYLINY BY Tiffany Rae
KEY HAIR STYLIST:
Tony Jones
KEY MAKEUP ARTIST:
Gaby Ramos
BOOKING INFO:
Icon Model Management, www.icon.models.com
PRODUCTION FACILITIES PROVIDED BY:
Slickforce Studio


2
Total Galleries with
30
total photos of
Natalie R.
from
ISSUE #11
and other Issues