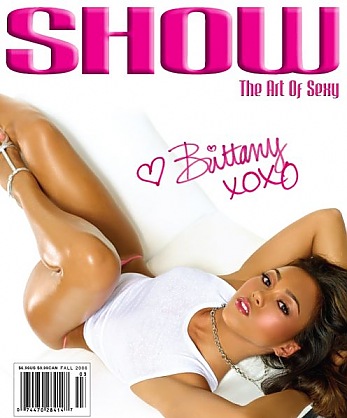 ISSUE #3 - December 2006 - Cover:

77 Photos / 14 Galleries
/ now online.
Issue #3 featuring the beautiful cover model Brittany Peoples is our first International Issue. Each of the models in this issue represent a different country from around the world. They include Brazils Sue Ellen, Indias Melissa Roy and Ethiopias Fanaye, who has gone on to do her first SHOW cover, SHOW #9. In fact, the most striking images from this issue other than that of Brittany is of Fanaye.
Her T-short and panties spread stole the hearts of a lot of our readers. However, more than anything else, this issue is responsible for launching the career of, at that time, our most popular model, Temeca. The now iconic image of Temeca in the blonde wig with the 22 inch waist and 44 inch booty is still today this day our most indelible and recognizable image. You can see it again as the SHOW Me More page in the back of the book. Enjoy.
Photos:
14
Galleries Online
Photos:
77
Photos Online
Photos:
53.9
MB of Photos Online
Issue: ISSUE #3
Release Date
: December 2006
Cover Girl
: