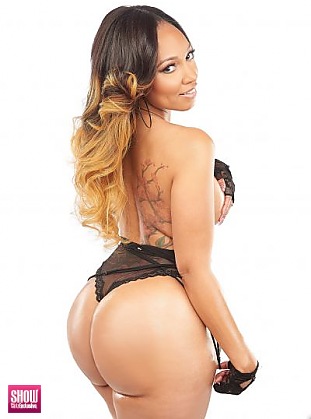 SGE Content for
Porsche in
BLACK LINGERIE #32
Photos:
1
Galleries and growing
Photos:
13
Photos and growing
Photos:
9.1
MB of Photos
Videos:
2
Videos
Videos:
8
mins of footage
Videos:
84
MB of video
View
BLACK LINGERIE #32
issue information and galleries >>
Porsche
PHOTOS BY:
Sean Cummings, @SHOWMagazine_
GRAPHIC DESIGN: @cmkdesigns
BOOKING INFO:
: @baybeautyqueen
Visit: www.SHOWGirlzExclusive.com for exclusive images and video from this issue.
What is your favorite quote?
"Success is to be measured not so much by the position that one has reached in life as by the obstacles which he has overcome." ~ Booker T. Washington
For those just seeing you for the first time. What can you tell us about yourself?
My name is Porsche; I'm from The Bay Area. I was born in Pittsburg California. I've lived throughout the Bay Area my entire life. I am real with a bold personality. You either love me or hate me. I am outgoing and friendly however I demand respect. I attract attention effortlessness. People gravitate to me. I am passionate about my feelings, I say what's on my mind, and I always tell it like it is. I like doing things my way. I am a strong, independent, over comer. I am a goal oriented certified "go getter". I am a hardworking-determined trendsetter. I'm sassy and sweet. I am a queen.
What sets you apart from other models?
What sets me apart from other models is my resilience. I come from nothing and still lost everything. After losing my mother to Pancreas Cancer in 2007, I lost my father Super Bowl Sunday 2010. A drunk driver collided with my father head-on. Ive overcome the loss of both of my parents and since then have become a self-made model on the rise. Ive received no handouts; Ive worked hard to become who I am today. My strength is not to be questioned.
Sometimes modeling comes with a lot of baggage. Do you feel that you've been misperceived?
No. Being misperceived doesn't concern me. Life is about living; I like to keep people guessing. Curiosity is exciting. More importantly, I know who I am.
What do you hope to accomplish in the next 5 years?
In five years I'd love to have increased my skill level and have obtained enough knowledge that I'm able to successfully run my own modeling agency. I love this work, and I've found that I really enjoy mentoring others. On a more personal level, in five years I aim to be spiritually fulfilled within by growing closer to God. My happiness and inner peace mean everything to me. I also want to travel the world Internationally.
Have you/or would you ever consider mixing business with pleasure?
Absolutely not. As of today, I'm all about business. In order to be taken serious in this industry, you should never mix business with pleasure. Respect is everything. There is a time and place for everything. I believe in the "power couple" movement. Ill cross that bridge when I get there.
If you were looking for a relationship what type of person would spark your interest?
The ideal candidate will be confident and secure. A strong man that loves The Lord. Family oriented and dog friendly. Driven with a business mindset. Ambitious with class, honest, and loyal. A great communicator, my biggest supporter. He must have an amazing sense of humor and an outgoing personality. Far from boring, full of life. Responsible and adventurous. Rough around the edges. Lastly, he must be a beast in the bedroom, undeniable chemistry.
What's the most important aspect of a relationship?
The most important aspect of a relationship is communication. Good communication creates an understanding. Having an understanding in a relationship forms an unbreakable bond.
What is it about a (man or woman) that sexually stimulates you?
I love to be challenged. I'm turned on by confidence and cockiness.
What is your biggest fantasy when it comes to sex?
I've always fantasized about having sex on a beach somewhere sexy and exotic. It can take place in during the day or at night. I imagine feeling a perfect cool breeze all over my body. I am a fantasy FYI.
If you could change 3 things about yourself, what would it be?
Im going to keep it real, I'd change my attitude. I know theres always room for improvement. I can use an attitude adjustment. We should approach every situation with a positive attitude. I'd change my level of self-control. Every situation doesnt need a reaction. Sometimes its better to react with no reaction. I'd also change my fitness routine. As I get older, I want to take better care of myself. I'm aiming to become a fitness guru. Health is wealth.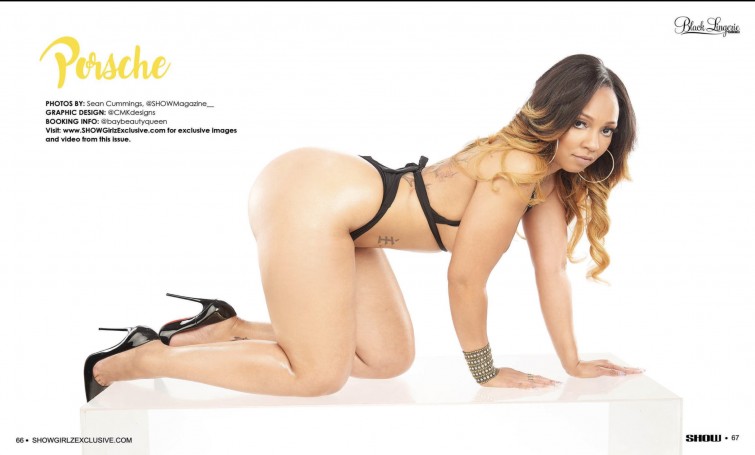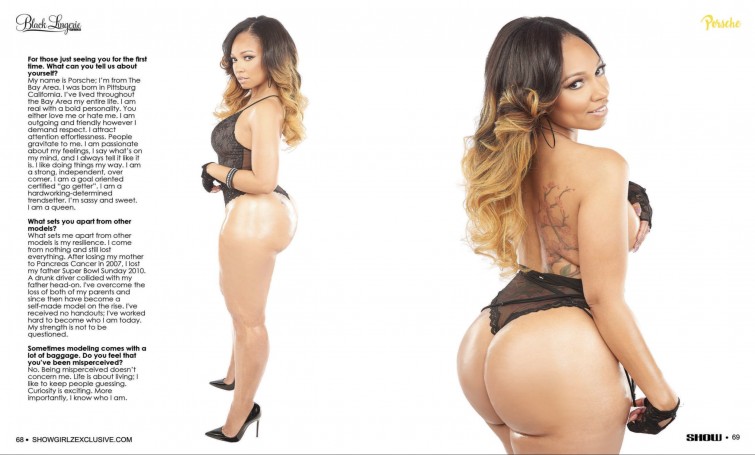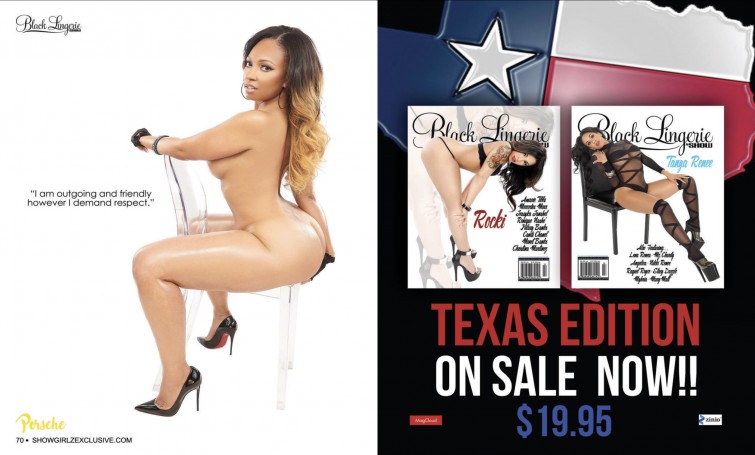 1
Total Galleries with
13
total photos of
Porsche
from
BLACK LINGERIE #32
and other Issues