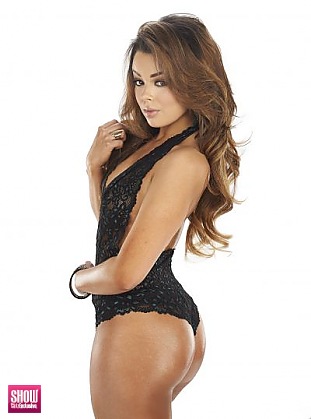 SGE Content for
Jay Vanity in
BLACK LINGERIE #32
Photos:
0
Galleries and growing
Photos:
7
Photos and growing
Photos:
4.9
MB of Photos
Videos:
1
Videos
Videos:
4
mins of footage
Videos:
42
MB of video
View
BLACK LINGERIE #32
issue information and galleries >>
Jay Vanity
PHOTOS BY:
Sean Cummings, @SHOWMagazine__
GRAPHIC DESIGN: @CMKdesigns
HAIR STYLIST: Al Ingram, @AlSexyHair
MAKEUP ARTIST: Angela January, @Angela_January
BOOKING INFO:
: bookjvanity@gmail.com
Visit: www.SHOWGirlzExclusive.com for exclusive images and video from this issue.
My name is Jay Vanity, you may have seen me gracing the pages of SHOW magazine before or on the cover of SHOCK magazine. A little about me, I was born in Long Beach, CA but have been living in Las Vegas, NV for most of my life. I am 24 years old and I am the full package of Independence, personality and natural beauty. My measurements are 34-28-40.
I pride myself on my independence! I have also been working within the beauty industry for years! I started my own youtube channel (JayVanityy) and from there started working as a makeup artist as I was attending in cosmetology school. I now run my very own eyelash extension service (Vanity Lashes) this year I hope to create my own brand of strip lashes, Also maybe even grace a few more pages in some magazines!!!
My best feature is my personality! Everyone always tells me how funny I am! If I didnt get stage fright id probably try and make something of it lol ; ) I love excitement and spontaneous moments in my everyday life, I cant stand boring.
My favorite things to do to pass time is take selfies for Instagram lol follow me (Jayvanityy) I love being in front of the camera modeling, so its fun to pretend on my phone too lol. I enjoy smoking hookah, watching movies, dressing up and feeling sexy, having a drink with my girls, reading, coming up with new business ideas, randomly going on little vacations, when I get in my little kid hype faze I love to sit in front of my tv watching Disney/Pixar films and eating like a big kid lol.
INSTAGRAM: @jayvanityy
TWITTER: @jayvanityy
BOOKING: bookjvanity@gmail.com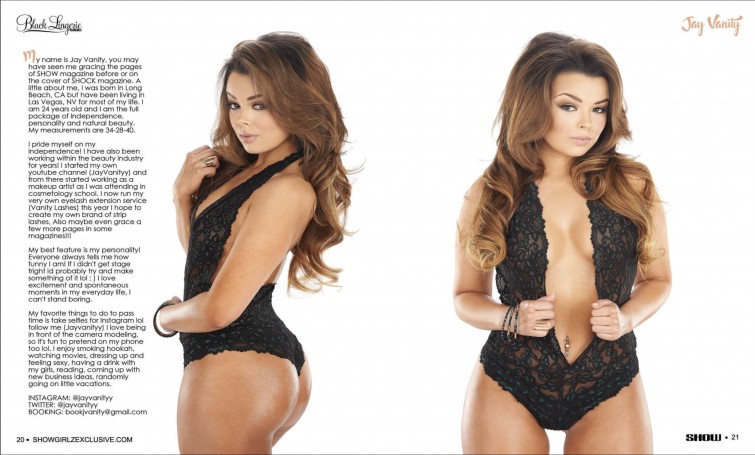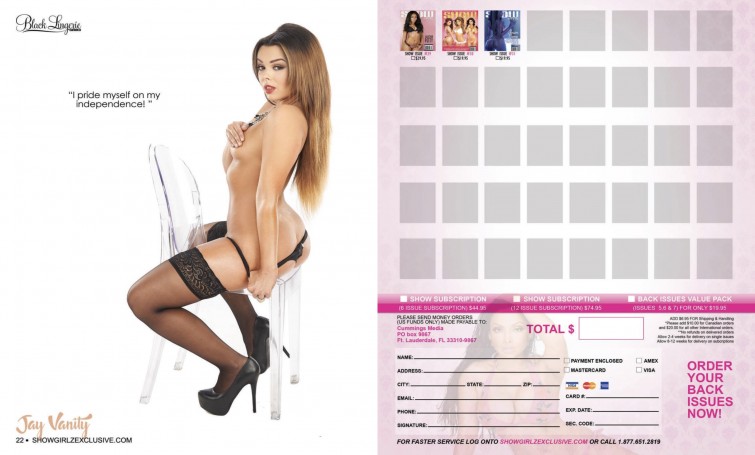 2
Total Galleries with
23
total photos of
Jay Vanity
from
BLACK LINGERIE #32
and other Issues