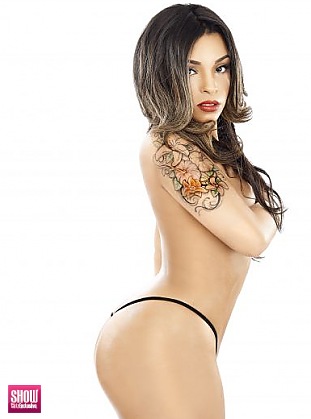 SGE Content for
Rocki in
BLACK LINGERIE #24
Photos:
0
Galleries and growing
Photos:
7
Photos and growing
Photos:
4.9
MB of Photos
Videos:
1
Videos
Videos:
4
mins of footage
Videos:
42
MB of video
View
BLACK LINGERIE #24
issue information and galleries >>
Rocki
PHOTOS BY:
Sean Cummings, @SHOWMagazine_
GRAPHIC DESIGN: @cmkdesigns
HAIR STYLIST: Chevelle Brown, @newagehairsalon
MAKEUP ARTIST: Krystal Knowles, @BrownCoutureMakeup
Visit: www.SHOWGirlzExclusive.com for exclusive images and video from this issue.
So my name is Rocki Smith and Im 21 years old. Im an exotic, southern county girl from Houston Texas! I recently started modeling probably around 4 months before my Black lingerie cover shoot with Show magazine. Im extremely comfortable with my body, and love being in front of the camera. I plan to continue my career with modeling, and hopefully I can be a great role model to young women who want to model as well! Love ya.
Is Rockii your real name? If not where did you get this name?
I get this all the time haha Rockii is actually my real name, I always hated it as a kid but now I love it, it fits my crazy, bubbly personality and its pretty sexy to me.
Are you into women or just men? Or both?
Im a very sensual loving girl, If I see a women I think is gorgeous Im going after her, same for a guy I love both!
Whats your favorite thing about a women?
Im extremely short, so I love seeing women with long toned legs, with a nice tan. I think its sooo sexy.
What do you look for in a man?
First he has to be as goofy as I am, I cant have a stif serious man Im too hyper for that! I have to make sure my man knows how to look good without my help, thats a huge turn on.Muscles, nice smile, good hygiene, and a little aggressive in bed..or very aggressive. Im an Aries I need someone to take more control than I do for sure :)
In bed do you like to take charge or do you prefer to be handled?
I love seeing how a guy wants to handle me, so I let him take control first…unless he doesnt Ill show him how its done. Ive had no complaints! Haha. But my all time favorite position if doggie style, love to use my ass to an advantage :)
Whats your weak spot?
My most sensitive spots are my nipples, its game over if a man gets to my nipples, it drives me crazy, Ill be the Niagara Falls in 1.2 seconds haha.
Whats your fantasy?
Id love to be on private island, beautiful weather nice blue water, with a man that looks like Taylor Lautner making love to me about 3 times a day, and cooking for me every night! Id like to keep this for about 2 weeks then I can get back to reality :) then Ill be good! Hah.
What do you do for fun?
I love to go out drinking at random bars, eat Mexican food with more drinks, tan, tan some more! And get my nails done with my girls, typical weekend for me
What turns you off?
The main thing that turns me off if being insecure. I hate that! Dont bring me down with negative bad energy! Hate that.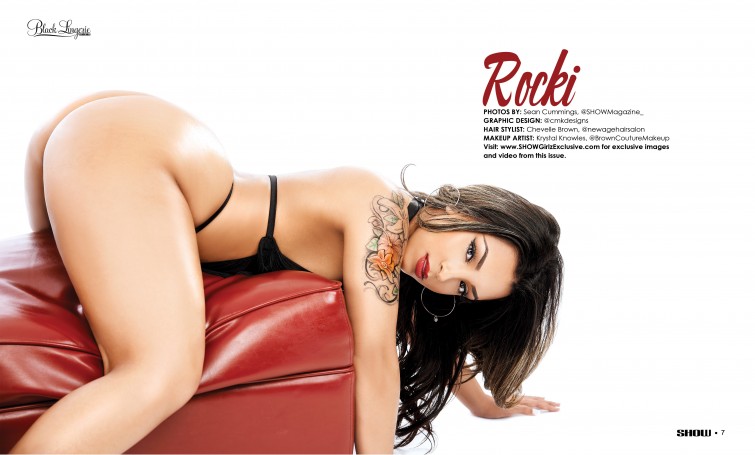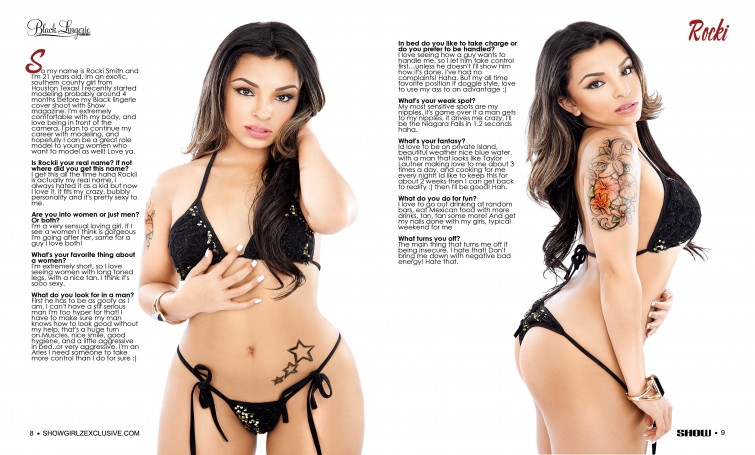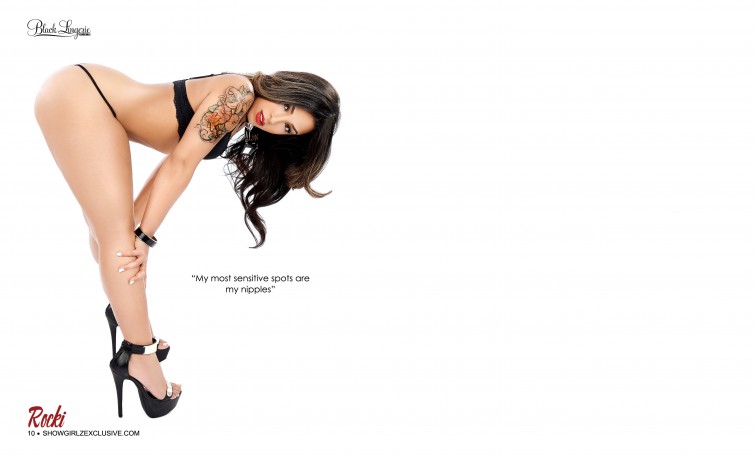 1
Total Galleries with
7
total photos of
Rocki
from
BLACK LINGERIE #24
and other Issues