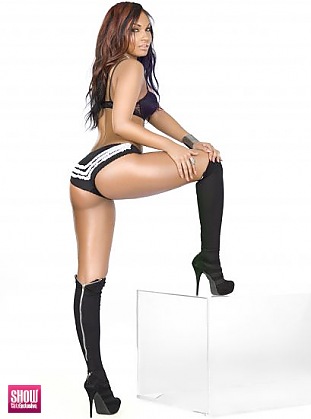 SGE Content for
Lessa Unique in
BLACK LINGERIE #16
Photos:
1
Galleries and growing
Photos:
18
Photos and growing
Photos:
12.6
MB of Photos
Videos:
1
Videos
Videos:
4
mins of footage
Videos:
42
MB of video
View
BLACK LINGERIE #16
issue information and galleries >>
Hi SHOW readers! My name is Leesa Unique. I am half Puerto Rican and half Panamanian. I just turned 24 years old April 15, and my body had 0 augmentation! I was born in the Bronx, New York City. Raised there in Harlem, NYC. I am a true New Yorker so trust me when I say there no place like home! (My home that is).

"She said she was a model for a year and a half!" Which is true. I always wondered how to get into the modeling and acting world but couldnt take that chance since education came first. After graduating college with a Bachelors of Science degree in Business Administration I landed a great job in that field and decided to pursue my real dream.

I was first noticed in F.E.D.S magazine February `11. Then in Black Men Magazine 40 on 40 issue in May `11, The cover of Smooth Magazine 10th Anniversary issue with 50 Cent in June `11 and featured in 2 more national magazines later that same year.

As you might be able to see, what I want I get and will work ten times harder than the average. That includes men as well. But I definitely can appreciate a challenge. So fellas dont give it up too easy now ;)
I love to laugh, do crazy random things, dance, travel, and just enjoy my young life. I am the most down to Earth woman you will ever meet. My favorite sense is touch. I love a man with strong hands who knows exactly how to use them. Massages, back kisses, give it to me all, and believe me; Ill give you my all.

Follow my random thoughts on twitter. com/LeesaUnique and keep up with my sexy photos on instagram @LeesaUnique.


1
Total Galleries with
18
total photos of
Lessa Unique
from
BLACK LINGERIE #16
and other Issues