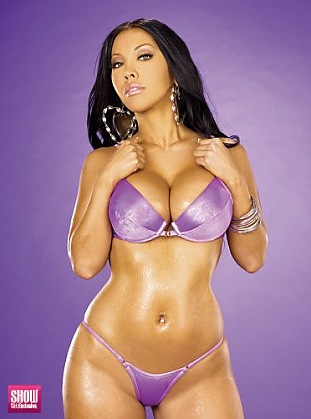 SGE Content for
Monique Minor in
SHOW GIRLZ LATINA
Photos:
1
Galleries and growing
Photos:
12
Photos and growing
Photos:
8.4
MB of Photos
Videos:
1
Videos
Videos:
4
mins of footage
Videos:
42
MB of video
View
SHOW GIRLZ LATINA
issue information and galleries >>
Monique Minor has been on the modeling scene since 2007.
Shes been in various magazines from here to London and the Far East.
All though she was doing some modeling as a hobby before her SHOW issue # 8 Latina Lovers Edition, she accredits a lot more success to SHOW magazine.

I really am blessed to have been in it! I think the most amazing thing was when some soldiers in Iraq wrote to me after that issue came out and sent pics holding a page up and had many on their walls from various things I was doing. I was so touched.

She also has young women writing her asking for advice and how much they related to being mixed in America and how we still have many obstacles facing mixed race individuals. She is Vietnamese, Puerto Rican, Black, and Irish.
My true passion to date is being a makeup artist and helping other women Know how beautiful they are no matter what ethnic background you are.
I am a giver and love to always be there for people. Sometimes I choose the wrong individuals to help but at least I can say I did try.

She claims to be a nerdy, shy, soul and loves to read poetry and the lovely Sylvia Brown (anything inspirational). "Believe in something and have a strong passion for it. If you do, it will become bigger sooner then you think. I try to always to live by the secret and I promise it truly will help you.



6
Total Galleries with
58
total photos of
Monique Minor
from
SHOW GIRLZ LATINA
and other Issues