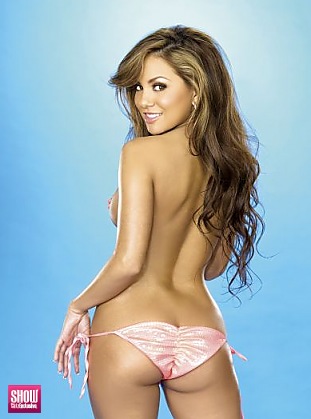 SGE Content for
Monique Myriah in
SHOW GIRLZ LATINA
Photos:
1
Galleries and growing
Photos:
9
Photos and growing
Photos:
6.3
MB of Photos
Videos:
0
Videos
Videos:
0
mins of footage
Videos:
0
MB of video
View
SHOW GIRLZ LATINA
issue information and galleries >>
I have been modeling for a couple years now and have many accomplishments I am very proud of. I have been featured in nationally published magazines and have toured with Car Shows. I am a finalist and winner of bikini contests for hooters and Hawaiian Tropic. I also a spokes model for a well-known LA talk radio station. Since I work so much my friends joke and call me a lil hustler!
I feel that my exotic looks and dangerous curves have gotten me noticed in the modeling and Go-Go dancing scene. At a club I heard some guy behind me say "thats gotta be her, shes got those "Shakira" hips!" I turned around laughing and confirmed their suspicion. I have gained cute nicknames because of my body. My favorite is: "Cola" since I have those Coke bottle curves! I am very proud of my heritage and I love being able to represent for the Latinas in the modeling industry.
In the next few years I hope to be on a lot of magazine covers and I wouldnt mind being on a poster on every young guys wall in America! I also want the typical girly "dream" to be married, with beautiful kids, the big house with dogs and to have a successful career. Looking at that past sentence, all I have left to do is get married and pop some kids out!
Booking info
: monique.myriah@yahoo.com


1
Total Galleries with
9
total photos of
Monique Myriah
from
SHOW GIRLZ LATINA
and other Issues