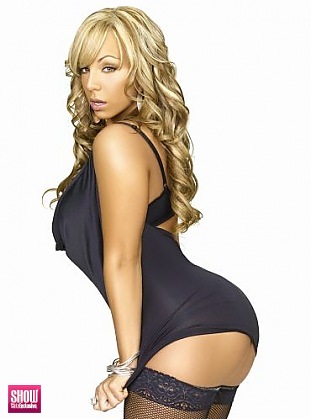 SGE Content for
Joanna Shari in
BLACK LINGERIE #12
Photos:
1
Galleries and growing
Photos:
19
Photos and growing
Photos:
13.3
MB of Photos
Videos:
0
Videos
Videos:
0
mins of footage
Videos:
0
MB of video
View
BLACK LINGERIE #12
issue information and galleries >>
JOANA SHARI

Often imitated, never duplicated. There are a lot of fakes out there but Im the real thing! Physically, I am all-natural and I am really into working out and keeping fit. Whether its boot camp class, kickboxing or spinning, Im in there going hard. Taking care of my body is very important to me. Not only do I want to look good now, I want to look good in years to come. Theres something satisfying about looking good and knowing I put in the hard work to get that way, contrary to the popular alternative of running to a local surgeon. But there is so much more to me than just what is on the outside.

Ive always described myself as a true Jersey Girl and I still stand by that 100 percent. Yes, I do follow the GTL routine religiously, and yes, I am an Italian-American chic living it up. But unlike what the media describes these days as a "Jersey Girl", what I really mean is that I love where Im from, I love going down the shore, I love my Jersey accent (to those who can hear it), and Im real, inside and out. Ill tell it like it is. If youre about drama, Im keeping it moving. Im all about positive energy, karma, and things like that. I try to surround myself with good company at all times.

Over the past few years, modeling has grown to be something I love to do. Graphic designing is really where my heart is, but modeling gives me so many opportunities to meet new people and travel to new places. I love hosting events in cities all over because I get so much out of the different kinds of people I meet. So whether Im out in Miami or LA, modeling and networking, I bring that energy from home with me and show them all that I am a phenomenal woman ready to take on the world!

Check out more of me on my official website, www.JoannaShari.com or follow me on Twitter @JoannaShari. Much love and God bless!



10
Total Galleries with
199
total photos of
Joanna Shari
from
BLACK LINGERIE #12
and other Issues