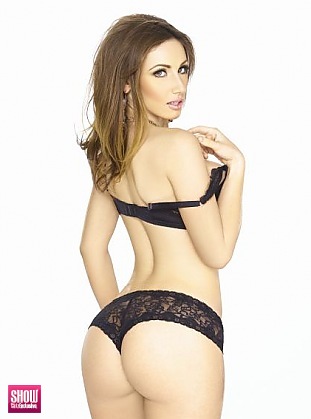 SGE Content for
Belle in
BLACK LINGERIE #12
Photos:
1
Galleries and growing
Photos:
19
Photos and growing
Photos:
13.3
MB of Photos
Videos:
1
Videos
Videos:
4
mins of footage
Videos:
42
MB of video
View
BLACK LINGERIE #12
issue information and galleries >>
BELLE

Hi!! Im Belle from Newport Beach, CA. and this is my first time in SHOW magazine, although you can definitely check out more pictures of me as a Web Gem on Showgirlzexclusive.com.

I grew up as a nationally competitive dancer and loved dance so much that I went on to dance professionally and earn my Bachelors Degree in dance. Currently, I teach Pilates and I absolutely love it! Dance and fitness have always been a huge part of my life. I want to live a long, beautiful, healthy life and working out and staying in shape is definitely the key to achieving that. Especially since I have a huge sweet tooth.

Im a super sweet girl and can get along with any and all good people.
While I believe it is important to be kind to all, I believe it is super important to always surround yourself with positive, sharp people because whether you like it or not, it will have an impact on who you are and become as a person.
I highly value kindness, maturity, honesty, intelligence, and most importantly genuineness in those that I surround myself with.
When it comes to looks, I love dark hair, bright eyes, and smooth skin on a nice strong guy. Its also sooo sexy when a guy has ample muscle definition on his entire body.

Nevertheless, when I chose the guy I want to be with I always remember this quote I was told growing up,
"Dont go for the looks, it can be quite deceiving. Dont go for wealth, even that fades away, go for someone who makes you smile because only the one who makes you smile can make any dark day seem bright"!

Always remember smiles and passion for life are contagious... spread the true treasure!






1
Total Galleries with
19
total photos of
Belle
from
BLACK LINGERIE #12
and other Issues