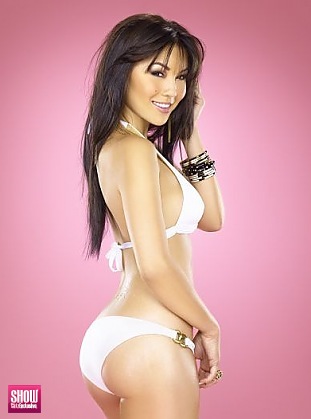 SGE Content for
Lisa Fleming in
SHOW #18 EAST
Photos:
1
Galleries and growing
Photos:
15
Photos and growing
Photos:
10.5
MB of Photos
Videos:
1
Videos
Videos:
4
mins of footage
Videos:
42
MB of video
View
SHOW #18 EAST
issue information and galleries >>
Lisa Fleming
HOMETOWN:
Sacramento, CA | Location: Orange County, CA
Occupation: Model/ Owner of; Inspired Models by Lisa Kim Fleming
Ethnicity:
Korean/ Caucasian/Irish/German
Height: 5 6" | Weight: 108 | Stats: 34C-24-34
Website: www.lisakimfleming.com
I was born in North Dakota... so random huh? Hahaha! Well of course I am a military brat since I am half Korean half Caucasian. My dad was stationed there at that time I was born, and I havent been back since! I was raised in Sacramento, CA (Yeah! go KINGS!!) and now reside in Orange County, CA. I was a very outgoing person back in high school. I cheered for the varsity cheerleading squad the last two years of high school and I was the A.S.B. Rally Commissioner. I loved to do hip hop dances in school, so my friends and I would choreograph routines for our rallies! Ive always loved anything that had to do with entertainment. When I was young... and you know you get that "what do you want to be when you grow up?" question. I would always say, "I want to be a model or a background dancer for Janet Jackson."
Im currently running a modeling management company called Inspired Models by Lisakimfleming. It is growing as we speak with more models and more gigs. I just wanted to be able to give the chance to other aspiring models that have always wanted to model but dont know where to go or where to start. It was always my dream to model and if I can help make others dreams come true then I will do whatever I can.
On my spare time.... I love to watch Korean dramas!! Well my favorite Korean drama of all time right now is Stairway to Heaven. :) I love to eat Korean food. Thats the main kind of food I can make. I make numerous Korean dishes. I also lovvvve Vietnamese food. I think Viet food has the most different flavors and dishes...mm Im hungry now Hahaha. I cant really speak Korean all that well but I can read and write it. I took a class in college and learned to read and write it actually quite easy. Im actually pretty cultural...especially traveling to a lot of countries...especially in Asia...Ive learned to speak Vietnamese, tagalong, Indonesian, mandarin, Japanese...ha-ha its pretty fun. I love to learn about new cultures. I learned to make sinigang after traveling to the Philippines ha-ha because I love that dish! My favorite type of music is hip-hop or Korean pop.
...And at the end of the day I just want to say...do whatever makes you happy. Have a great day!!


1
Total Galleries with
15
total photos of
Lisa Fleming
from
SHOW #18 EAST
and other Issues