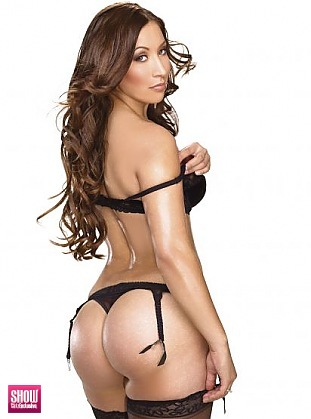 SGE Content for
Monica Baca in
BLACK LINGERIE #8
Photos:
1
Galleries and growing
Photos:
7
Photos and growing
Photos:
4.9
MB of Photos
Videos:
0
Videos
Videos:
0
mins of footage
Videos:
0
MB of video
View
BLACK LINGERIE #8
issue information and galleries >>
PHOTOS BY:
Nick Saglimbeni, www.slickforce.com
STYLING BY:
Megan Halpin
KEY HAIR STYLIST:
Tony Jones
KEY MAKEUP ARTIST:
Gaby Ramos using MAC Cosmetics
BOOKING INFO:
monicathemodel25@yahoo.com
PRODUCTION FACILITIES PROVIDED BY:
Slickforce Studio
"I am an intellectual, a lover, a model, and a friend."
I grew up in Albuquerque, New Mexico, a small town with big ambitions, culture, and a distinct natural environment. We are mostly known for our addiction to red or green chile and our dynamic sunsets. I am Hispanic, which is evident by my light eyes, long lustrous hair, and caramel colored skin. It is also evident by the shape of my body, from the curve of my breasts to my derrière, and you may agree that I am blessed, and I am one hundred percent natural.
For me, education is the number one priority. I am currently in my senior year at the University of New Mexico, studying Criminology with a minor in Mathematics. I hope to one day go to business school or law school. I believe that women can be both models and students. That we can represent ourselves in ways that are classy and feminine, yet sexual, and show that we also have a brain.
The complexities of a woman are her subtle beauty. Her intelligence, beauty, desire to persevere, all add dimensions to her colorful palate. I am an intellectual, a lover, a model, and a friend.
I love modeling for its artistic value, and I love SHOW for its classy and beautiful portrayal of the female form. SHOW and Slickforce are the true pioneers of ethnic glamour, focusing on classy spreads and accentuating the curves of a woman. They have an amazing ability to bring an image out of you that you didnt even know you had, making you feel completely comfortable in the process. Thank you for making me part of this beautiful SHOW Latina issue Sean!


1
Total Galleries with
7
total photos of
Monica Baca
from
BLACK LINGERIE #8
and other Issues