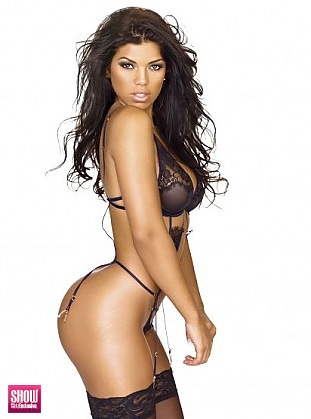 SGE Content for
Suelyn Medeiros in
BLACK LINGERIE #8
Photos:
1
Galleries and growing
Photos:
21
Photos and growing
Photos:
14.7
MB of Photos
Videos:
1
Videos
Videos:
4
mins of footage
Videos:
42
MB of video
View
BLACK LINGERIE #8
issue information and galleries >>
PHOTOS BY:
Nick Saglimbeni, slickforce.com
STYLING BY:
Diana Chan
KEY HAIR STYLIST:
Tony Jones
KEY MAKEUP ARTIST:
Gaby Ramos using MAC Cosmetics
BOOKING INFO:
bookings@iluvsuelyn.com
PRODUCTION FACILITIES PROVIDED BY:
Slickforce Studio
"I love to learn new things and become great at everything I do."
"Im a box full of surprises and my beauty is just the greeting card."
Hey guys! Its your favorite Brazilian bombshell, Suelyn Medeiros! As this is my third appearance in SHOW and second cover, its time to tell you a bit about myself that you might not know just by looking at my amazing photos.
Well to start off, I am very athletic I love competitive sports, but I hate to lose. Ill admit Im a bit of a sore looser... Beach volley ball has become my favorite sport in past few years and Im very good at it too! Ive won two tournaments to date.
Music is a great mood booster for me. Any time I feel upset, bored, or tired, I put on my playlist and start to sing and dance to myself [Laughing] I just love having a great time! Clubbing and partying with fun people is a must. On my schedule, life is too short to not enjoy it to the max every day.
I am a very positive person and have great energy. I hate people with low self esteem and bad vibes. It irritates me. I am super caring and giving to my loved ones. I dont open up to people easily; but when I love and care for someone, I give my all. I love giving advice… maybe because I think I know it all [Laughing]. I love to learn new things and become great at everything I do. I dont like to waste time and Ill do whatever it takes to get what I want.
I have a new website out and I am very excited. It has so many great pictures, videos and much more to come. 2009 has been a great year so many projects Im working on. I Have lots of new and exciting things for my fans in the near future. I want the world to see my many talents and see Im not just a pretty face with a nice body. My best qualities are not in my exterior. Im a box full of surprises and my beauty is just the greeting card. My advice to the world is a phrase in Portuguese Ill try to translate it best way possible - "Nao fasa de sua vida um rascunho, talvez nao teras tempo de passar a limpo." Translation- "Dont live your life like a scrapbook you might not have time to go back and redo it neatly". Beijos! Dont forget to join www.iluvsuelyn.com and check me out at www.myspace.com/suelynm


6
Total Galleries with
85
total photos of
Suelyn Medeiros
from
BLACK LINGERIE #8
and other Issues