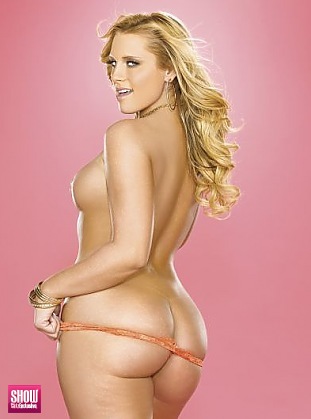 SGE Content for
Jayonna Fabro in
SHOW PEARLS #14
Photos:
1
Galleries and growing
Photos:
17
Photos and growing
Photos:
11.9
MB of Photos
Videos:
0
Videos
Videos:
0
mins of footage
Videos:
0
MB of video
View
SHOW PEARLS #14
issue information and galleries >>
PHOTOS BY:
Nick Saglimbeni, slickforce.com
STYLING BY:
Megan Halpin, meganhalpin.com
KEY HAIR STYLIST:
Tony Jones
KEY MAKEUP ARTIST:
Gaby Ramos using MAC Cosmetics
MAKE UP ARTIST:
David Rodriguez using MAC Cosmetics
BOOKING INFO:
Booking@JayonnaFabro.com
PRODUCTION FACILITIES PROVIDED BY:
Slickforce Studio
"36-27-43 all natural, 100% REAL"
Hi, I am Jayonna Fabro! You may remember me from the SHOW BL White Issue back in April 08. Since my first shoot with SHOW, doors have definitely opened up for me. Everything is looking very positive for my future. I have been through the storm and the rain… but yet I remain. No matter what obstacles I face I will always achieve my goals! As Marilyn Monroe once said "I have way too many fantasies to be a house wife. I guess I am a fantasy." Please do not get me wrong...I love to cook, clean and cater to my man. But, I am also about my business. I have ambitions and goals and I take pride in what I do. My goals and aspirations are to achieve the highest level of success that I can. The sky is the limit in my opinion!
My measurements have not changed 36-27-43 all natural, 100% REAL! My ethnicity is Italian, Indian, and Irish. So I am pretty much a white girl when it comes down to it! I am still residing in Ohio and New York. Big ups to the CO...I love my hometown. Go Buckeyes! I am an Aquarius. I am very independent and guarded. At times I am very shy but, at the same time I am quick to defend myself! It may be my outer beauty that captures your attention, but my inner beauty will capture your heart! I have good aura and I always have a smile on my face! I am extremely humble and down to earth. I am very adventurous! Working out, playing basketball, traveling, cooking and shopping are some of my hobbies. I love having a night out on the town with my girls. But, I also love cuddling up at home with that special someone for movie nights…
I am truly focused on myself in this business. I do not dwell on what other models are doing. A good friend of mine has always said being jealous will only get your feelings hurt. I just do not have time for that! I am honestly happy for any model that makes it in this industry. People do not realize everything us models go through! I always tell myself that I will NEVER forget all of the struggling and hustling I have been through. Success is in the journey and I am just trying to pave my way!
I would like to thank SHOW for giving me this amazing opportunity. I want to thank Del Anthony my photographer that works so hard with me! I want to thank all of my fans and supporters. Thank you for always sticking beside me on all of my adventures. I want to shout out my L bird. My 2009 Sexy all the time calendar and DVD are now available!! Dont forget to stop by and play with me on my site as much as you can! JayonnaFabro.com


5
Total Galleries with
54
total photos of
Jayonna Fabro
from
SHOW PEARLS #14
and other Issues