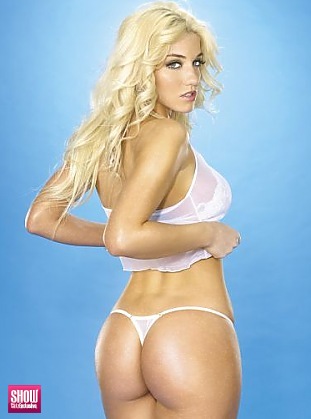 SGE Content for
Melissa P. in
SHOW PEARLS #14
Photos:
1
Galleries and growing
Photos:
16
Photos and growing
Photos:
11.2
MB of Photos
Videos:
0
Videos
Videos:
0
mins of footage
Videos:
0
MB of video
View
SHOW PEARLS #14
issue information and galleries >>
PHOTOS BY:
Nick Saglimbeni, Slickforce.com
STYLING BY:
Megan Halpin
KEY HAIR STYLIST:
Tony Jones
KEY MAKEUP ARTIST:
Gabby Ramos, using MAC cosmetics
MAKEUP ARTIST David Rodriguez using MAC Cosmetics
BOOKING INFO:
Myspace.com/MelissaParadise
After a rigorous year of touring the US as a featured import model; hosting events,
attending school, moving three times, and filming movies and TV shows, its
refreshing to take a step back from the madness and look at where Ive come
from, where I am, and where Id like to go. Every year that passes makes me
more of a firm believer that although life may not always go as planned, you can
accomplish anything if you truly want it. Although Im very friendly and have
many acquaintances, only a small group of close friends know me well. Im going
to try and open up a little more for this. I love what I do but its not who I am. I
enjoy shows, clubs, and shoots; but I also like to do down to earth things that
may not sound that exciting. Im a music junkie. Love to read. I love to shop and
get my nails done. (Yes, Im a girl!) But I also like to go camping & not wear a
speck of makeup. I love animals, especially my cat. I dream of being a successful
actress and modifying my own car all by myself someday. I want to
have a family. I cant buy enough shoes and I have a weakness for Taco Bell.
Yes, just like Marilyn Monroe, Im the girl who wants it all. I want to be glamorously
gorgeous yet still be that girl next door. I want to be sexy but not slutty. I
want to be successful but respected. I want people to think Im attractive but
take me at more than face value. I like to live a thin line between a normal life and
the wild side. I dont want to choose. I want all of it.
This year was one of the toughest, revealing, adventurous, and successful
in my life. I cant wait to see whats in store for 2009. I just wrapped up touring
with Hot Import Nights as a featured import model. For those of you who
dont follow the import scene, HIN is one of the oldest and biggest import car
shows. It combines modified import cars, the hottest import models, and live
performances from artists like the Game, Eve, Lloyd, Little John, and more. Its in
a fun club like atmosphere. Ive even had the honor of winning the titles of Miss
HIN Concord (Charlotte), NC 2008, Miss HIN Los Angeles 2007, and Miss Von
Dutch/Lead foot Motor sports 2007!
Most people dont know from appearance, but I grew up right in inner-city
Cleveland, Ohio. Ive worked very hard to get where Im at & still am not stopping
or where I want to be yet! I will never forget where I came from and I am
grateful for everything I have been blessed with. I never knew Id get to
travel as a model to Beijing, China, Hawaii, New York, Chicago, Washington
DC, Orlando, & Dallas, to name a few, and get to live right here in sunny
California! Ive been in numerous independent, student,
and internet films. Ive also hosted on various TV shows. You can see me in
the 2009 California Glamour Girls Calendar, 2008 Boost Mobile Hot Import
Nights Calendar as Miss July, 2008 and the YES Calendar as Miss April. For the
music videos lovers out there you can see me in UGK and Outkast, "Intl
Players Anthem", Keith Murray and Tyrese, "Nobody Do It Better", and Ring
Worm, "Justice Replaced By Revenge" to name a few. Ive also been in numerous
independent, student, & internet films, and hosted on various TV shows.
The most exciting thing for me is to be in my first magazine, SHOW Magazine!
Sean is a motivated person and never stops going, just like me. I love how
SHOW features all kinds of gorgeous models; I dont know how guys can pick
their favorites! Im just amazed at the beauty and variety thats shown.
You can also catch me in the upcoming
film Luster from Epic Pictures and on the Speed Channels "Hot Import Nights"
show. Stay in touch with me on my MySpace page: myspace.com/Melissa
Paradise and look out for my upcoming
website MelissaParadise.com!


2
Total Galleries with
24
total photos of
Melissa P.
from
SHOW PEARLS #14
and other Issues