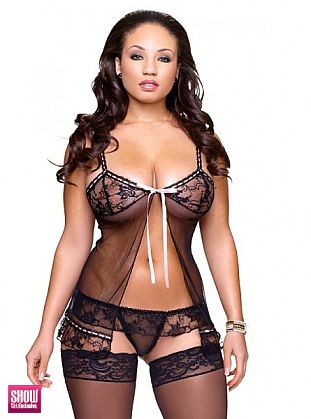 SGE Content for
Summer Walker in
BLACK LINGERIE #4
Photos:
1
Galleries and growing
Photos:
11
Photos and growing
Photos:
7.7
MB of Photos
Videos:
1
Videos
Videos:
4
mins of footage
Videos:
42
MB of video
View
BLACK LINGERIE #4
issue information and galleries >>
From XXL Eyecandy to Kanye Wests "Golddigger" resume with over 20 vids and multiple magazine articles over the years a steady pace is definitely set. The list could go on but then again I could just say "Google me baby!". Being such a humble person inside and out, I just love life and I continue to cherish everyday that the Lord presents to me to ease these trials and tribulations including those around me. My bank account may not be black card approved, but I do make sure that every moment spent is priceless. The gift my mother so willingly presented to this world came on September 28, 1984. I could sit here and tell you all about my likes and dislikes. Whats my favorite pass time? Or maybe you would like to know whats in my lingerie drawer? Neverless regardless of what you take from my photos and regardless of what you take from my past actions and decisions you wont be getting those pointless details from here. Every chance I get to speak I promised myself to use it wisely. I never wanted to model, didnt prance in front of the mirror or dream of being Miss Universe. I simply fell into it and it suited me well so I enjoyed every minute with no regrets. One thing that I would like to say is that God is good, he has given me a better life than I could have ever dreamed unselfishly for myself.
Styling by:
Megan Halpin for Skinnyknickers.com
Key Hair Stylist: Tony Jones
Key Makeup Artist: Gaby Ramos
Booking info
: SHOW Model Management, www.showgirlzexclusive.com
Production Facilities Provided by Slickforce Studio


6
Total Galleries with
83
total photos of
Summer Walker
from
BLACK LINGERIE #4
and other Issues