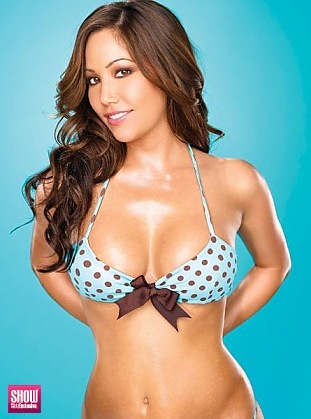 SGE Content for
Alana in
ISSUE #11
Photos:
1
Galleries and growing
Photos:
15
Photos and growing
Photos:
10.5
MB of Photos
Videos:
0
Videos
Videos:
0
mins of footage
Videos:
0
MB of video
View
ISSUE #11
issue information and galleries >>
AGE:
N/A |
FROM:
Bay Area, Northern, CA |
FEATURED IN:
ISSUE #11
"One day my life will flash before my eyes, and I want to make sure its worth watching"
My name is Alana and I was born and raised in the Bay Area, Northern Cali. I moved to L.A a few years ago, and have fallen completely in love with Southern California! Ive met and continue to meet amazing people and have been blessed with incredible opportunities. Im an exotic mix of French Hawaiian Japanese and Irish. Im a true Pisces at heart! Very intense, emotional and passionate - I love, hate and feel with all that I have. Im strong willed, extremely impulsive, live by my own rules and I like to get my way! Im reserved at first and I dont open up right away. I observe people and my surroundings until I can get a feel for them. I am not easily impressed, and I have very high expectations of myself and others. I enjoy reading a good book, nights out with my girls, getting dolled up, stimulating conversation, yoga, traveling (I want to see the world!), the beach, spoiling my dog - and most importantly, I love anything that makes me smile! I have a young heart with an old soul. I have experienced so many beautiful and painful things in my life and all of it has shaped me to become the person I am today. Ive learned not to sweat the small stuff or worry about things beyond my control. One day my life will flash before my eyes, and I want to make sure its worth watching! I truly value each day and cherish happiness and love - I look forward to a future filled with both. Sean - I cant thank you enough for this amazing opportunity! Youre the best!
PHOTOS BY:
Nick Saglimbeni, www.slickforce.com
STYLINY BY Tiffany Rae
KEY HAIR STYLIST:
Tony Jones
KEY MAKEUP ARTIST:
Gaby Ramos
BOOKING INFO:
alanamoraga@gmail.com
PRODUCTION FACILITIES PROVIDED BY:
Slickforce Studio


2
Total Galleries with
30
total photos of
Alana
from
ISSUE #11
and other Issues