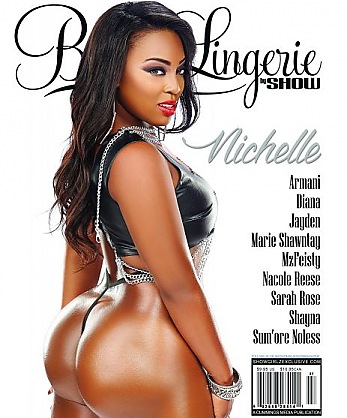 BLACK LINGERIE #27 - July 2015 - Cover: Nichelle

152 Photos / 12 Galleries
/ now online.
Black Lingerie 27 Part A is starring repeat cover girl Nichelle. Plus, Armani, Aizhan Bishop, Chyna West, Jayden, Marie Shawntay, Mz Fiesty, Nacole Reese, Sarah Rose, Sumore Noless, and Stephanie London.
Black Lingerie 27 Part B is starring Sophia Rosado, Model MiNova, Anteja, The Double Dose Twins, Brittany Jester, Olivia Desiree, Sandra, Ciera Lee, Kimu, Stephanie Sweets, and cover girl Ava J.
Order your printed issue of Black Lingerie 27, both parts, today here on SHOWGirlzExclusive.com. This issue is also available on your iPad and Android devices through Zinio. Collect both editions, A & B today! Enjoy!
Photos:
12
Galleries Online
Photos:
152
Photos Online
Photos:
106.4
MB of Photos Online
Issue: BLACK LINGERIE #27
Release Date
: July 2015
Cover Girl
: NICHELLE