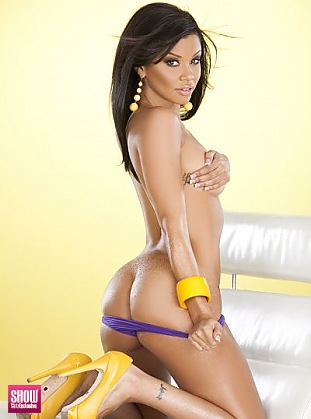 SGE Content for
Layla Marie Photos & Videos:
Photos:
1
Galleries and growing
Photos:
27
Photos and growing
Photos:
18.9
MB of Photos
Videos:
3
Videos
Videos:
12
mins of footage
Videos:
126
MB of video
View
more webgems
for other hot girls and content >>
AGE: N/A | FROM: Sacramento, CA | RATING: 2.71 (95 Votes)
LAYLA MARIE
Birthplace/
HOMETOWN:
Sacramento, Ca
Homeown: Im half black n half Arab
MEASUREMENTS:
34-27-38
HOBBIES:
Besides taking pictures I love fashion and styling people as well as doing makeup. I consider myself a jet setter, always in a different city. I love having ladies night-out with my girlfriends. I enjoy the smaller things in life like hanging around the house and having everyone come over with their kids and all having a good time. I like going to the gym so I can release tension as I play my Pandora on my blackberry. Im also a game fanatic, playing board games, card games, and the Wii with all my friends.
Magazines: SHOW is my first published magazine and Im so glad it was my first because the Staff and Sean are AMAZING. SHOW is growing each year and Im glad to be a part of the Class 2011. Hopefully I will be able to shoot for SHOW again as well as other known magazines as well as do music videos.
Turn ons and turn offs: Im so turned on to a man that has tattoos. I find them really sexy. Also, how he presents himself with good manners and if he can hold a good conversation. A man that can dress nicely and who wears some nice cologne is also very sexy to me. Turn offs would be a cocky attitude, a man that is not physically in shape as well as bad hygiene. Another bad trait would is not being money motivated.
Favorite hip-hop artists: I love Tanks new album as well as Drake, Trey Songz and Monica
Favorite vehicles: Im in love with my Mercedes, but the next car I would love to get is either another Mercedes, Range Rover or any other big truck.
Luxurious party spots: I love traveling Ive been to Miami clubs such as BED, Mansion, Prive, Vegas I have been to XS, Tao, The Bank, as well as other cities like Atl, New Orleans. But I really would love to party in places like Brazil or the Bahamas those places are on my list to go to in the next couple years
What makes you feel sexy? I love staying at home in my Victorias Secret Cami wit boy shorts, hair in a ponytail with no make up. Natural beauty is the best beauty.
Whats your favorite body part and why? I love my lips because they are full and luscious where a lot of woman pay to have lips like mine. I also love my smile, so having nice lips helps that.
Fantasies: One of my fantasies consists of hooking up with a certain Kardashian Sister. : )