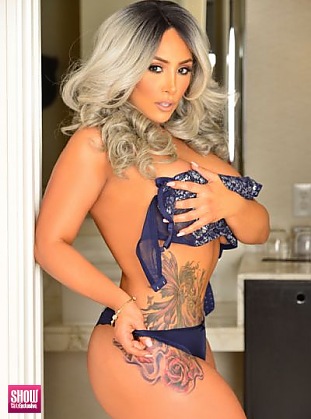 SGE Content for
Avangelin in
SHOW #32
Photos:
1
Galleries and growing
Photos:
7
Photos and growing
Photos:
4.9
MB of Photos
Videos:
6
Videos
Videos:
24
mins of footage
Videos:
252
MB of video
View
SHOW #32
issue information and galleries >>
AGE:
N/A |
FROM:
N/A |
FEATURED IN:
SHOW #32
Avangelin
PHOTOS BY:
Sean Cummings, @SHOWMagazine__
GRAPHIC DESIGN: @cmkdesigns
SHOT ON LOCATION AT: The Hotel Palomar in Dallas, TX
HAIR STYLIST: Benni Hanna @Skolar_Vangawd
MAKEUP ARTIST: Rhonda C @Rhondac_mua
BOOKING INFO:
: @avangelinmarie
Visit: www.SHOWGirlzExclusive.com for bios, exclusive images and video from this issue.
My name is Avangelin, thats said (ah-van-ja-lyn) for those who are wondering, "how do you even say that," or those who say, "However you say that." I always knew I wanted to be sexy, just like I always knew I was going to be something. I was eight years old turning in paper applications and submitting for modeling jobs at the mall. Fast-forward a couple of years; I used to dress up almost every single day when I was in grade school. I walked the hall in heels! Having my hair, nails, and everything on point was a must. IT HAD TO BE SEXY! My mother used to get so frustrated with me because I wanted my cleavage out. My G-Ma used to always tell me, "If you got it flaunt it." My grandmother has always been a G and always put me on game.
I recently graduated with my associates and am currently pursuing my bachelors degree. Meanwhile, I model, promote, advertise, manage, assist, stylist etc. One day I will be out in California on set for a music video with Wiz Khalifa and TYDollaSign, the next day Ill be in Texas styling my clients, or doing photo shoots with SHOW Magazine in Dallas Texas. Yesterday, I was ringside watching my fiancées boxer TKO someone and assisting him by setting up interviews. I play a major role in peoples lives. Especially, the people I love and care for! I know what your thinking, "wait did she say fiancé?!" Yes, just know hes a lucky guy, because out of everyone who has pursed me he won me over. Its GAME OVER for my single life, pun intended.
Im very very very sex oriented I love SEX! Im just so picky when it comes to whom I decide to sleep with. I believe when you have connections with your partner its the best sex ever! Once Im comfortable Im all in but I dont just give that to anyone. I would rather master-bate then sleep with a random. Latin women are the best lovers! When Im not being a sex addict, Im working, or playing house with my kids. Yes, I have two kids so far, but I want more. Ill be working on movies here in the near future until then, along with everything else. Im Avangelin thank you to all of the people who support me. And most of all, I have to give my thanks to God for giving me the strength.
INSTAGRAM: @avangelinmarie
TWITTER: @avangelinmarie
FACEBOOK: Avangelin
SNAPCHAT: @avangelinmarie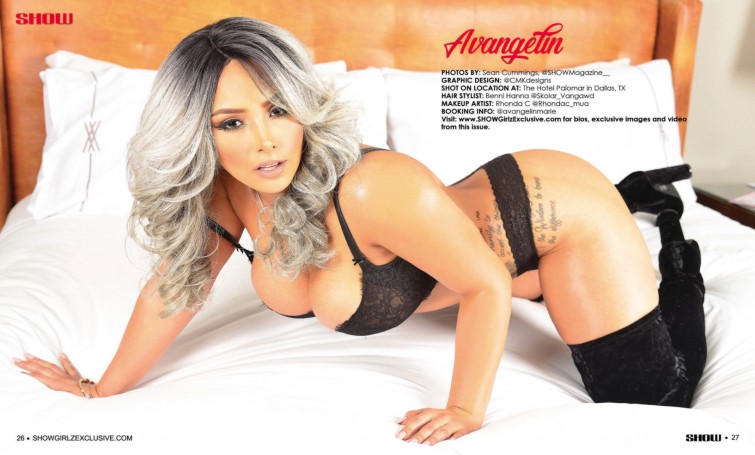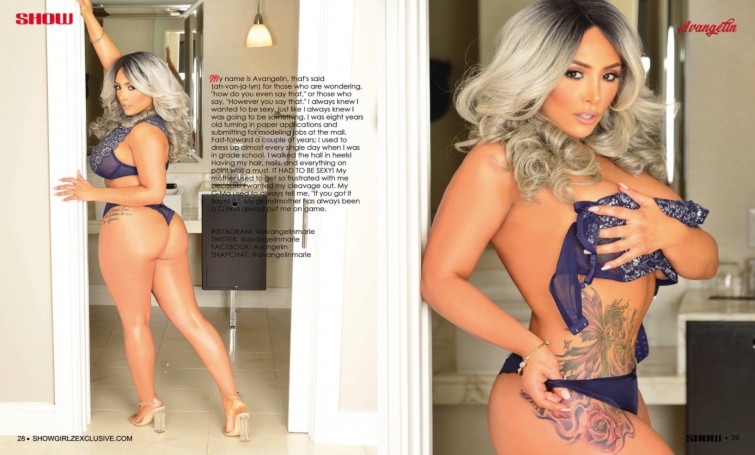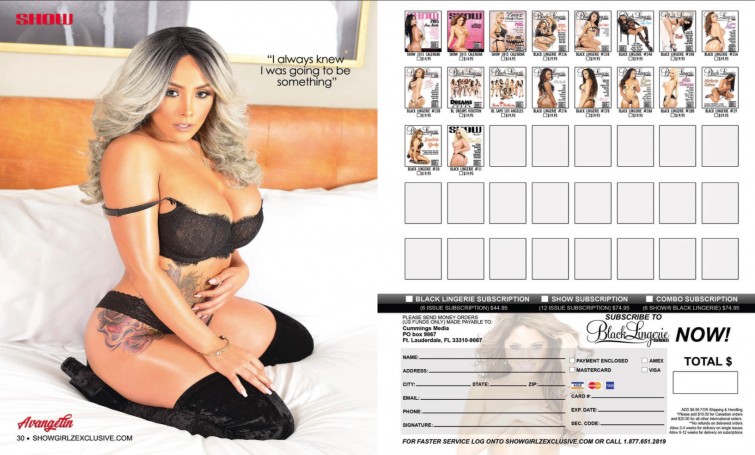 1
Total Galleries with
7
total photos of
Avangelin
from
SHOW #32
and other Issues