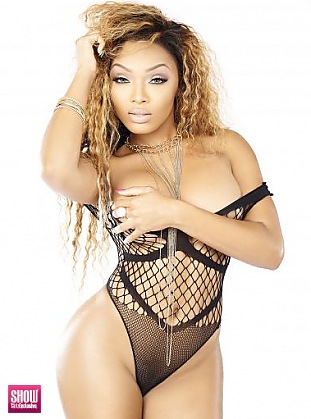 SGE Content for
Gia Simone in
BLACK LINGERIE #28
Photos:
0
Galleries and growing
Photos:
7
Photos and growing
Photos:
4.9
MB of Photos
Videos:
1
Videos
Videos:
4
mins of footage
Videos:
42
MB of video
View
BLACK LINGERIE #28
issue information and galleries >>
Gia Simone
PHOTOS BY:
Sean Cummings, @SHOWMagazine__
GRAPHIC DESIGN: @cmkdesigns
HAIR STYLIST: Julie Pierre, @Juliayourhairstylist
MAKEUP ARTIST: Nina Acre, @NinasMakeup
BOOKING INFO:
: bookgiasimone@gmail.com
Visit: www.SHOWGirlzExclusive.com for exclusive images and video from this issue.
My name is Gia Simone, and I was born and raised in Chicago. I moved to Florida for a better life and later I moved to Miami to accelerate my modeling career and stack my bank account.
Growing up I was your classic tomboy, so when I am not all glammed up for a photo shoot or music video, you can probably find me shooting pool or bowling with the fellas, rocking a white tee, some jeans, and a fresh pair of Jordans.
Many people think that I am going to have a mean or stuck up attitude just because of the way I look, but once they get to know me they are always like, "Damn, youre actually cool!"
Tell us an interesting fact about yourself that most people would be surprised about. Most people would be surprised that I am a big time do-it-yourself person. I am really handy with the tools and I even have my own set of pink ones with a toolbox to match. I renovated my hair salon all by myself, including installing the equipment, putting together new furniture, and painting the walls and trim. Ya girl got skills!
Tell us one thing about yourself that a guy who is interested in dating you should know. Arrogance is an instant turn-off. I need to be with a guy who is confident but not too cocky. There are many times when I am on set for hours or hosting an event with well-known celebrities, so my man needs to understand that I am an extremely loyal person. I cant be with a guy I can just run over. He has to let me get my way, but knows when to tell me to shut up.
What is your favorite position? CEO. There is nothing like setting my own schedule. No one can tell me what to do and how to do it!!
What are some things we can expect from Gia Simone in the near future? I have a lot going on actually. Anyone who knows me for real knows I stay busy.
I am always trying to shoot with great photographers, and I have some great things coming out very soon including a 40-page magazine dedicated strictly to images of me!
When I am not modeling, you can find me doing a clients hair at my salon, Gias Hair Studio. (INSTAGRAM: @hairbygiasimone ) or doing hair at a photo shoot for other models. My last job I booked was at the Versace Mansion here in Miami!
I just launched a weekly podcast called 24/7 Access Live (INSTAGRAM: @247AccessLive) with one of Miamis hottest DJs, Sugah Sweetened where we interview celebrities, debut up and coming artists, discuss news and events, and of course, play the hottest music. I came into this industry doing celebrity interviews many years ago, so Im just finishing where I left off. It is very empowering to have two women running their own show. Hey women still dont get much of a voice in the industry with most of the roles just being eye candy and never really taken serious. Im also learning a lot about the technical side of the game as well. Be sure to check us out on Monday nights from 6-9 on SNDS radio (INSTAGRAM: @SNDSradio). Download the app and check us out!
I also just launched my new line of custom, handmade swimwear called Swim by Gia Simone. (INSTAGRAM: @SwimbyGiaSimone) A lot of people dont know this, but I am really good at drawing. I sketch my own swimsuit designs and I pick all of the fabric and materials myself. All my pieces are very unique and I try to keep all shapes and sizes in mind to bring out the sexy in all women.
WEBSITE: GiaSimone.com
EMAIL: bookgiasimone@gmail.com
INSTAGRAM: @GiaSimone
TWITTER: @GiaSimone
SNAPCHAT: msgiasimone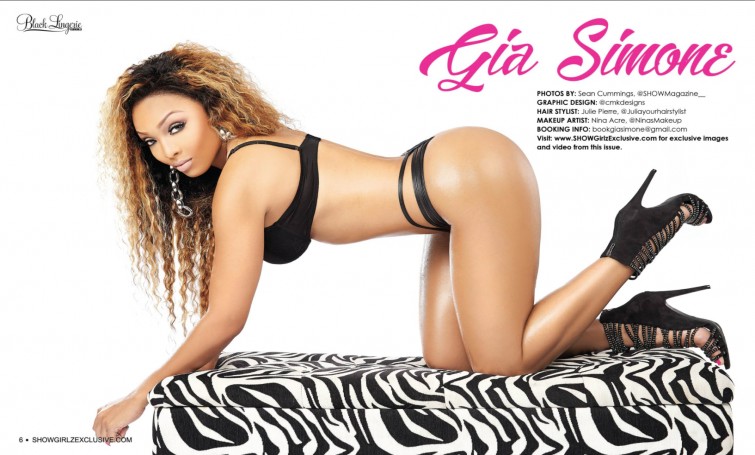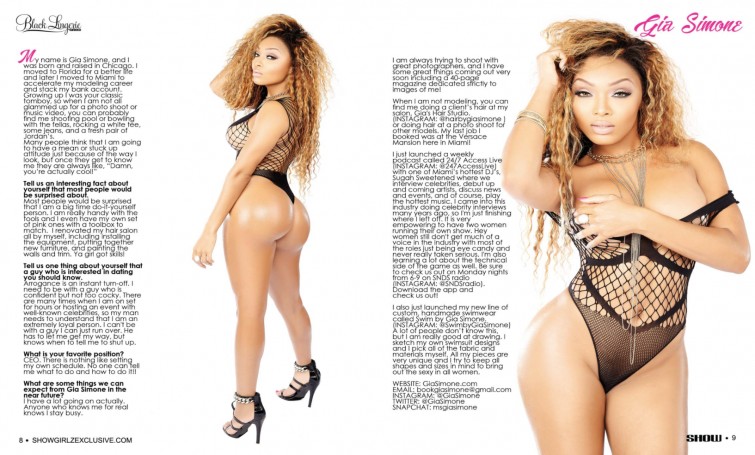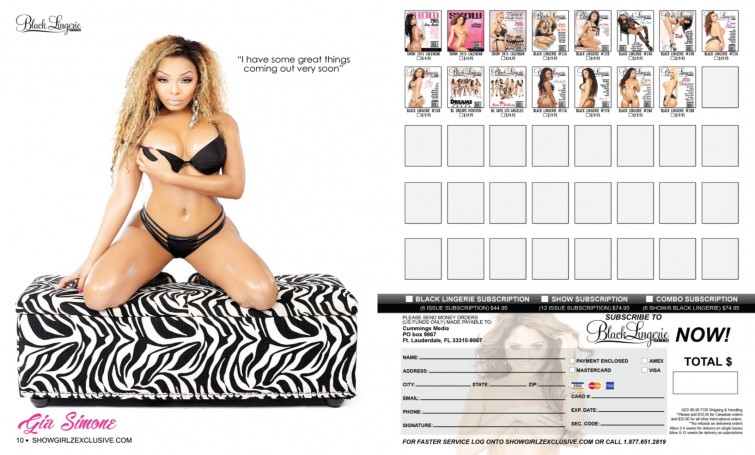 2
Total Galleries with
12
total photos of
Gia Simone
from
BLACK LINGERIE #28
and other Issues