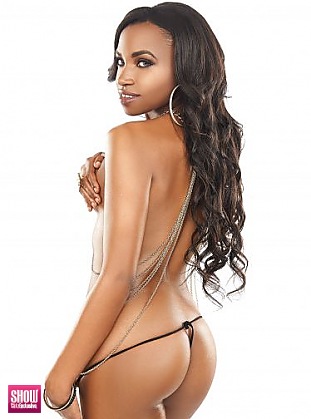 SGE Content for
Syera Bowman in
BLACK LINGERIE #28
Photos:
1
Galleries and growing
Photos:
7
Photos and growing
Photos:
4.9
MB of Photos
Videos:
2
Videos
Videos:
8
mins of footage
Videos:
84
MB of video
View
BLACK LINGERIE #28
issue information and galleries >>
Syera Bowman
PHOTOS BY:
Sean Cummings, @SHOWMagazine__
GRAPHIC DESIGN: @cmkdesigns
HAIR STYLIST: Al Ingram, @AlSexyHair
MAKEUP ARTIST: Christian, @christianthemua
BOOKING INFO:
: syerabowman@gmail.com
Visit: www.SHOWGirlzExclusive.com for exclusive images and video from this issue.
Syera Bowman
Age 25, born in Los Angeles, raised in Riverside California.
5"8 weight 132
34 C cup
Size 6 in dresses
Size 10 in shoes
The beautiful Syera Bowman began modeling at 15 with the help of John Robert Powers, shortly after that at the age of 17 she was accepted in Barbizon school. The exceptional Syera Bowman began to compete in Miss California in 2009 but shortly after competing her grandmother who raised her and her two younger sisters passed away. After her grandmothers passing in November of 2011 she relocated to Las Vegas to start her life back up and coming off to a great start she landed a job as a show girl and a 6 page feature in SHOW Magazine available in August.
What are your personal interests?
I have so many personal interests one of biggest that a lot of people dont know about is Art. I really love paintings and I want to learn myself. I really like finding things of interest that help me express myself. Real Estate is one; Id like to one day build my own home, as well as flip homes and design them. I use to write poetry I havent in a long time but I am starting back, I actually just wrote one not to long ago.
What do you aspire to achieve in modeling?
Right now in my life I am very comfortable stepping outside of my comfort zone. I have awful stage fright but I love runway and always wanted to achieve that. Ive modeled swim, lingerie, semi- nude, and nude, but now that I am getting older but my passion for modeling is still the same I think it would be a great idea to do something Ive always wanted to do and see where it lands me, who knows maybe end up with my own modeling agency.
Whats your favorite position?
(Ha!) A question out of my comfort zone lol good move. Crazy as it may sound I dont have one, my husband is very talented in that department Im being completely honest right now. My husbands wife has zero complaints lol it definitely shows on me though, hes made me fall in love with my butt it looks awesome now hahaha in all honesty hes made me love my body in a way I cant even explain.
Do you like women?
You know I dont know how to answer that People are so quick to judge and label things, Im very comfortable with my sexuality I think women are beautiful but I love men but girls are fun when they want to be lol
INSTAGRAM: @syera bowman
TWITTER: @syerabowman
FACEBOOK: Syera Bowman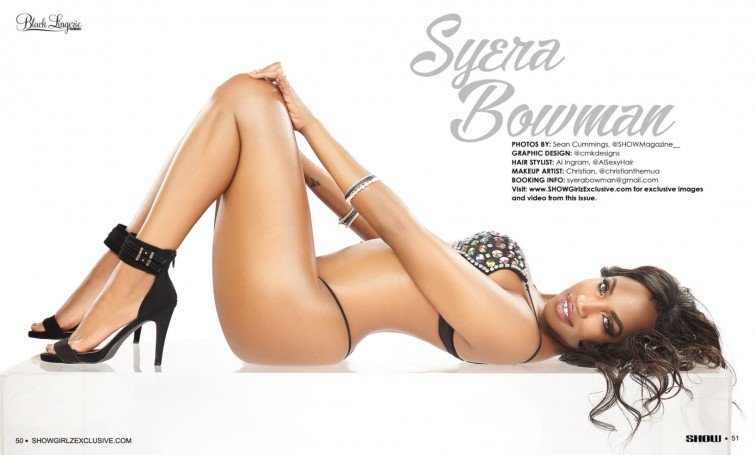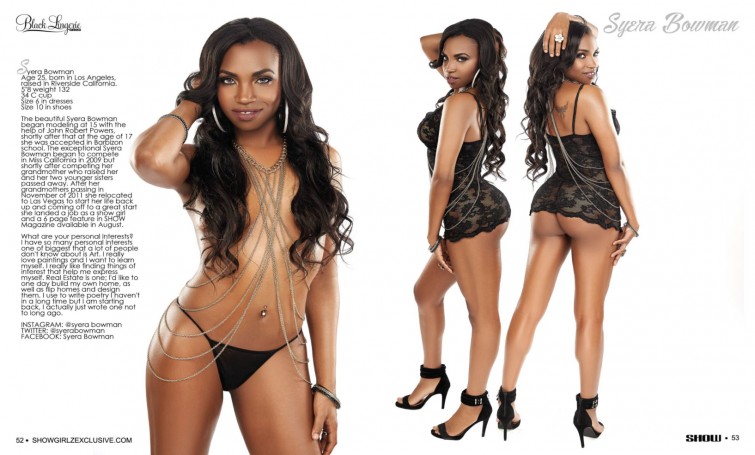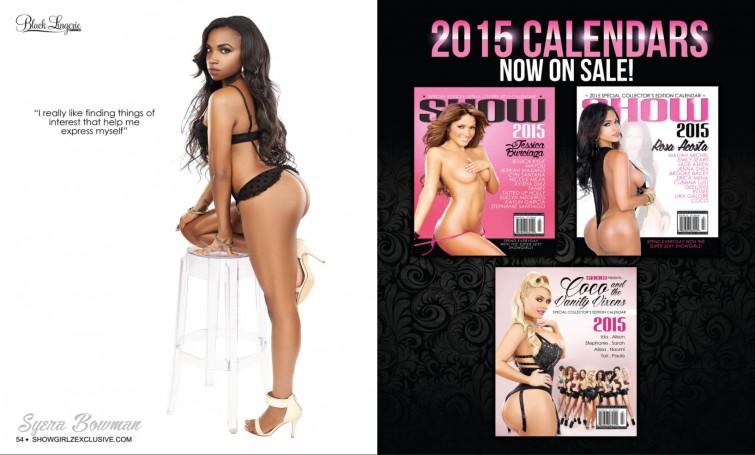 1
Total Galleries with
7
total photos of
Syera Bowman
from
BLACK LINGERIE #28
and other Issues