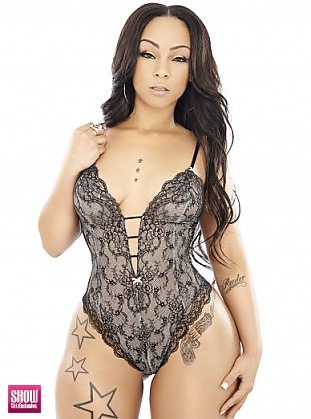 SGE Content for
Mercedes Morr in
BLACK LINGERIE #24
Photos:
0
Galleries and growing
Photos:
8
Photos and growing
Photos:
5.6
MB of Photos
Videos:
3
Videos
Videos:
12
mins of footage
Videos:
126
MB of video
View
BLACK LINGERIE #24
issue information and galleries >>
Mercedes Morr
PHOTOS BY:
Sean Cummings, @SHOWMagazine_
GRAPHIC DESIGN: @cmkdesigns
HAIR STYLIST: Chevelle Brown, @newagehairsalon
MAKEUP ARTIST: Krystal Knowles, @BrownCoutureMakeup
BOOKING INFO:
: bookingmercedesmorr@gmail.com
Visit: www.SHOWGirlzExclusive.com for exclusive images and video from this issue.
Hey its your girl, the one and only Mercedes Morr. Im an urban model and dancer currently residing in Houston TX. You may have seen me on social networks but I got started right here in Houston about a year ago. From modeling to videos and much more follow me on IG to keep up with my crazy life @missmercedesmorr
Where are you from?
Im from California, a Cali girl a heart with a southern body
What type of guys do you go for?
Defiantly a guy thats driven, smart, funny and I like a dominant man since Im so submissive I kind of like being told what to do at times
Whats the one word your friends would use to describe you?
I would have to say crazy. Im a sag which are fire signs so my personality is kind of like a fire. Im wild, free spirited but very sassy and usually go through a lot of moods but Im intense jus like fire
Whats your best attribute?
I would have to say my sexy apple, which can sometimes get me into trouble because I can come off as a huge flirt even though its usually harmless
Whats your favorite body part?
I would defiantly have to say my ass, its soft and juicy and think I love it as much as my fans do maybe more
BOOKING: bookingmercedesmorr@gmail.com
INSTAGRAM: missmercedesmorr
TWITTER: mercedesmorr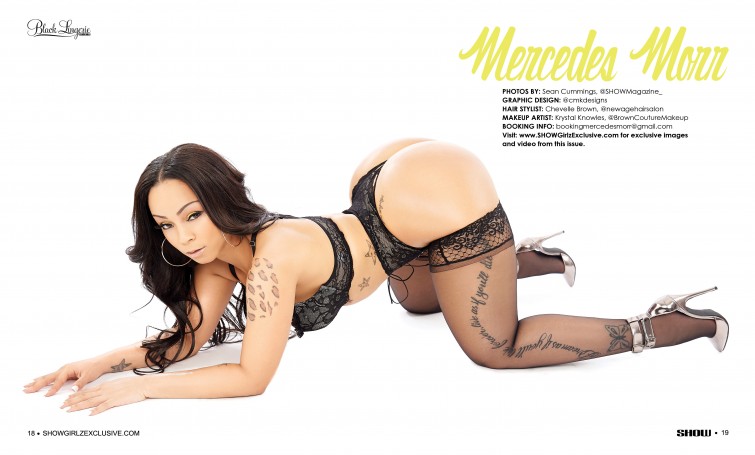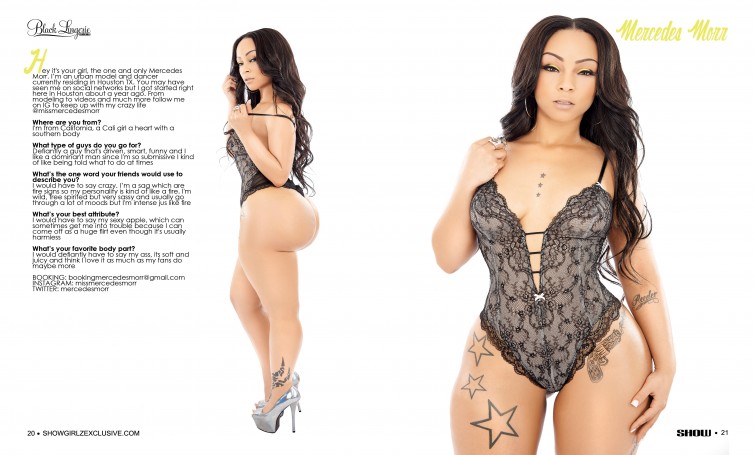 1
Total Galleries with
8
total photos of
Mercedes Morr
from
BLACK LINGERIE #24
and other Issues