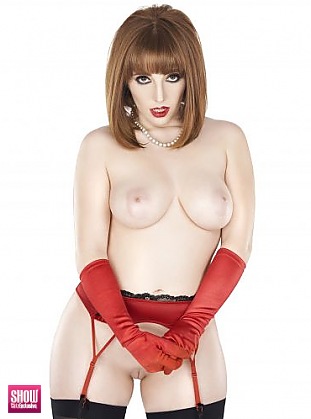 SGE Content for
Ginger in
ART OF SEXY # 5
Photos:
0
Galleries and growing
Photos:
7
Photos and growing
Photos:
4.9
MB of Photos
Videos:
1
Videos
Videos:
4
mins of footage
Videos:
42
MB of video
View
ART OF SEXY # 5
issue information and galleries >>
GINGER
PHOTOS BY:
Sean Cummings, @SHOWMagazine_
GRAPHIC DESIGN: @cmkdesigns
HAIR STYLIST: Al Ingram, @AlSexyHair
MAKEUP ARTIST: Angela January, @Angela_January
BOOKING INFO:
: @missgingersparks
Visit: www.SHOWGirlzExclusive.com for exclusive images and video from this issue.
Stats: 32DD-25-40
What is your favorite thing about making custom videos for guys?
I love when fans send me requests to order a custom video. It means Im in their fantasies and they want me to help them fulfill it. Ive made so many different clips for guys and I love getting to explore sex and what turns on guys. I always try to make a scene that will get into the guys head and make him explode! Plus it turns me on when he asks if I can play with one of my sexy girlfriends. Ill try almost anything once and most times, I do it well enough they come back begging for more!
I highly suggest you order one so I can fulfill your fantasy.
Where can someone find you on a Saturday night?
At the gym. I just started weightlifting, to make myself a tad bit thicker (can hurt right?) so I try not to miss a day. After that, Im off to LA for a drink and some food, cause I still love to eat! Good food and vodka is the key to my heart.
What kind of men do you like?
I can lie, I love muscle heads. The bigger your traps the more Ill fall head over heels. But you gotta know how to use that big body. I like a guy who can get rough, but then take me out and treat me like a princess. I love being spoiled!
And I love being silly. If you
e too serious, then its not going to happen. Life is too short to not have fun and be a little wild.
Whats your favorite sex toy?
My best friend is my Hitachi magic wand. I love mine and if your girl doesn have one, you need to buy it for her now. Trust me, youll be sending me thank you notes.
How are you different from other models?
I like to be goofy with my fans. Ill respond to jokes and random conversations over twitter. I like to talk about stuff that models, "aren supposed to talk about". But I also like to learn random things and share it. I learned how to use wood working tools, and next I want to learn how to drive a bobcat! Maybe I just find power tools sexy.
I also don look like a sexpot and often times people are so surprised. I love being able to be cute and innocent looking and then fool everyone once I get in front of a camera.
What was the sexiest thing youve done so far for a video?
This just happened! I got to play with one of my friends for the first time and during our second scene together we totally just forgot all about the camera and I ended up squirting all over her. It was the first time she had ever done that to someone and it was the highlight of the trip!
What is something you want to do more of?
Magazines like Show! I love showing off my booty and many people don know it since I stay mostly in fetish and custom work. The ass needs to get out there for the masses!
WEBSITE: www.thegingersparks.com
INSTAGRAM: missgingersparks
TWITTER: GingerS_
TUMBLR: MissGingerSparks
BOOKING: thatonegingergirl@gmail.com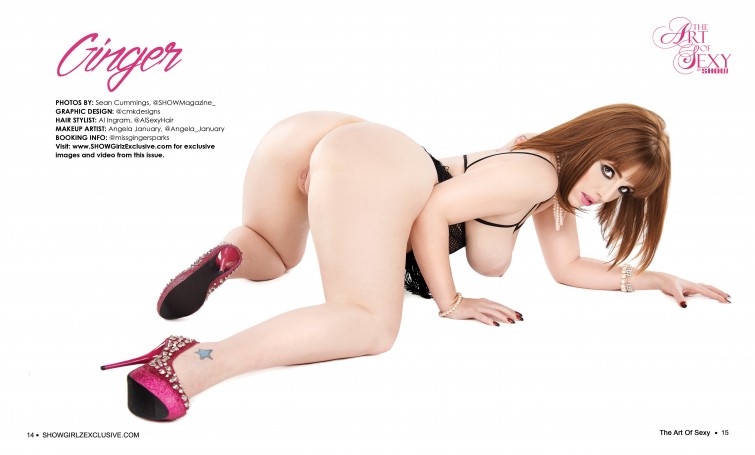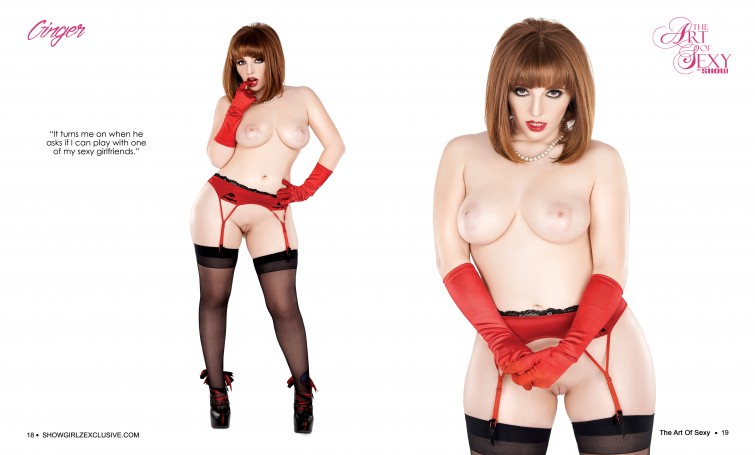 1
Total Galleries with
7
total photos of
Ginger
from
ART OF SEXY # 5
and other Issues