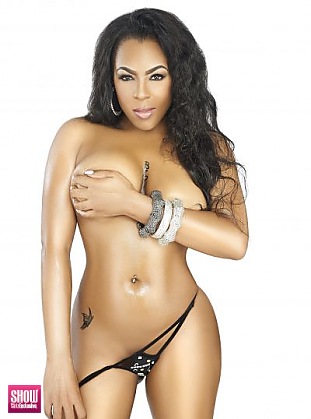 SGE Content for
Mena Monroe in
BLACKLINGERIE #20
Photos:
1
Galleries and growing
Photos:
7
Photos and growing
Photos:
4.9
MB of Photos
Videos:
0
Videos
Videos:
0
mins of footage
Videos:
0
MB of video
View
BLACKLINGERIE #20
issue information and galleries >>
MENA MONROE

MAKEUP BY: Anela Dilasio, @Angeladilisio
HAIR BY: IAN CHRISTIAN, @ianchristian1

For starters introduce yourself, for those who aren familiar?
My name is Mena Monroe, and Im from Detroit, MI.

Well are you currently single?
Yea I am! And definitely open to the possibilities of love. Heck even lust at this point (laughs).

Wow open to lust possibly? My kind of girl, what type of guys are you looking for?
Well honestly Im just coming off of a 3 month sex fast. So Im not really looking for that "Smash & Dash" type of guy. I want a nice guy , who dresses and smells nice, nice smile, whos attentive, and knows how to put it down in the bedroom.

Nice! What does a girl like you like in the bedroom?
Well Im a pleaser so I like a guy who is aggressive and can tell me what he wants. I love pleasuring my partner so I love four play! I actually prefer giving head vs. getting it. A lot of guys don know what to do with their months down there. I like a lot of shit talking, ass grabbing & smacking, and maybe a little roughness here and there (giggles).

Wow it seems like you know exactly what you like, so Im assuming when your sex fast is over youll be enjoying the single life?
The single life sucks actually. Unless you want a whole lot of miles on you. Which I don , Im very selection so until a decent dude catches my eye, its just my toys & me!

So you
e the type to pleasure yourself?
Absolutely!! I know my body and my spot better then anyone else. So whenever Im feeling horny I don mind getting my hands wet. Im a bit freaky so whether its porn, a toy, or a finger or two Im definitely going to get me a nut (laughs).

You mentioned your g spot, you mind telling where your spot is?
Im going to keep that to myself. So if whomever Im with finds it hell get a very squirtful surprise lol!

Well can we at least have a hint?
Ok... Well its not on my body, its inside of my body lol.
Describe a typical night with you in the bedroom?
Typical is boring. I like spontaneous. Im a pleaser so if we
e together and on that level, you can pull it out anywhere and Im with it. Im very attentive I listen and observe my man and whats turning him on. Im a glamour model so I have tons of lingerie so I always try to look extra sexy for my man! Once I put it on it usually comes right off and its straight to business.

You have a nice Instagram & web fan base, is there anyone who you
e really a fan of?
I mean of course there are model wise Im still obsessed with Tyra, Rihanna is beyond sexy, oh and Derrick Rose is everything! I love him.

Rihanna is beyond sexy, with that said are you into girls?
Ironically thats a fad that Ill pass on. Im not actually attracted to girls. I can admire another womans beauty w/o wanting to fuck her. Theres just something about a nice hard penis, baby I wouldn trade it for the world! Now I just have to find a good man attached to one to complete my dream guy lol.

Whats the spontaneous place youve had sex?
I was with my ex having a horrible airport experience. Our flight was delayed for 10hrs or so. We were bored & horny plus wed already taken the rental car back. So had to fuck me on the wall of the airport parking structure. Best quickie ever!

Whats your position of choice?
I like when Im on my back and a dude pins my legs up over my head and just goes to work lol. I cum the most in that position. From the back is runner up.

Awesome, ok lets cool off a bit, any new projects that you
e working on?
Yes lol. Im in the process of opening up a standing store for the online hair company I rep. And Im also half way through my music project Im working on.

What type of music project?
My rap mix tape.

Looking forward to hearing it, how can your fans keep up with you?
Well Im on all social networks. Instagram @Menamonroe Twitter @menamonroe Facebook Mena Monroe
I have a personal website www.LoveMenaMonroe.com and my booking email and P.O box is Askmenamonroe@gmail.com
PO Box 47656 Oak Park, MI 48237

And I just wanted to say thanks to Sean Cummings for the opportunity and thanks to all the people who have ever supported the Mena Monroe movement.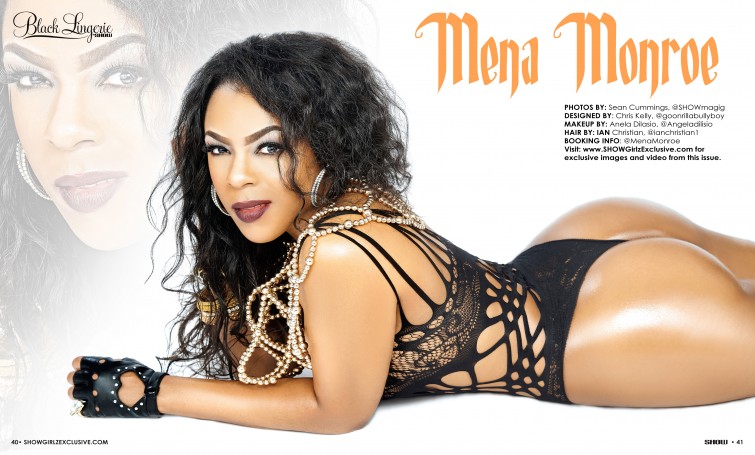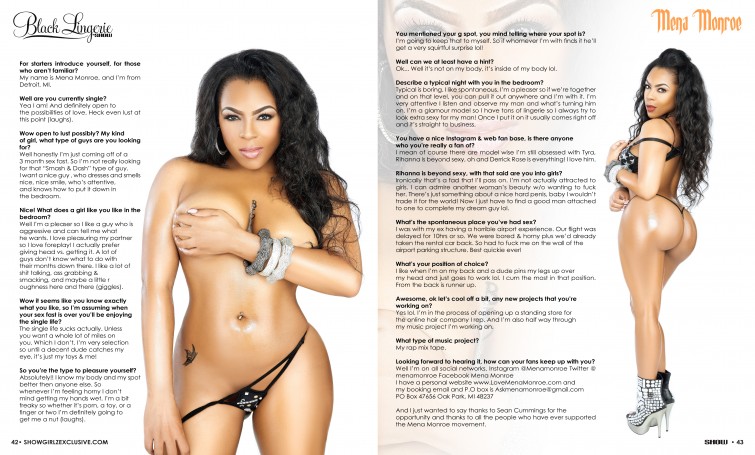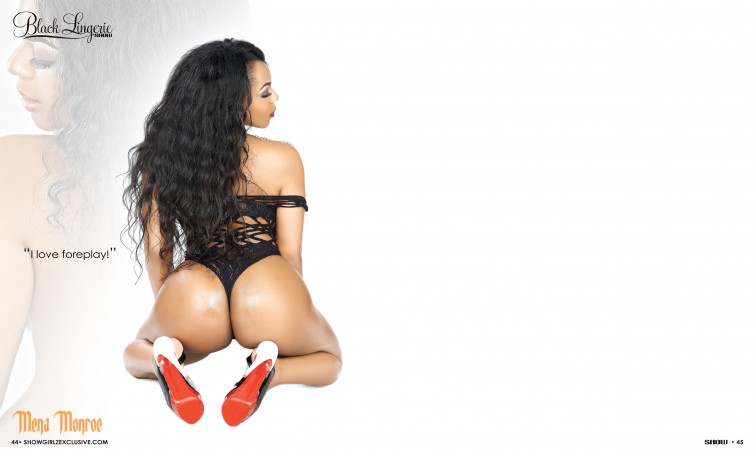 1
Total Galleries with
7
total photos of
Mena Monroe
from
BLACKLINGERIE #20
and other Issues