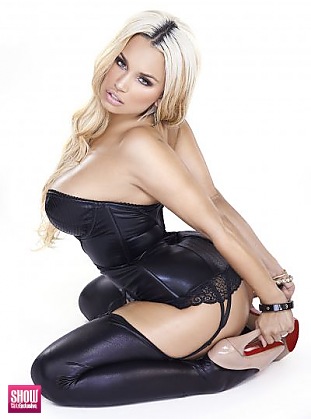 SGE Content for
Jessica Kylie in
BLACKLINGERIE #20
Photos:
1
Galleries and growing
Photos:
12
Photos and growing
Photos:
8.4
MB of Photos
Videos:
2
Videos
Videos:
8
mins of footage
Videos:
84
MB of video
View
BLACKLINGERIE #20
issue information and galleries >>
JESSICA KYLIE
PHOTOS BY:
Sean Cummings, @SHOWMAGIG
STYLIST: Karina Guerrero, @karilexa
HAIR BY: Al Ingram, @AlSexyHair
MAKEUP BY: Angela January, @Angela_January
BOOKING INFO:
: Bookjessicakylie@yahoo.com
Visit: www.SHOWGirlzExclusive.com for exclusive images and video from this issue.
Age: 26
Location: Houston, Miami, Los Angeles
Ethnicity:
Half Irish and Half Mexican with Cherokee Indian
Height-53
Weight: 130
Eyes-Hazel
MEASUREMENTS:
34DD-26-42
HOBBIES:
Dancing, directing photo-shoots, acting, designing lingerie, spending time with my family and son!
Social Networks-Instagram/Twitter-@therealjkylie
*Facebook-Jessica Kylie
10.)Website-Jessicakylie.com
This is your first cover with Show Magazine! What was it like working with Sean?
Yes, this is my first time shooting with SHOW magazine and I am so honored to be chosen for the cover! We shot in Los Angeles and the whole hair/make-up staff was AMAZING! Sean now shoots his models himself which is different from most mags and I have to say, I was a little nervous about his photography skills but we rocked it out! Im very proud of him for staying strong in this difficult industry and hope to work more with him!
What would the average person say about you?
Most people who don know me say that I look conceited, stuck up, scary to talk to....lol! I guess I just have that serious face demeanor but once they talk to me their whole perception changes! Anyone who knows me would say that Im," super generous, kind, funny, polite and but don get on her bad side!"
Are you a good dancer?
Yes, I would definitely consider myself a good dancer! I used to watch the show "In Living Color" as a kid and dance infringing of the TV! Lol I danced salsa, merengue, bachata all throughout middle/High school and I am now in a professional Salsa dance group!
Do you like the nerdy type, muscle guy or regular Joe?
I don really have a "type". I can find attractiveness in different types of men but for me to really fall for someone (which is super rare) he has to have a little of all qualities. I want a guy with street smarts and intellect! I want a guy who has a nice lean body but not too big with muscles. I want a guy who is nice and polite but takes control in the bedroom.
Do you have secret weaknesses or guilty pleasures?
Last time I gave too many details about my naughty side and I got in trouble lol! But one of my guilty pleasures is wearing lingerie for my man. When I was younger, I was too shy to get dressed up for him but with confidence that changed! If you want to keep your man happy them you have to stay creative!
We know SHOW is known for their Black Lingerie title...how did you go about choosing your outfits?
Black lingerie can be super sexy but also very common so I wanted to set myself apart from all the other models they have shot. I went shopping at one of the most expensive/exclusive lingerie stores "Dirty Lingerie" in LA! My full body corset was edgy, perfect fitting and the material is out of this world! I paired my outfit with shiny latex thigh highs and of course the best Christian Louboutin heels! I never settle for less!
What was your most memorable moment as a model?
I have soooo many memorable moments that I can even begin to explain but the effect that I have on other aspiring models and women is the best! I started my own modeling school once a month to teach girls how to model and I fly in the best photographers in the game! I also teach housewives to feel sexy and take pics for their hubbys! Their smiles after seeing their pics are most memorable!
Whats your biggest turn on?
My biggest turn on is for my man to take control in the bedroom. Ill purposely tell him no to sex just so he will "take it"! If he would just say,"Ok, fine then", then I would be like what a pussy! Lol
Whats one thing about yourself that everyone should know?
Everyone should know that just because you see me looking all happy and perfect in pics doesn mean I am perfect. Ive been through hell and back in life but Im not bitter about it. Some of ,y fans say," I wish I had a perfect life like yours!" Ha! If you only knew, hunny! No ones life is perfect!
What do guys compliment you the most on?
I get compliments on almost everything but the things that I appreciate most are when a man compliments my eyes, smile and attitude! Guys always tell me," Jessica your beautiful, but your attitude is even better!" That makes my day!
Do you consider yourself more of a giver or a taker?
I think of myself as both. Im kind of old school. I come from a Latin family where the man works and provides and the woman takes care of her man! I would never completely depend on a man and I love to work but my man spoils me and I spoil him.
Lace or fishnet lingerie?
I enjoy all types of lingerie but I feel most sexy in fishnet! Theres just something about seeing my flesh through tiny holes that drives me wild! My man loves it to!
Do you have any hidden talents?
Wow! I have lots of hidden talents but if I told you then they wouldn be hidden anymore....
What do you like best about being a model?
Being a model is super fun because I get to use my natural talents! Don get it twisted, modeling is way more than just being pretty in font of a Camera! Modeling is being creative, open to new ideas, mastering poses and facial expressions. I get to make my own work schedule and travel the world, which is a blessing!
What would you consider your strongest attribute?
My strongest attribute would be my mouth. I know how to make any picture become ultra sexy with a sultry smile to an innocent but sexy pout. Be careful, I can control you with it .
Have you been in any music videos recently?
I have been in 3 major music videos recently!
One is Rick Ross Feat. Future "No games" which has been a repeat #1 on MTV JAMS! Second is Gucci Man feat. Chief Keeef "Darker."
Third is new artist C Stone feat. Paul Wall "Grillz" coming soon!
Whats your favorite food?
I love all kinds of food but you can never go wrong with Authentic Mexican food!
How do you feel about acting?
The acting bug just hit me hard! Before I didn have the confidence or drive to act but I recently shot a low budget film with director Boomtown called "Candy"! It was an easy role for me because its about 4 gorgeous women who secretly hustle in the streets and take over. Most people don know but I have lived that type of lifestyle for years! Don judge me because I have blonde hair and a cute smile! ;) Movie coming soon!
When SHOW does its Latina title again would you be interested and what would you wear?
I would definitely be interested and I would want to be body painted as the Mexican Flag! I always represent for my people!
What is your relationship status:
Im very much in love! Just waiting for him.....
What would you like to say to your fans?
I would like to say that I love all of my fans...they have stuck with me for years of me going strong and disappearing for a couple years but IM BACK and going strong! Also thank you to everyone who has supported me by purchasing my own line of T-Shirts! I especially want to say thank you to my lady fans that are confident enough to not Hate on me but appreciate my movement and learn from me! Love u guys!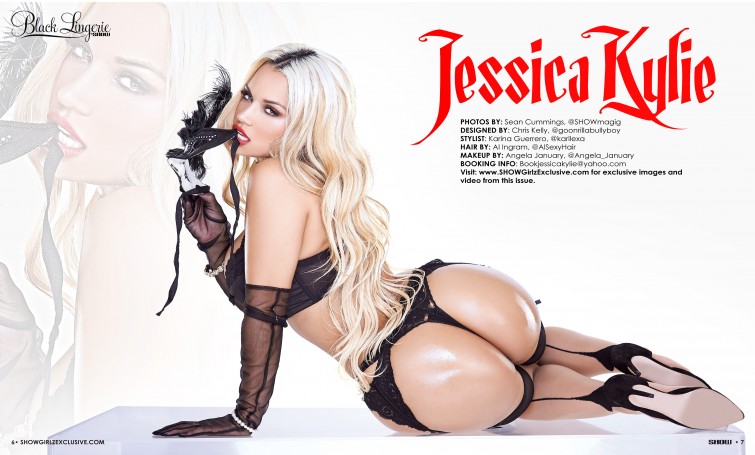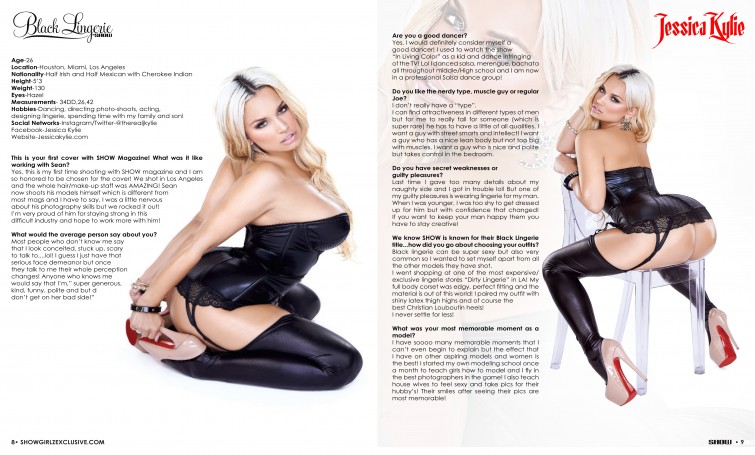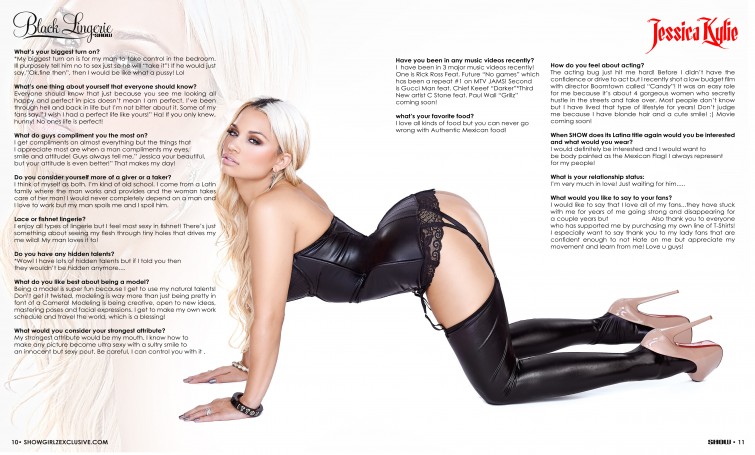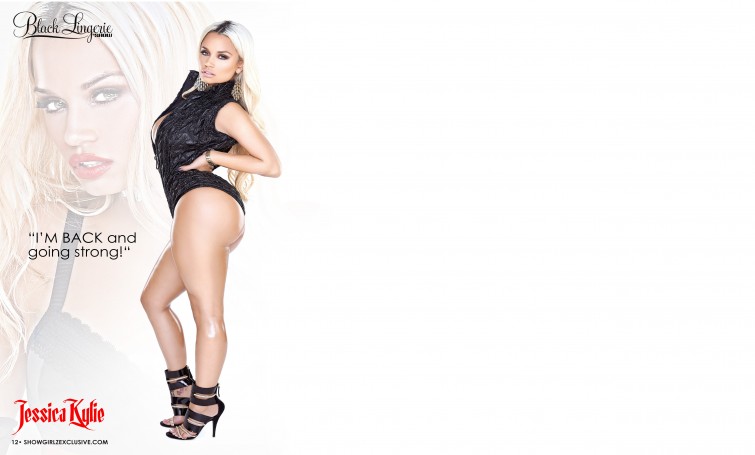 2
Total Galleries with
12
total photos of
Jessica Kylie
from
BLACKLINGERIE #20
and other Issues