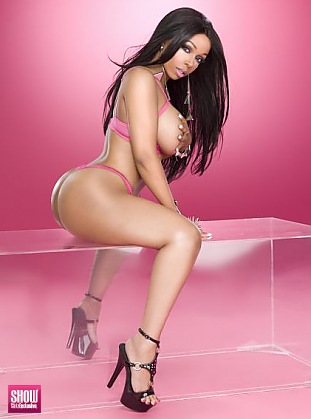 SGE Content for
Kimmi Kennedy in
SHOW 22
Photos:
0
Galleries and growing
Photos:
9
Photos and growing
Photos:
6.3
MB of Photos
Videos:
2
Videos
Videos:
8
mins of footage
Videos:
84
MB of video
View
SHOW 22
issue information and galleries >>
AGE:
N/A |
FROM:
Las Vegas, NV |
FEATURED IN:
SHOW 22
Hey SHOW! Its the one & only IHB (International Hustle Bunny)... Unless youve been under a rock for the last 6 years you know of me but if not let me introduce myself, Im Kimmi Kennedy the original Kim K before the Kardashians blew up.

Standing only 52 but with curves to die for on my 34DD-24-37 frame of French Creole, Indian, Irish & African American decent which attribute to my exotic looks which Im not shy about though the image says sex, the mind says business. I know Im like a life sized little doll so I play to that & despite my petite stature.... Ive graced the pages of urban magazines such as Smooth, King, Straight Stuntin, and now SHOW magazine, music videos, done countless mainstream & commercial work and more.

From Hurricane Katrina, Im a New Orleans native. Ive fought tooth & nail to stay at the top of my game when the odds where stacked against me but I refused to take NO for answer or let anyone determine what I can & cant do. At almost a 1 million followers on twitter, my fan base has grown. Known for my imagery & using controversy to my advantage like a savvy politician Ive remained relevant over time when others fell by the wayside. Now Ive embarked on a journey to re-invent myself again via my music but never leaving modeling.
I am launching 2 brand new sites one for my modeling, another for music. Stay tuned for my next single "Designer Girl" dropping on ITunes in June 2012. Ive dropped my debut single & video "Beautiful" with great acceptance from my fans & the industry. You can expect more hot music & videos, oh and hot pics as always from me on both my sites. www.KimmiKennedy.com

Im approaching the music game with the same tenacity that I applied to the model game and Im not waiting to be signed by any labels or for people to rally behind me, Im just putting myself out there and have faith that God will take care of the rest.

I stepped into the hip hop arena in the summer of 2012 with a full assault on the music game. And when those twitter followers become consumers of my new music, K. Cera (my rapper persona meaning my destiny is ordained) will be the new force to be reckoned with.

With hot singles, mix-tapes & video virals accruing in my ammunition vaults, Ive put together a team to help make my debut a heartfelt one and taken seriously, from the start. So you think you know Kimmi Kennedy? NO... You know about me!!! STAY TUNED!

2012 and beyond will witness a new Kimmi Kennedy because this one has something to say and I will make it funky enough for you to want to listen!! Im just getting started & my star is shining brighter than ever... the sky is the limit. Im living proof of that! Who knows what Ill do next but there is so much more to come!

In closing thanks SHOW magazine for the opportunity! Hopefully this will be just beginning of my relationship with the SHOW mag family and you see me many more times!!

1
Total Galleries with
9
total photos of
Kimmi Kennedy
from
SHOW 22
and other Issues